Movers and shakers in the local news in 2016
Posted on January 4, 2017 by Taber Times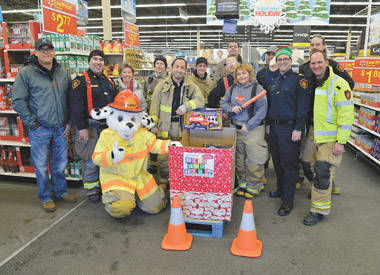 HEART OF CHARITY: Many community groups and organizations contributed their time and efforts back to the area as the province grappled with an economic recession throughout 2016. TIMES FILE PHOTO BY TREVOR BUSCH
With all its ups and downs that was 2016, there was plenty of newsmakers in the Taber area, both good and bad. A look back at 2016:
January 6: A mounting movement against Notley's NDP provincial government will be making its way to the Taber Community Centre Auditorium on Saturday as part of Stand Up for Alberta.
Eliza Yawney is in the Taber Times news under much happier circumstances this time around. That's because the Yawney family introduced their latest bundle of joy in a bouncing baby boy at 11:13 p.m. on Jan. 3, making him Taber's official New Year's baby being delivered at the Taber Hospital, coming in at a healthy seven pounds and 10 ounces, measuring 21 inches.
January 13: For George Clark, speaking out is a wish he continues to fulfill for the memory of his mother. Clark was on hand at the Stand Up for Alberta Rally at the Taber Community Centre Auditorium on Saturday in which he described the humble beginnings of the Stand Up for Alberta movement that continues to gain steam.
The town's non-union employees, largely management staff, will be seeing a one per cent salary increase retroactive to 2015.
January 20: The M.D. of Taber has requested clarification of their level of involvement and financial obligation with regard to town plans to eventually complete a full walking trail loop.
The town's walking trail system will be extended into the M.D. of Taber Park in 2016 from its current terminus north of the town cemetery.
The Municipal District of Taber has announced that they have purchased two properties for use in future projects.
The first property is a 13-acre lot located west of Taber, by Johnson's Addition. This lot will be used to develop an onsite communal septic system for the residents of Johnson's Addition.
January 27: Taber and District Chamber of Commerce has pitched town council the construction of a permanent stage and dance area for community events in Confederation Park.
When it comes to making everyone feel comfortable, there is no one-size-fits-all solution. During their monthly meeting on Jan. 19, the Horizon School Board discussed the Best Practices guidelines that were recently released by Alberta Education, and what its challenges or potential impacts might be. Earlier this month, there was widespread panic when the guideline's for Alberta Education's Best Practices was released, over the thought of boys using girl's bathrooms and vice-versa.
February 3: Town council has expressed serious concerns about the M.D. of Taber's plans for development of a septic field and a new shop location inside the intermunicipal development zone.
The result of a voting deadlock on town council, Knox United Church has been denied a waiver of their 2015-2016 fall supper facility rental fees for the Community Centre Auditorium.
February 10: While municipal taxpayers have been left out in the cold to the tune of $73,000 in outstanding utilities, funds previously donated to the Arts Council of Taber for the Performing Arts (ACTPA) will not be applied for settling a portion of that bill. ACTPA had notified council that it was dissolving as an organization and cancelling the lease of the old courthouse, police station, and library complex.
In stressing the importance of knowing proper 9-1-1 protocol, one needs to look no further than the heartwarming story of Joley DeGraw and her five-year-old son Dane. Dane was able to help his mother who collapsed from a medical emergency shortly after Christmas, making an emergency 9-1-1 call to a dispatcher which led to medical help, saving his mother's life in the process.
February 17: Critical comments made recently by fellow council regarding two M.D. of Taber projects located within the intermunicipal development zone has drawn the concern of Mayor Henk DeVlieger.
More details and a conceptual design for a permanent Confederation Park stage have been provided to town council by the Taber and District Chamber of Commerce.
February 24: Numbered now are the days of bin-style solid waste collection in Taber as the community braces for a large-scale rollout of mobile waste carts scheduled for April in anticipation of a May 1 start date.
While the Town of Taber has committed to completing the east end of the walking trail to M.D. of Taber Park boundaries in 2016, the M.D. of Taber has informed the town that other infrastructure priorities will take precedence for the municipality this year.
March 2: The Town of Taber has thrown open the doors for the development of a composting materials handling facility to coincide with the town's cart-based solid waste initiative, but not all stakeholders are convinced concerns about the facility have been resolved.
Municipal District of Taber council has announced it will initiate a 'Rural Taber' fire service in the Taber area to serve Division 1 (southwest of Taber), Division 2 (southeast of Taber), Division 4 (northeast of Taber) and Division 3 (Grassy Lake and area) (during daytime hours) beginning March 1, 2017.
March 9: In a last-ditch effort to prevent the dissolution of the current shared fire service with the Municipal District of Taber, the Town of Taber is organizing an open forum on the question in an attempt to mend fences with their neighbouring municipality. Scheduled for March 23 at 7 p.m. at the Heritage Inn, the forum will be open to citizens of both municipalities.
An invitation has been extended to M.D. of Taber council, as well as a request that they reconsider their decision.
March 16: With both municipalities fully engaged in a war of words over the Municipal District of Taber's recent decision to create their own fire service, fire chief Steve Munshaw is still assessing the impact of the decision on the future of the Town of Taber's emergency operations. "This announcement was very surprising, as a five year contract was signed in December with the town," said Munshaw.
With mounting pressure from a less-than-ideal economy, the Taber Food Bank is still maintaining a can-do attitude and is hoping the community is the same with its upcoming 'Yes We Can' Food Drive featured at Taber IGA and Taber Co-Op this Saturday. Food bank use across the province is rising and the Taber Food Bank is no exception, as the organization has seen a 30 per cent increase since last year. The economic strain is tricking down to all jobs, and those on fixed incomes are facing higher living costs and are unable to meet their basic needs.
March 23: Seeing the struggles Taber town councillor Jack Brewin has had in securing a match for a liver transplant, Taber resident Karen Hamilton could not stand on the sidelines any longer. A movement has been mobilized to approach the southern Alberta community to see if a live donor can be secured in Brewin's quest. His life depends on it.
The annual Easter Egg Hunt turns 18 this year on Saturday. Sponsored by The Taber Times, Taber Co-Op, the Heritage Inn and Taber Kinsmen Club, the mad dash to find all 12,000 eggs will start at precisely 10 a.m. at Confederation Park. "Just seeing all the kids rushing to pick up eggs," said Rod Yokayama, manager of the Taber Co-op. "It's like watching them vacuum up the area."
March 30: Lively debate over the future of the shared fire service between the Town of Taber and the Municipal District of Taber punctuated the public forum on the issue hosted at the Heritage Inn last Wednesday. A sense of the anti-climactic hung over the proceedings nonetheless, as M.D. of Taber council did not attend the meeting, although they had earlier been encouraged to attend and were invited by the Town of Taber.
During their March 22 regular meeting, the Municipal District of Taber met with a delegation of eight M.D. residents who are directly affected by the road ban on 50th street, to discuss their options moving forward. The year-old dispute with the Town of Taber over the road ban on a portion of 50th Street has seen little progress. While town council continues to ask the M.D. to contribute to the cost of upgrading the road, the M.D. says that their roads are to the same standard as the contested road and the town needs to lift the ban.
April 6: Showcasing greatness in the region's youth, the 15th annual APEX Youth Awards are set to grace the stage for another year on April 13. Hosted at the Taber Community Centre Auditorium and sponsored by the APEX Committee and The Taber Times, this year's event features 12 youth nominees, hailing from Taber, Vauxhall and Grassy Lake, among others. The APEX Awards were developed to recognize individuals who represent the best qualities in Taber and area youth, who unselfishly give of themselves in the service of others.
Maintaining pressure for action at the municipal level over the recent decision of the Municipal District of Taber to terminate a shared fire service with the Town of Taber, volunteer firefighters brought their concerns as a delegation to town council's March 29 meeting. The announcement last month from the M.D. of Taber that the municipality would be terminating the current fire services agreement (giving a required one-year notice) with the Town of Taber, and creating their own rural fire service in its place, has caused a furor of debate and discord throughout the area between residents of both municipalities.
April 13: It's been a month since Taber has gained seven new residents from halfway around the world, and they have been settling in with the help of a local church group. Sponsored by the refugee committee at the Taber Christian Reformed Church, the seven South Sudanese refugees are adjusting to life in Taber with the arrival of spring, and they have been enjoying their new home. "It's a friendly environment," said Zakeria Magok Mabeny, 38 years old, one of the refugees.
Theatre lovers will be able to see three plays in one night in the next Taber Players production. "We couldn't come to an agreement on what production we wanted to do," said Ron Levagood, executive producer for Taber Players, adding that at the time, they were also thinking about participating in the past One-Act Play Festival in Lethbridge. "It was a group decision, of some of the long time actors and actresses and members of our board of directors." While they did take part in the festival due to scheduling conflicts with one of the actresses, the Taber audience will get a three-for-one deal in theatre entertainment.
April 20: An extensive list of fines for violations are included in the Town of Taber's Waste, Recycling and Organic Material Bylaw 4-2016, which will help govern the implementation of a rollout cart system for solid waste. At their April 11 regular meeting, town council voted unanimously to pass first reading of Waste, Recycling and Organic Material Bylaw 4-2016. The town's solid waste initiative will be a three-cart system for garbage, recycling and composting, with carts set for delivery in April in anticipation of a May 1 start date.
The gala event of the season for the region's outstanding young people, the APEX Youth Awards concluded on Wednesday evening with four well-deserving candidates as recipients of prestigious bursaries. Mirthe Kleinjan, Kendall Enns, Kathrin Waeckerlin and Kaitlyn Mills took home top honours, while Aganetha Guenther and Natasha Kuizenga were also honoured as runners up.
April 27: Dreaded by some, applauded by others, the appointed day is fast approaching when the community will be switching to a new rollout three-cart collection system as part of the Town of Taber's solid waste initiative. Approved by town council in 2015, the cart system will replace the present system of large-scale bin collection, separating waste streams into recyclables, compostables, and garbage. Initially the program will only include the town's residential areas and will not immediately address multi-occupant dwellings, industrial areas, or the downtown — areas which will be phased into the system at a future date, yet to be announced by the town.
A critical planning tool for development within a community, the Town of Taber is reviewing a new Land-Use Bylaw governing the use and evolution of all land and buildings in the municipality. At their April 11 regular meeting, town council voted unanimously to pass first reading of Land-Use Bylaw 6-2016, and set a date for an open house for May 25, and to hold a public hearing on June 13, 2016.
May 4: In a decision cloaked in secrecy, complete with a group of anonymous contributors, town council has agreed to improvements to 50th Street north of 64th Avenue which will allow for heavy truck traffic in future. Following the in camera (closed session) portion of an April 5 special meeting, town council voted unanimously to accept a contribution of $110,000, from parties who wish to remain anonymous, to be used towards a 50mm asphalt overlay of 50th Street between 64th Avenue and 80th Avenue.
For those in need of an organ transplant, some may need to wait years for the life saving procedure. For Taber town councillor and family man Jack Brewin, thanks to a social media campaign he was able to find a match in a little over a month. While diagnosed with an autoimmune disease last year affecting his liver, Brewin was struggling to find a match of a live or deceased donor. Hearing of his plight, Taberites rallied around him in the form of bringing the plight to the media and forming the Find a Liver for Jack Facebook page in March. Those efforts have secured a positive test from 'Andy' from Taber, as of last Wednesday, who, as a live donor, will be donating a part of his liver to Brewin.
May 11: A 39-year-old Taberite was killed on Sunday morning following a collision on Highway 36 just north of the community. According to Taber/Vauxhall RCMP, a northbound pickup truck collided with a southbound semi truck and trailer at approximately 8:00 a.m. The driver of the pickup truck was pronounced dead at the crash scene. According to various news reports, the 31-year-old driver of the semi was not at the scene when emergency crews arrived, but had been transported to Taber Hospital for treatment for burns sustained in a tanker explosion.
For Tom Moffatt, the Town of Taber's Information Technology Manager and a former local NDP candidate, a tweet posted Tuesday night may cost him his job. Moffatt has been suspended by Taber town council pending an investigation over "Karmic" comments made about the ongoing wildfire in Fort McMurray. The story has since attracted national media attention in the wake of council's decision. Moffat posted May 3 on his private Twitter account: "Karmic #climatechange fire burns CDN oilsands city." The tweet was later deleted but it was screen captured and shared widely across the Internet.
May 18: In the wake of a firestorm of controversy surrounding a town manager's social media comment regarding the Fort McMurray wildfire, the Town of Taber is now reviewing its social media policies. At their May 9 regular meeting, town council voted unanimously (6-0) to direct administration to revisit the Town of Taber's code of conduct, professionalism, and social media policies, to be brought back to council for the June 27 regular meeting. "In light of all the poor publicity over all this information, and what social media's response is to a code of ethics and professionalism for town employees, I think probably as a council we need to address it," said Coun. Joe Strojwas.
Seconded for seven days to the Provincial Operations Centre in Edmonton to assist with emergency management of the Fort McMurray wildfire situation, Taber fire chief Steve Munshaw is now back in the community ready to manage emergency situations closer to home. On May 5, Munshaw was asked to go to Edmonton to assist with the Fort McMurray situation at the Provincial Operations Centre (POC), to provide relief for a management contingent that needed to rotate out.
May 25: A demonstration of the new Taser units being issued to the Taber Police Service electrified members of the Taber Municipal Police Commission at their most recent meeting. Speaking at the May 12 meeting, Cst. Tim Johnson explained the use and officer protocols with regard to the replacement Taser units. "We're going to be transitioning to the new Taser, but of course there has to be some training before we can put it into use. We're going to be doing that next month."
In celebration of Canada's sesquicentennial in 2015, students and citizens throughout the community will soon be participating in the Canada 150 Mural Mosaic Project. As part of Taber's contribution, there will be a free painting event held at the Community Centre Auditorium May 31-June 2, in which registrants will be able to paint an individual tile as part of a larger community mural, as a contribution to an even larger national mural which will be on virtual display in Ottawa in 2017.
June 1: Taber town council is considering options to help promote the development of higher-density housing in the community for lower-income individuals and families. At the council's May 24 regular meeting, South Alta Trading Co. Ltd., the developer of Prairie Lake Estates, requested their offsite levy fees be waived for Phase 2. Subdivision TT-15-0-006, which includes Phase 2, was approved by the Subdivision and Development Authority on Dec. 21, 2015. The total offsite levy fees for Phase 2 have been calculated at $104,567.86.
The Relay for Life movement is going 60 kilometres west. Despite the Canadian Cancer Society's efforts, Taber only had a handful of teams registered for what was supposed to be a mid-June event at the St. Patrick's Oval, but instead has been moved to Lethbridge on Saturday. "Taber actually only had four teams registered at the time we made the decision to move things over. And not all those teams are confirmed they will be coming to Lethbridge per se, but we have invited them," said Aubrey Lanz, revenue development coordinator for the Canadian Cancer Society.
June 8: On the ground in Fort McMurray to assist with emergency operations in late May, the Town of Taber's planning director Cory Armfelt was shocked by the devastation he witnessed upon entering the deserted city. "There's areas that look exactly like the pictures that you've seen. To see entire neighbourhoods devastated by fire is absolutely shocking," said Armfelt in an interview last week. "It's not something that very many people have ever seen."
A new standing item has been added to town council's meeting agendas in an effort to mitigate individual councillors addressing concerns with administration on an ad hoc basis, rather than by council decision. At their May 24 regular meeting, town council voted unanimously (6-0) to direct administration to add a new standing item to the regular council meeting agenda that would allow councillors to address administration about their concerns, ask questions, and direct municipal resources.
June 15: The Good Samaritan Society is centralizing pharmacy supports and services by going to a single provider, in Pharmacare out of Edmonton — much to the dismay of local pharmacists in how residents of the Good Samaritan Linden View assisted living facility will be cared for in their level of care. According to Kim Campbell, senior director of operations of Good Samaritan Society, in a memo given to all site managers dated June 7, 2016, as part of the Accreditation Canada process the organization went through last September, it was advised the society move to a single pharmacy provider to reduce medication errors and to standardize services.
The province must close a home-schooling loophole that is harming the quality of education for many students attending congregated school sites, says the superintendent of a southern Alberta school division. Brian Andjelic, superintendent for Prairie Rose School Division, said he has seen many issues with the education of children in congregated sites when they transition into public schools. So much that he has written a letter to the Ministry of Education asking for more involvement.
June 22: Carin Jensen, clinical pharmacist for Linden View and pharmacy manager at Taber Co-Op, still thinks there are more questions than answers when it comes to the Good Samaritan Society's decision to centralize pharmacy supports and services by going to a single provider in Pharmacare with its central offices in Edmonton. For her, hopefully Taber residents can get those questions answered at information sessions which run today and tomorrow at Linden View.
With EPCOR dropping a rate increase bombshell on the municipality in late 2015, the Town of Taber is now weighing options that could include the termination of the present contract with the utility operator. At the Nov. 9, 2015 regular meeting of council, EPCOR discussed the terms of its current contract with the town, which covers the town's water and sanitary sewage systems as well as portions of the town's storm water system. The contract also includes a debt repayment schedule related to the town's sanitary sewage treatment (biological nutrient removal) plant, which EPCOR funded. At the time, EPCOR proposed an increase of $1.3 million annually, amounting to a 68 per cent increase to its current fee structure.
June 29: Val Wiebe has been named the Publisher of Alberta Communities Group, which includes the publications of the Taber Times, Vauxhall Advance, Coaldale Sunny South News, Bow Island Commentator, Cypress Courier and Westwind Weekly News. Wiebe began her career at the Taber Times in 1974 as a typesetter and has progressed through nearly every phase and department of a community newspaper.
Information sessions hosted at Linden View to try and calm concerns over The Good Samaritan Society's decision to award a five-year contract to PharmaCare to centralize pharmacy supports and services by going to a single provider, did not meet the desired effect for many. Ryan Stempfle, vice president of clinical and pharmacy strategy for PharmaCare was on hand to do a presentation.
July 6: Contingency plans are in place to ensure that Albertans can get access to government services in the event of a Canada Post work stoppage. On Tuesday, Canada Post issued a 72-hour lockout notice following a breakdown in negotiations between the postal carrier and the Canadian Union of Postal Workers, with a potential work stoppage scheduled for as early as Friday. However, both sides in the labour dispute have indicated they are still hopeful a deal can be reached by July 8.
Horizon School Division has had to dip into its operating reserves to the tune of $2.8 million, to balance its $46 million-dollar budget it passed at its board of trustees meeting last Tuesday for the 2016-2017 school year, as school divisions across the province continue to deal with the economic downturn. The $2.8 million is composed of an operating cash deficit of $1.2 million. "That $1.2 million is pretty significant. We have quite often approved a budget of $600,000, $700,000 (operating deficit) at the beginning of the year. But as far as I've been here, I don't think we've ever approved $1.2 million," said Bruce Francis, board vice-chair of Horizon School Division.
July 13: The face of education will be seeing its biggest changes in the province of the last three decades. Alberta Education announced earlier this month they would be overhauling the provincial curriculum. The government announced a new curriculum will be developed for Kindergarten to Grade 4 by late 2018. That will be followed by Grades 5 to 8 in late 2019. After that, the high school curriculum will be developed in phases from 2020 to 2022. "There is going to be significant work going to happen fairly quickly," said Amber Darroch, associate superintendent of curriculum and instruction at the Horizon School Division board of trustees meeting on June 21.
The 225 Royal Canadian Air Cadet Squadron Taber Comet will be celebrating 75 long years of service to the community in 2017, and organizers are planning an extraordinary event for the squadron's dodranscentennial. "As a local representative to the Canadian Forces and the Department of National Defence, we are very proud of the fact that we have Canada's longest running youth movement, the cadet program, in all its various forms — air, army, and sea," said squadron administrative officer Chris Nguyen, speaking at town council's June 27 regular meeting.
July 20: Celebrating 81 years of dedicated service to the community in 2016, over the decades Taber Lions Club members have quite literally poured their hearts and souls into making the town the very best that it could be. The local club estimates that over eight decades, the monetary value of the club's contributions to the community have topped $2 million, and club members have collectively contributed an average of six man hours per day for 81 years, totalling some 175,200 hours. "Over the past 81 years, this town would not be the town it is if it wasn't for us, and other groups, too," said club member Wayne Baker.
It's a question of if you ate versus what you ate when it comes to students. During their regular July 12 meeting, the Municipal District of Taber council met with the new Family & Community Support Services director for Barons-Eureka-Warner, Zak Morrison. Dominating the discussion was something that concerns every school in Canada; what students eat, or rather, what they don't eat. "A concern of mine is what works in the school division," said Ben Elfring, M.D. councillor. "There's a lot of kids that don't have breakfast and don't have lunch."
July 27: The Government of Alberta took legal action on Monday to protect Albertans from an attempt to offload business losses in the electricity market onto the public. The provincial government contends this attempted offload is being implemented through a regulatory clause that was unlawfully enacted when the province's electricity system was deregulated. This clause was lobbied for by Enron, a discredited and now bankrupt US electricity operator at the centre of numerous other controversies and questionable business practices.
Cynder Robinson was an old soul with a big heart who loved her family and lit up any room she entered. On July 15, the 17-year-old Taber girl was killed in Big Island Cree Nation Territory, Sask. Her girlfriend, 21-year-old Brandy Arnelle Benson, has been charged with one count of manslaughter in connection to Cynder's death. Cynder's family have been left devastated by the news of her death, and outraged at the helplessness they felt from what they say is a failure in the system to ensure Cynder's safe return to her family.
August 3: The same sun that grows Taber iconic corn could soon help power your home. Bowmont Capital & Advisory Ltd. and Canadian Solar Solutions Inc. have partnered together, on behalf of C&B Alberta Solar Development ULC (CBA), to jointly develop a solar power plant located near Taber. The proposed site, better known as the Taber Solar Project, is located just five kilometre north of town, in an what is considered an ideal spot as it is just one and a half kilometre away from a substation. "Southern Alberta has a very, very attractive solar resource. So it is a great place to have solar plants," said Ian Sanchez, managing director of Bowmont Capital & Advisory Ltd.
There is now a list of acceptable things the Town of Taber can tweet about. During their regular July 18 meeting, the Town of Taber council read and passed motions to accept two new social media policies, which were both passed unanimously. At their May 9 regular meeting, town council had voted unanimously to direct administration to revisit the Town of Taber's code of conduct, professionalism and social media policies. At the time, a review was being undergone of their previous social media policy by administration. "It's an amalgamation of many municipalities' different social media usages and their policies," said Meghan Brennan, communications officer for the town.
August 10: Identified as a problem area for fire flows in the town's Potable Water Distribution Master Plan delivered to council in June, the industrial area has been slated for future improvements to improve flow rates in the area. "There are certain places that are going to have to be addressed moving forward for the future," said Taber fire chief Steve Munshaw. "Studies in the past — Fire Underwriter's Survey studies — have all indicated those are areas where we have to put some attention."
During their regular July 18 meeting, Taber town council met with a delegation from the Performing Arts Centre Committee, to continue to discuss a potential federal grant. At their last council meeting on June 27, council had tabled a motion to support the application for the Canada Cultural Spaces Fund Grant until they heard from PACC about their fundraising plans and support from the community. On behalf of the PACC delegation, Ryan Torrie explained that they were hoping that both the town and Municipal District of Taber would each donate $1 million.
August 17: As part of his Unite Alberta tour, designed to help revitalize the ailing fortunes of Alberta's divided conservative right, PC leadership candidate Jason Kenney made a whistle stop in Taber last week to meet constituents from the Cardston-Taber-Warner riding. "We launched our province-wide Unite Alberta tour in Edmonton 10 days ago (Aug. 1), and we've been all the way up to High Level and all the way down to Coutts, and had a really good couple of stops in Taber yesterday (Wednesday Aug. 10)," said Kenney.
On Oct. 23, 2014, the Taber Police Service received a complaint of theft and possible fraud with respect to the operations at the Oilmen's Club in Taber from owner Darcy Hertz. After a lengthy investigation, police determined close to $500,000 in funds were allegedly misappropriated. Scott Blanchard (45 years old) of Taber, the former manager of the Oilmen's Club, was arrested on Friday and charged with one count of theft over $5,000 and one count of fraud over $5,000.
August 24: A proposed budgeting process which would allow the public more control over the selection of capital projects was roundly criticized by town council at their most recent meeting. Known as participatory budgeting, the process implements democratic deliberation and decision making to allow ordinary citizens to decide how to allocate part of a municipal budget, usually involving capital projects.
For a few hours during Cornfest 2016, the Town of Taber will be trading Canada's maple leaf for Japan's rising sun. At their Aug. 15 regular meeting, town council voted unanimously (6-0) to fly the flag of Japan on Aug. 26 at the Administration Building, in recognition of the visit of Consul-General Kunihiko Tanabe of Japan to Taber.
August 31: Cornfest 2016 has come and gone, and those who came for the corn and stayed for the fun were immeasurably pleased on both accounts. "I think it was really good, I'm very pleased just all the way around," said Cornfest 2016 chair and organizer Tom Paterson. "It was a little cool on Friday night, but Saturday was beautiful. So I'm pleased with that part of it."
The provincial government's campaign to eliminate power purchase arrangements (PPAs) in an effort to protect consumers from Alberta's power corporations will negatively impact investment and business confidence, says Cardston-Taber-Warner MLA Grant Hunter. One of the legacies of electrical deregulation almost two decades ago under the Progressive Conservative government of Ralph Klein, PPAs were originally designed to boost competition and usher in lower prices for consumers.
September 7: Rather than yield to EPCOR's demands for a 68 per cent rate increase, the Town of Taber has elected to negotiate the termination of the present contract, which could involve returning the management of water, sewer and storm water utilities back to the municipality. EPCOR had previously asked for significant fee increases in order to continue its operations of the town's water, sewer, and stormwater utilities under an agreement negotiated between the two parties in 2007.
It's official; Taber Equality Alliance has become incorporated as a not-for-profit society as of late last month. The designation means that the Taber Equality Alliance can get a bank account to deposit the money they have fundraised, such as at the recent Andrew Smith/Neil Fraser indiefolk musical performance at Knox United Church back in April, where tax receipts can now be issued.
September 14: An interactive literacy adventure for youth may soon be making its way to Taber's trail system. Dawn Kondas and Pat Bremner, representatives for the Taber Public Library, were on hand at the Sept. 8 recreation board meeting, to pitch the idea of physical literacy. "About a year, year-and-a-half ago, I was on the Internet and I was looking at different programs that libraries do. And I came across this awesome idea called a story walk, and it was from Gillette, Wyoming," said Kondas, program director at the Taber Public Library.
The Town of Taber will be receiving federal infrastructure funding for completion of a wastewater project for the community following an announcement earlier this month. Under the federal Clean Water and Wastewater Fund, Taber has been allocated more than $1.86 million for upgrades to the town's industrial wastewater lagoon. The provincial government has contributed $480,220 to the town for a biological nutrient removal sludge treatment upgrade, as well as $79,366 for a water treatment plant upgrade, through their Alberta Municipal Water/Wastewater Partnership program.
September 21: Boulevard parking violations throughout the municipality which have developed into a growing concern for bylaw officers could soon be an area of enhanced enforcement. "Several months ago, our community peace officer came to me with some concerns with regard to boulevard parking," said Sgt. Howard Kehler of the Taber Police Service, speaking from the gallery at town council's Sept. 12 regular meeting.
Town council has approved up to $10,000 for a business study to augment a grant application for the proposed performing arts centre. According to administration, MNP LLP's Performing Arts Centre Business Study will support current and future grant applications, as well as provide an indication of the viability of a Performing Arts Centre in Taber. Completion of the study would also allow the PACC to move forward with a viability and feasibility study, as well as prepare them for current and future grants.
September 28: The Town of Taber will not be taking advantage of a provincial government program offering incentives for municipal solar projects following a split vote by town council. At their Sept. 12 regular meeting, council voted 5-2 to accept a report from Solar Optix regarding solar panel options for the town and recommended the town's Energy Conservation Committee consider other projects within the town involved with lowering electric consumption. Coun.(s) Joe Strojwas and Laura Ross-Giroux voted in opposition to the motion. "To me the bottom line is first of all the most important," said Mayor Henk DeVlieger.
A two-day search for a missing swimmer at the M.D. of Taber Park has ended in tragedy, as the swimmer was pronounced deceased upon the discovery of his body at 12:06 p.m. on Monday afternoon. The 33-year-old was enjoying a morning/afternoon of swimming on Sunday at the park along with three of his siblings, when he decided to climb a pillar of a bridge going over the river, and then jumped into the water, according to RCMP reports. While the river has its very shallow, waist-high depths, reports among locals note the water can get as deep as 12 feet during this time of the year, with strong currents.
October 5: A grazing leaseholder meeting held last month has caused concern over the spread of misinformation on local leases. During their regular Sept. 27 meeting, the Municipal District of Taber council brought up in discussion the Sept. 13 Alberta Grazing Leaseholders Association meeting in Taber. The purpose of the meeting had been to discuss the M.D.'s policy on grazing leases, and its compensation to ranchers for impacts caused by oil and gas activity.
A small delegation of Canadian Falun Gong practitioners stopped off in Taber on Monday afternoon to call for the stop of the crime of organ pillaging by the communist regime in China. "For Falun Gong, it is estimated there is between 70 to 100 million Chinese people practicing Falun Gong. In Canada, we have a big group. I don't know how many exactly, but we are a respected creed in Canada. We have received many proclamations from the prime minister many times. We are the largest ethnic group with spiritual belief here in Canada," said Jenny Yang, a volunteer with the Falun Gong Association touring group.
October 12: The Town of Taber is seeking the input of the public as it prepares to formulate its operating and capital budgets for 2017, and is featuring an open forum tonight in council chambers to allow citizens to comment. In the lead-up to tonight's special meeting, at their Sept. 26 regular meeting town council began preliminary budget discussions in anticipation of more extensive deliberations later in 2016.
The Town of Taber has its sights set on flood mitigation in the area of 56th Street, but the project may not be moving forward in the immediate future due to the need for funding approvals. The proposed 56th Street Stormwater Improvements project will enable the flow of stormwater from 56th Avenue along 56th Street, with a pipeline to the 64th Avenue storm pond, which would then be pumped through the outfall pipeline to the Oldman River.
October 19: As the province and the nation grapple with the impacts of economic recession, the Town of Taber, in conjunction with a number of economic development organizations, are doing what they can to try to spur on investment in southern Alberta. To that end, last week the community hosted a delegation of Chinese investors interested in the opportunities the region might have to offer. The three-person delegation from Anyang, China, was made up of Zhang Rui, vice president of Anyang Steel International Trading Co. Ltd.; Bai Qing, general manager of Anyang DHL Transport; and Dorothy Zu, board member of the Shandong Importing and Exporting Association.
Different day, same fantastic event for giving with the Taber and District Health Foundation 22nd Annual 'Share in the Experience' Telethon. The Taber and District Health Foundation has managed to raise nearly $5.5 million to date in its 21 years of existence as the Share in the Experience of Giving Telethon looks to make its 22nd appearance on Shaw Channel 9 on Saturday, Oct. 29 at the Heritage Inn from 2-8 p.m. Having been situated on a Sunday in late October in previous years, organizers decided to make the switch to Saturday for 2016 for various reasons.
October 26: Cardston-Taber-Warner MLA Grant Hunter was on hand during the meeting of the Taber Solar Project Developers and local residents, having a few questions himself on the viability of the project. During their regular Oct. 11 meeting, the Municipal District of Taber welcomed a delegation of concerned residents and representatives from BowMont Capital Advisory Ltd. and Canadian Solar Solutions Inc., who partnered together on behalf of CB Alberta Solar Development ULC (CBA), to discuss the proposed project five kilometres north of the town of Taber.
The Taber Police Association and the Town of Taber have inked a new three-year collective agreement that will see officers receive a total 5.5 per cent salary increase by 2018. Following lengthy negotiations in 2016, town council signed off on the deal at the conclusion of closed session discussion at their Sept. 26 regular meeting. According to Taber Municipal Police Commission Chair Ken Holst, the three-year collective agreement sees a one per cent salary increase (retroactive to January 1) for 2016, a deferred (or split) 2.5 per cent in 2017, and a final two per cent in 2018.
November 2: A faction of town council is pushing for the implementation of benefits for councillors, which could cost taxpayers an additional $30,000 per year. During 2017-2019 operating budget deliberations at council's Oct. 12 special budget meeting, Coun. Laura Ross-Giroux began the initial probe of administration to test the legislative waters over the issue. "Benefits for council: How would that affect us if we decided — or could we be eligible for benefits?"
After more than four decades helping to shape the weekly newspaper industry in southern Alberta, former Times publisher Coleen Campbell's professional shadow will continue to loom long over the family of newspapers she helmed for so many years. Campbell left the Alberta Communities Group in mid-2016, which includes the publications of The Vauxhall Advance, The Taber Times, Coaldale Sunny South News, Bow Island Commentator, Cypress Courier and Westwind Weekly News. "With a heavy heart and mixed emotions, I leave the Alta Newspaper Group after almost 41 years of investment that has shaped me in so many ways. I can't even express what working here has meant to me," said Campbell.
November 9: A cost-sharing proposal between the town and golf course for construction of a welcome sign was passed by a split 4-3 vote amid controversy at town council's Oct. 24 regular meeting. Bruce Gilbertson, president of the Taber Golf Club board of directors, headed a delegation from the club that proposed construction of a fence and signage that would be intended to enhance the entrance to Taber via Highway 36 for visitors coming from the south, including the United States, and located near the club's maintenance shop.
Class is now in session, and organizers of an upcoming education session in Queer 101 are hoping the learning curve results in better understanding and compassion for issues facing the LGBTQ community. Taber Equality Alliance is presenting Queer 101 at the Taber Public Library on Nov. 16 from 6-9 p.m., a community education session provided by OUTreach Southern Alberta, which is committed to working together with local organizations and businesses to foster inclusion and establish equality throughout communities. The program aims to illuminate LGBTQ issues and foster growth and understanding with the in-service program for local organizations and businesses.
November 16: Town council is establishing a three-person member at large committee to review council remuneration and the possibility of adding health benefits for elected municipal officials. At their Oct. 24 regular meeting, council voted 6-1 to establish the committee to review council remuneration. Coun. Rick Popadynetz opposed the motion.
The trickle-down effect on municipalities of the province's upcoming carbon tax levy will be felt at the grassroots level with town council voting to pass on the municipal cost to local taxpayers. At their Oct. 24 regular meeting, town council voted 6-1 to add a one per cent increase to its budget in 2017, and corresponding amounts in 2018 and 2019, to cover the provincially-imposed carbon tax increase to be added to the property tax increase. Coun. Randy Sparks opposed the motion.
November 23: A group of home builders in the area continue to pressure the Town of Taber to consider relocating the town's fire hall to a more central location in an effort to reduce fire response times. Improving the response times of the town's volunteer fire service, which could have a corresponding effect on the development community with regard to decreased input costs, has been a bone of contention for developers with properties currently outside the radius of a 10-minute response time.
While a project to properly nourish the body between the Church of Jesus Christ of Latter-Day Saints in Taber/Barnwell and the Taber Food Bank, the stakeholders have found the successful pilot project has helped nourish the soul as well. Last January, Merrill Harris was approached by his stake president to get the wheels in motion for the community garden project in which he met with Kathy Boersma, Taber Food Bank manager, and Vicki Koersen, Taber Food Bank Society president, to see what kind of produce they could use.
November 30: The Municipal District of Taber is moving ahead with a nearly $7 million construction project for a new maintenance and operations building. A tender from Dawson Wallace Construction Ltd. was accepted by council during their regular meeting on Nov. 22. The amount of the tender was $6,802,060. The pretender engineer's estimate for the project was $7,762,000. M.D. of Taber Municipal Administrator Derrick Krizsan said nine companies put in tenders for the project. Dawson Wallace is the company which constructed the Casa building in downtown Lethbridge.
Youth in the community are largely satisfied with the conduct and operations of the Taber Police Service, according to a new survey prepared by Sr. Cst. Andrew Evanson. Presented to the Taber Municipal Police Commission at their Nov. 10 regular meeting, the Taber Police Youth Survey 2016 fielded questions surrounding law enforcement to youth in the community ages 13-19 via an online e-survey instrument (www.surveymonkey.com). The survey was conducted from May 11 to June 9, and saw 361 respondents.
December 7: In the wake of two major crude pipeline approvals by the Trudeau Liberals in late November, a chorus of voices from environmentalists across the country have joined the fray in condemning the move. In Alberta, however, most voices have been expressing guarded optimism in a province that has been prostrated by a prolonged collapse in energy prices and the corresponding effect this has had on corollary industries. Giving the green light to Kinder Morgan's $6.8 billion Trans Mountain Pipeline expansion — which intends to triple the pipeline's current capacity from Alberta to its terminus in Vancouver — Trudeau's cabinet have signalled a willingness to acknowledge that access to tidewater for crude oil is a vital goal for the health of Canada's energy sector. "Pipelines, we need to move oil. The Kinder Morgan is the new piece that puts more oil to tidewater," said Bow River MP Martin Shields.
Town council has given first reading to a plan to borrow $1.1 million to complete multi-million dollar upgrades to the town's industrial lagoon system. At their Nov. 28 regular meeting, town council voted unanimously (6-0) to pass first reading of Long-Term Borrowing Bylaw 22-2016, which pertains to the Taber Industrial Lagoon Project. Plans and specifications have been prepared and the total cost of the project is estimated at $5,715,000. Grants and contributions applied to the project include $850,000 from capital reserves and $3,765,000 in provincial grants, which leaves a shortfall of $1.1 million.
December 14: Town council is examining ways it can make its decisions more accessible to the general public through the employment of various social media platforms, which could include live-streaming meetings in future. According to administration, council has expressed interest in looking at new ways of engaging the public in regards to council meetings, as well as making decisions more immediately accessible to the public. As the Town of Taber steers toward a "more open communications plan," the options available for communicating council meetings "are a great place to start."
Now in the third week of activities in the 12 Days of Christmas campaign, holiday cheer is spreading now more than ever with various M.D. of Taber and Taberites participating. Friday will mark an awareness campaign for the need of the Taber Handi-Bus from 1-5 p.m. where the bus will be making its rounds to show Taberites exactly what it does with many prominent members of the community riding the bus. "Last year, we had little cans (for donations) seniors for Christmas. We're hoping to get the mayor, people on town council, and other well-known people in the community," said Wanda Osburne-Campbell.
December 21: Due largely to policy requirements at the federal level, in 2017 the Taber Police Service will be integrating bylaw enforcement directly into the service through an additional constable rather than re-hiring a community peace officer. "We, as a police service, received a CPIC (Canadian Police Information Centre) audit at the end of September that said that we had our community peace officer in the past on our radio frequency getting CPIC information from us and being in a protected environment," said Taber Police Service chief Graham Abela.
On the verge of buying its second handi-bus, the need for it is now more than ever for the Taber and District Handi-Bus Association. The association made a presentation to town council in October which estimates show that as December goes to an end, there will have been 10,000 rides offered by the association for seniors and people with disabilities for 2016. The number has skyrocketed from 2009 when there was only 700 rides given. That is an increase of 0.23 rides per hour to 3.3 rides per hour in a mere seven-year time period.
December 28: Seeking input from the public on some of the problems surrounding the D.A. Ferguson Middle School and W.R. Myers High School partial modernization project, Horizon School Division held an open house on the issue earlier this month. Individuals that attended were given the opportunity to voice their opinions to members of the Horizon School Division board of trustees, and to give written or verbal feedback on some of the options presented for the modernization. About 40 people attended the open house.
Lethbridge County council passed the motion at a recent meeting to provide a letter of support for the M.D. of Taber to apply for a grant application under the Alberta Community Partnership (ACP), for a Multi-Jurisdictional Rural Intermunicipal Development Plan project. The project is involving the municipalities of the county, Vulcan County, County of Newell, County of Warner, Cypress County and the County of Forty Mile.