Gutfriend helping further education with roots at home
Posted on January 4, 2017 by Taber Times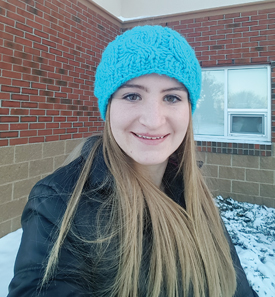 SCHOOL DAYS REVISITED: Teacher Terryn Gutfriend, who has taken over the vice principal role at Chamberlain School in Grassy Lake for 2016-2017, has strong ties to the local community. TIMES PHOTO SUBMITTED
By Trevor Busch
Taber Times
tbusch@tabertimes.com
Now in her fourth year as a teacher at Chamberlain School in Grassy Lake, new vice-principal Terryn Gutfriend has deep ties to the community, having grown up in the area and attended the school as a student.
Although Gutfriend now resides on an acreage near Burdett with her husband, Logan, her parents and brother continue to farm in the area that she still calls home.
"I attended Chamberlain School for elementary and junior high. Back then we didn't have a high school, so I went to Bow Island for high school," said Gutfriend.
Although she admits she had other opportunities in choosing her career path, the prospect of serving Chamberlain School in her hometown environment was too hard to turn down.
"I had a lot of opportunities, I just chose to work here over so many of the opportunities that I had, to instill my love for learning in the same town that I grew up in. It was an awesome experience for me here when I attended Chamberlain School, I just wanted to make it just as awesome — if not better — for the kids now."
In addition to her role as vice principal, Gutfriend teaches Science 6 and 8-9, High School PE, CTF 7-9 and Science 14.
"In a small town, I feel like there's a better opportunity to build relationships with the students and parents and other staff members, in a smaller class and smaller community environment. That's what I felt growing up as well, I felt connected to my teachers."
Gutfriend obtained her combined Bachelor of Science and Bachelor of Education degree from the University of Lethbridge after attending Senator Gershaw High School in Bow Island.
"She was enrolled here from K to 9, and then she moved on to Bow Island to Senator Gershaw, but in her time here, if you come in our gym, she's won a banner for badminton and was quite an athlete," said Chamberlain School principal Alyson Archibald. "She's an incredible science teacher, and has strong family ties — her mom is also the librarian here at the school. So she has Grassy Lake connections, and was from about five minutes south of town."
Taking a collaborative approach to student learning and interaction with the community is important to Gutfriend.
"I want to be part of the club of staff that we have here, and I wanted to be able to support our parent council that works so closely together, to ensure that we're meeting the needs of all the students, and making sure their experience in the school is an awesome one. I want to provide — being part of that team — to help provide those opportunities for the students, to help them find what they're passionate about."
Listing some of the qualities of her character that she believes enhances her teaching style, Gutfriend is often inspired by her students as much as she inspires them.
"I believe that I'm really flexible, and really passionate and positive, and I'm really strong at building relationships. I try really hard to keep the lessons engaging, and I really try to make personal connections with the students. Not only do I want to make a difference in the lives of my students, I really want to inspire them to be the best that they can be. And they inspire me to be the best that I can be as well."
An avid sports enthusiast, Gutfriend is also involved in shaping other athletes in the school.
"I love watching and playing sports — I curl, play volleyball right now — I just finished coaching cross-country volleyball, and I'll also be coaching badminton and track and field."
Working at the small-town school level has opportunities that are often different from providing education in larger centres.
"What I love about Chamberlain School is the collaborative staff and supportive parent council that works so close together. The smaller classes make personal connections with students really awesome, and I think that's really important to have. I really want to inspire the kids to be the best that they can be, and not only to leave with collaboration skills and be ethical citizens, but I want them to be kind, caring and positive role models, now and in the future."
Maintaining enrollment at present levels can be a challenge for Chamberlain School. According to 2011 census numbers, the community is home to 649 residents.
"The biggest challenge — you want to deal with any challenge in a positive way to grow my teaching practice and become the best teacher I can be — but for us in a small town, when I was in school here, it was really small classes as well, and we're still kind of smaller classes. I feel like the biggest challenge for us is — not declining, but just small enrollment — is a challenge, because we need as a community, and as a staff, we need to do a good job marketing all the opportunities that we have because we're a smaller school."
Gutfriend has no immediate plans to leave the school for other opportunities.
"I do plan on staying here for a long time. I'm just really attached to the community itself, and the kids and the parents."