Leahy named Citizen of the Year by chamber of commerce
Posted on December 28, 2016 by Taber Times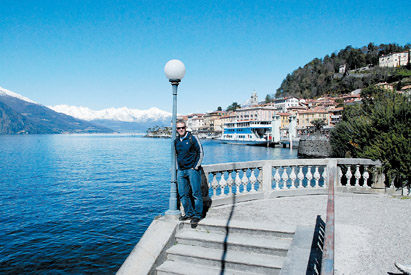 GLOBE TROTTER: Sports enthusiest and volunteer Kevin Leahy was recently named Citizen of the Year by the Taber and District Chamber of Commerce. Leahy traveled to Belagio, Italy (above) to chaperone St. Mary's School students. TIMES PHOTO SUBMITTED
By Greg Price
Taber Times
gprice@tabertimes.com
It was quite poignant how Taberite Kevin Leahy received word of his recognition as Citizen of the Year for the upcoming Taber and District Chamber of Commerce Annual Dinner and Awards Banquet on Jan. 20.
"We were giving out hampers at the food bank for Christmas. I had actually just set aside a sack of potatoes and the phone wouldn't stop ringing, so I thought I better answer this," said Leahy in getting the official call from the Taber and District Chamber of Commerce on his win.
Kevin has served on the Taber Food Bank board of directors for six years and has volunteered for it for every one of the 15 years it has been open to serve the community.
Leahy humble service in his decades of work bettering his community was echoed with his surprise and bewilderment upon hearing he received the award.
"I pretty much thought they had the wrong Kevin Leahy. I thought really? It took me by surprise no doubt," said the Taberite with a chuckle. "It's very humbling to even be mentioned in the same group of some of these people (past winners). To be chosen is astonishing."
Leahy is a member of St. Augustine's Catholic Church where he fills many roles. He sings in the choir, helps with maintenance and is a faith leader. He is often found extending his kindness to seniors and newcomers to the parish and helps out with the church's Fall Supper.
Leahy is also a Fourth Degree Knight in the Knights of Columbus, which is the highest honour bestowed on an individual in the club. As a Knight, Kevin has helped co-ordinate fundraisers, be it for food banks, schools, playgrounds, park, libraries or the Aqua-Fun Centre. Leahy has also been on the front line in his charity, be it building the playground, shoveling rocks, setting up chairs, sweeping floors doing bread runs for the food bank or carving turkeys for the Ministerial Food Bank Dinner.
Kevin has been involved in the Taber Cares group which has helped raise funds for the Japanese earthquake, High River flooding and Fort McMurray fire relief.
"I live here so I do here," said Leahy. "It is part of being a town. It's not things we can hire out and as a community we've always pulled together to do the things we need to do."
His love of sport almost equals his love of community, having been involved heavily with volleyball and curling over the years. Leahy started coaching volleyball when his daughter entered the team system at school at St. Mary's, and can be found refereeing even to this day.
"It was my high school. It's not that everyone feels that sense of Alma mater, but I guess I do in a way. I enjoyed it with great parents and great staff to work with at St. Mary's. There was certainly a lot of mentoring from people like Pat Pyne and Ken Gabruck," said Leahy.
Leahy has been involved in curling in Taber for 30 years now and has served on the Taber Curling Club board for too many years to remember properly.
"A young lady by the name of Mae Kanomata grabbed me by the ear and said 'you are going to help with this junior program,' which was after I had been curling for a couple of years. She put it much more politely than that, but she made it very clear that I was going to help out," said Leahy with a laugh. "And I love it. I was enthralled with coaching the little kids. It is a game that you can play at any age and you are still learning. It is a long, slow, learning curve in the sport of curling where you are still trying harder all the time."
Belief in his community and his faith have become closely intertwined as both feed each other.
"You just do what you can, and it has definitely been something that has been instilled by my parents," said Leahy. "I think this is something really nice the chamber does, not necessarily so much for the Citizen of the Year trying to toot my own horn, but for the businesses. For them to hang that plaque on their wall, what a neat thing to walk into a store, and you see things like 'Small Business of the Year, Customer Service, I think that is awesome."
What Leahy also thinks is awesome is the support of his wife Val, for without her, the things he has done in the community would not be possible.
"I would never be able to do the things that I do without her understanding and support."
Tickets for the annual Taber and District Chamber of Commerce Dinner and Awards can be made by RSVPing the chamber at 403-223-2265. Tickets are $55 apiece.
Also honoured on the night will be Small Business of the Year, Customer Service and Spirit of Taber.