MP Shields pleased with pipeline decisions
Posted on December 7, 2016 by Taber Times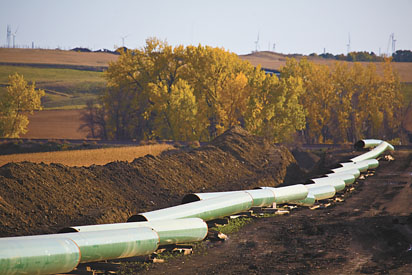 SQUEEKY WHEEL: Projects like the Keystone XL Pipeline are poised to resume barring any further regulatory hurdles. TIMES FILE PHOTO
By Trevor Busch
Taber Times
tbusch@tabertimes.com
In the wake of two major crude pipeline approvals by the Trudeau Liberals in late November, a chorus of voices from environmentalists across the country have joined the fray in condemning the move.
In Alberta, however, most voices have been expressing guarded optimism in a province that has been prostrated by a prolonged collapse in energy prices and the corresponding effect this has had on corollary industries.
Giving the green light to Kinder Morgan's $6.8 billion Trans Mountain Pipeline expansion — which intends to triple the pipeline's current capacity from Alberta to its terminus in Vancouver — Trudeau's cabinet have signalled a willingness to acknowledge that access to tidewater for crude oil is a vital goal for the health of Canada's energy sector.
"Pipelines, we need to move (our) oil. The Kinder Morgan is the new piece that puts more oil to tidewater," said Bow River MP Martin Shields. "The challenge we have there is the Vancouver port only has small tankers allowed in at the moment, the size that can go there, which still ties our oil to the North American market, because as they've been shipping out of the port it's been going down the coast to California or wherever the refineries are in the U.S."
As part of the same announcement by Ottawa, Enbridge was also given permission to move forward with the expansion of its main existing export line — Line 3 — to the U.S.
"Replacement of the line to the east, that's good stuff," said Shields. "It's an old line that needs to be replaced. Going by pipeline is safer than anything else, and that's an old line, replacing it that's a good thing."
Both pipeline approvals, if constructed, would add a total of approximately one million barrels per day in added export capacity, but in the case of Trans Mountain, some critics are already signalling that conditions placed on the approval will prove too onerous.
"The pieces there are, will they dredge Vancouver harbour so the larger tankers can come in — that means there's less boats coming because there's less trips — than the smaller ones, they don't basically move across the ocean. It's only the bigger ones that are moving," said Shields, referencing some of the issues with the Kinder Morgan pipeline. "Getting our oil to the international market is what we need — that's a good first step. Now will we actually get it built with the 157 conditions on it? There's a lot of people out there saying that they're just too tough, that it will never happen. But we hope it does."
Although Enbridge was thrown one bone by the federal government, their more extensive plan for the Northern Gateway Pipeline has now become more of a pipe dream. Mired in a bitter and long-standing approvals process and confronting increasing resistance from B.C. First Nations, Ottawa has now shut the door on the project, and has announced a moratorium on crude tanker traffic off B.C.'s northern coastline.
"It's a little tough to see Northern Gateway just totally shut down, it's just not going to happen, instead of letting it go through the regulatory process that had approved it before, and keep working at it," said Shields. "So it's tough to see that one just totally shut down because they're just not going to approve it for political reasons."
Shields was critical of what he perceived as contradictory language involved in the explanations provided by the Liberals for the pipeline approvals.
"We've heard noise for some time that they were going to approve it. It's interesting, because what they said about the science for Kinder Morgan — this is science, this is science, this is science, and the approval's all science — but then they went to Northern Gateway, and just shut it down, and it's a political decision to just shut it down. So which way are you going with these things? One is science, the other one is political."
In a statement last week, Alberta Senator Doug Black congratulated the federal cabinet on the pipeline approvals.
"These projects are absolutely necessary for the well-being of our province. However, the issue still remains as to how we get our oil off the continent in the super tankers needed to transport oil to China, India and other markets. Trans Mountain doesn't address this issue. With Gateway now dismissed, we must continue to work to ensure pipelines are extended to Atlantic Canada or any of our other ocean gateways."
Senator Black has been critical of the current status of Canada's oil economy where "discounted prices for Alberta's energy resources in U.S. markets means significant lost revenues and opportunities for Albertans and Canadians." According to Black, the best way to fix this current situation is through the construction of safe pipelines to Canada's east and west coasts, which was partially addressed last week.
"Albertans know that oil and gas is the backbone of our economy and a transition away from that, while laudable, is decades away from being a reality. I will continue to remind decision makers in Ottawa of this fact while the fate of future projects remains to be decided."
Black went on to acknowledge the work done by Premier Rachel Notley and her Alberta government colleagues for their advocacy and leadership which played an important role in the decision.
The twin projects are expected to create 23,000 jobs during construction.