New auxiliary constable joins force
Posted on November 23, 2016 by Taber Times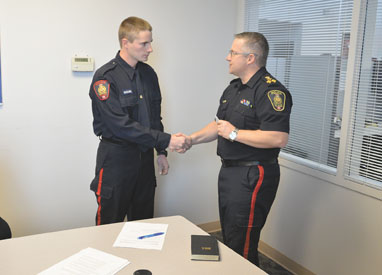 TIMES FILE PHOTO
By Trevor Busch
Taber Times
tbusch@tabertimes.com
A new face has joined the Taber Police Service this month as part of the organization's auxiliary constable program.
Leighton Motz, who originally hails from Bow Island, was sworn in earlier in November by Taber Police Service Chief Graham Abela.
"I applied full time before the budget came in last year, and auxiliary was something that I could do, so I went on that," said Motz prior to the ceremony. "It's great, it's fun. There's a little bit of training, and certain things that I have to perform to get to this point, hands-on training and book training."
Motz, who now resides in Taber and is an employee with Done Right Electric, says he hasn't ruled out the idea of pursuing a law enforcement career in the future.
"I wouldn't mind a career full time. This is kind of stepping stones, or a way to let me know even if I would like it full time. It's hard to know what the job is unless you're actually doing the job."
Auxiliary constables assist regular members with their day-to-day duties by being an "extra set of eyes and ears". They are required to complete, at minimum, two shifts per month and to complete various assigned duties throughout their shifts.
"This auxiliary program has been ongoing with the Taber police and the Town of Taber for quite a few years," said Cst. Dave Dube. "Some of their duties are just helping us with traffic control, patrols — they're like an extra set of eyes and ears, and they're also an extra set of hands and feet. If we're patrolling together and someone starts to run that we believe has committed a criminal offence, we usually send them out first, just because we have to park the car. So they get outside running, and we coordinate with them."
Other duties can include equipment checks and repairs, such as flashlights, radios or patrol vehicles; traffic control during motor vehicle collisions or parades; patrols and observations, radio communication, testimony in court, recording observations in a notebook and preparing violation tickets.
"They may be required to give testimony in court, and that all comes from recording all facts of the case properly into the notebook, so when it comes to court they can refresh their minds properly," continued Dube. "They will assist with arrests, under our direction. They're appointed by the province as peace officers, for the Town of Taber but also for the province of Alberta. Their duties are preservation of the peace, prevention of crime and other offences against the laws enforced in Alberta, apprehending criminals and offenders, and performance of other duties that we might ask of them."
Auxiliary officers can also be involved in arrests, search and seizure, guarding of prisoners , obtaining statements, assisting with search warrants, and scene containment.
"We're really trying to get them seen in the community, too, so they are dressed like we are," said Dube. "They'll wear a patch that says auxiliary. A lot of times at the bar they'll get 'Hey constable auxiliary', people think it's their last name. They are volunteers — acting right now we have a vice principal that's an auxiliary, and the other guy is seeking employment with police services in the area."
Other duties can involve assisting communications operators by answering phones or at the front desk, special event duties, completion of the auxiliary time sheet, and station tours.
"We spend about 10 hours doing authority training, understanding why they can arrest, understanding how to do prisoner searches, building familiarization. A lot of the soft training, like how to talk to people, how to engage with people. Then we get into some of the harder training, some control tactics, handcuffing, baton training, and OC spray (pepper spray or mace), where and when to use those. We don't have a lot of use of force in Taber, so we don't want our volunteers to be the ones initiating use of force all the time. There's safety training, too, so that we make sure they're not putting themselves into a situation where they could be compromised, or getting hurt," said Dube.
Unlike a volunteer firefighter, who are paid for their services when responding to emergency situations, the Taber Police Service employs a different philosophy regarding their auxiliary officers.
"They're completely volunteers," said Dube. "We supply their equipment, and they perform at least 20 hours of service per month. We kind of supply rewards — they're not cash rewards — based on hours. As they get closer to 1,000 hours, they'll get a plaque, and a red pin or red bar with a star in it that they wear on their uniform for 1,000 hours. It's just a bit of recognition, because we still want them to be volunteers, we don't want there to be a cash incentive."
Motz, whose uncle Glen Motz was elected as the MP for Medicine Hat-Cardston-Warner (Taber's former federal riding) in a recent byelection this fall, admits he was exposed to law enforcement at a young age thanks to his uncle's long employment with Medicine Hat's municipal service.
"I've always wanted to do policing. My uncle, Glen, was a member of the Medicine Hat Police Service for 35 years. So growing up, we'd go over there and hang out with him, and I think that early exposure was something that contributed to an interest in law enforcement."