Garden helping community spirit grow
Posted on November 23, 2016 by Taber Times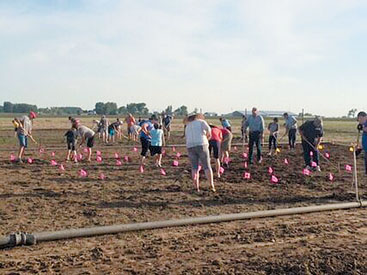 TIMES FILE PHOTO
By Greg Price
Taber Times
gprice@tabertimes.com
While a project to properly nourish the body between the Church of Jesus Christ of Latter-Day Saints in Taber/Barnwell and the Taber Food Bank, the stakeholders have found the successful pilot project has helped nourish the soul as well.
Last January, Merrill Harris was approached by his stake president to get the wheels in motion for the community garden project in which he met with Kathy Boersma, Taber Food Bank manager, and Vicki Koersen, Taber Food Bank Society president, to see what kind of produce they could use.
"We wanted to know what we could grow that they could use and they had a big shopping list and we tried to tackle that," said Harris. "It's one garden, straight north of Barnwell on Huckleberry Road. The church owns 80 acres and in a dry pivot corner is where we did this. We worked on an acre-and-a-half of that, fenced it off and got water in there with a water line."
Name something you can get out of a garden and the LDS Community Garden Project pretty much grew it, much to the delight of the Taber Food Bank.
"We grew peas, corn, broccoli, cauliflower, cabbage, red beets, carrots, pumpkins, squash, zucchini, watermelon, cantaloupe," said Harris. "The onions were a failure, we didn't do very well with the onions," he continued with a chuckle.
While many people may have been tempted to donate their excess Halloween candy to the food bank, it is projects like the community garden the Taber Food Bank really appreciates with its focus on health and nutrition.
"We get shipments and in our shipments we don't always get to pick. We will get pallets of candy and we don't want that. We don't give that out, we in turn will try and donate that out, or we do a barter agreement with another organization to get nutritious food. We do that with the things like the candy, chips and pop we receive," said Koersen of the donations they receive that are far less able to give one their essential vitamins and minerals that the community garden project can.
The Taber Food Bank receives some garden surplus that comes in during the fall from various individuals.
What the LDS community garden project had allowed the Taber Food Bank to do is have was a continuous and sustained supply of nutrition over the summer and well into the fall, compared to previous piecemeal donations.
"The community garden brought in 8,600 pounds of fresh produce," said Koersen."You are looking at about 160 different households it helps. In turn, we also helped four different food banks. We helped with them cutting their costs down with costs of vegetables being at an all-time high," added Boersma, noting Lethbridge Food Bank, Interfaith Food Bank, Bow Island Food Bank and Medicine Hat were also helped with the LDS community garden project.
"We contacted them and said we have a big surplus, could we help you guys? It was nice to bless other food banks as well."
Meat and fresh fruit and vegetables are the highest costs to food banks in trying to serve their in-need clientele where the generosity from projects like community gardens can help keep costs down.
The community garden was tended to by volunteer labour, where once it got fully up and running, each LDS ward was given different weeks and assignments to properly care for the garden so that it reached its growing potential.
"Most weeks, there were 30 to 50 people there with weeding and what not until it came to delivering the fruits and vegetables to the food bank," said Harris. "It is easy to say the Taber Food Bank received the blessings, but I think those who tended to the garden, like picking peas received blessings too because of the camaraderie of doing something side-by-side was fantastic," added Aaron Edlund, a member of the LDS Church. "As members of the Mormon faith, we know each other quite well. The next step I think is we would like to get to know members of other faiths as well."
An invitation is being made for next year's community garden for all faiths to tend to the project in fellowship in helping those less fortunate.
"Another goal for us eventually for the food bank is to see our clients come out and tend to that garden too. As recipients of the food, to grow it themselves, that in turn develops leadership and autonomy skills for them," said Koersen. "It helps our clients get back on their own feet and teach others. We'd love to see all community members come out. Maybe you can't give money, but you can give your time which is OK, that is needed just as much."