Spend the night with Alice Cooper
Posted on October 28, 2016 by Taber Times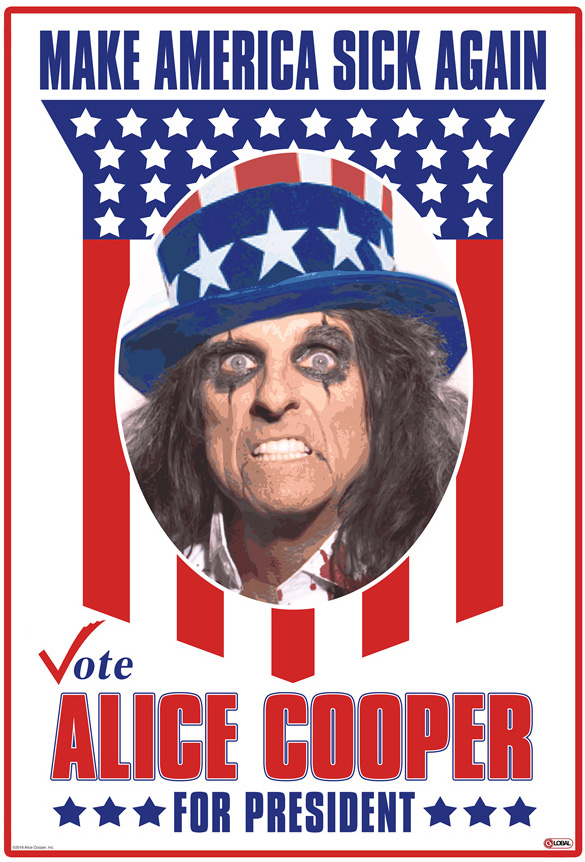 By Stan Ashbee
For the Lethbridge Herald
He's back — the man behind the black makeup. He's a shocker, a rocker and he's heavy metal mean. Spend the Night with the master of the macabre Alice Cooper Thursday at the Enmax Centre.
"It's a full-out Alice Cooper extravaganza. It's in three parts — it's glam Alice, it's horror Alice and all of the tricks are in the show. The guillotine, the straight jacket, the snake, the nurse and 'Elected' at the end — Trump and Hillary are on stage. I mean, it's a full-out show," said Cooper.
For decades, Cooper's classic hits have seeped into our collective nightmares — "School's Out," "No More Mr. Nice Guy," "I'm Eighteen," "Billion Dollar Babies," "Poison" and "Feed My Frankenstein." Cooper also had a role alongside Freddy Krueger in "Freddy's Dead: The Final Nightmare" and appeared in the Johnny Depp "Dark Shadows" reincarnation.
According to Cooper, he recently had the opportunity to head out on the road with Hollywood Vampires — a band he formed with Depp and legendary guitarist Joe Perry. "I did that tour for about five weeks. It's been a very busy spring and summer," he said, adding even though his Hollywood Vampires bandmates have careers going, the show will go on once again.
"One guy's in Aerosmith, one guy's in Alice Cooper, Johnny Depp makes movies, and one guy's in Guns N' Roses. We have to book a year in advance and say, 'everybody clear a month — one where you're not doing something and let's all sort of clear our calendars, so we can go out again and do shows.' That's what happened this year. We actually had five weeks of touring through Europe and the States and it was great," he said.
Alice said once his current solo tour is complete, he will return to the studio to work on a brand new solo album.
"It will be my 28th album or something like that. With Bob Ezrin and I've already started writing. I think there's already 10 or 12 songs written already. Now, it's just going in and putting them out. We tour every year, usually from May to December. There's never a year we're not on tour somewhere," he noted.
Speaking of horrifying or blood-curdling, the upcoming U.S. presidential election between Donald Trump and Hillary Clinton is almost terrifying, that's why Cooper has thrown his name in the ring as a satirical contender.
"I look at it this way, as an American, if that guy can run and she can run, then so can I. I of course have no chance of winning but it's my way of satirizing the election. We have 300 million Americans, and these are the two best we can come up with — it's very weird how people get elected in the United States. I'm very un-political but I can only look at it one way and that is America is tired of politicians, so they like the idea of Trump, who is not a connected politician," he said.
"On the other hand, he keeps shooting himself in the foot every time he opens his mouth and then you've got Hillary and 80 or 90 per cent, or something like that, don't trust her," he added.
"There must be two other people out there better than these two," he joked.
On top of touring around the world, satirically running for president and an owner of Cooper'stown, a Phoenix, AZ-based sports/rock bar — Cooper continues to host his syndicated radio show "Nights with Alice Cooper," which has been heard for the past 13 years, five nights a week on 180 stations across the globe.
"It takes me a certain amount of time to tape the show every day plus do my show at night on the road and then on top of it I've got to get at least nine holes in," said Cooper, an avid golfer and author of "Golf Monster."
"You have to have your priorities straight in this business," he added.
Cooper said the current live show is really a lot of fun and Lethbridge fans will be haunted by it forever.
"It just keeps moving. It never gives you a chance to get your breath and that's the whole idea of it. It's like going to a really strange Halloween party but the music is really good. The band is the best band I've worked with in years and years. Maybe the tightest band I've ever worked with and pure rock and roll — 25 songs. Everything you could think of Alice has done is in this show. In fact, at one point I said, the only way to end the show is to have a giant kitchen sink fall on me," he joked.
Spend the Night with Alice Cooper. Show starts at 7:30 p.m. Tickets on sale now online at enmaxcentre.ca or at the Enmax Centre or Yates Memorial Theatre Box Office.