M.D. holds open house for proposed wind farm
Posted on October 26, 2016 by Taber Times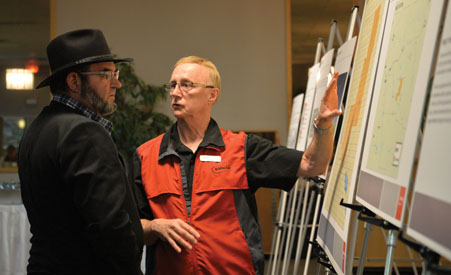 PLANS: Dennis Elias, director of stakeholder and aboriginal relations at ENMAX, talks to Ben Hofer about the proposed Zephyr Wind Farm. TIMES PHOTO BY NIKKI JAMIESON
By Nikki Jamieson
Taber Times
njamieson@tabertimes.com
A new wind farm is being proposed for the Municipal District of Taber.
On Wednesday, Oct. 19, ENMAX Generation Portfolio Inc. (ENMAX) — a subsidiary of ENMAX Corporation — held an open house at the Heritage Inn in Taber for a second wind farm in the M.D.
Known as the Zephyr Wind Farm, the project's buildable area is located southeast of Taber, between Highway 513 and the M.D. boundary, and Range Road 155 and Range Road 143. It would consist of 50-70 turbines, depending on turbine selection, with hub heights of 90-135 metres and include the construction of new collector systems, which would send the energy gathered by the turbines to a new substation. It would have the potential to produce about 200 megawatts of power.
"Ultimately, we haven't decided to do it yet, this is just the first part of the process. Currently, we are a wind farm owner, we believe that renewable energy is going to play a larger and larger role in the electricity system in Alberta, so we're effectively getting ready for the future," said John Rilett, director of enhanced energy services, energy solutions and competitive energy for ENMAX. "Part of the reason we're here today is to actually talk to the local community and the landowners and see if there are those concerns. Obviously, we'll work to mitigate them as best we can, but with anything else, anytime you build something there is likely to be concerns."
In November 2015, the Alberta government announced its Climate Leadership Plan, with the aim of having the province's power transitioning away from coal-power, with 30 per cent being generated by renewable resources by 2030. As part of this plan, they are awarding energy contracts to renewable energy producers through a competitive bid process.
ENMAX currently operates three wind farms in Alberta; The Taber Wind Farm, the Kettles Wind Farm and are part of a joint venture in the McBride Lake Wind Farm. This will make the Zephyr project their fourth wind farm, and the second within the M.D.
They hope to obtain a government contract for the fourth wind farm, through this initiative. And as the Taber area has one of the best, "if not the best" wind sources in the country, along with reasonable and close-by connections and capacity, it makes it an attractive spot for a wind farm.
"We're sort of looking to expand our renewable energy portfolio, and this is a good place to do it," said Rilett. "The government has signalled that they're going to want to see more wind come online, they've talked about a competitive process to pick which wind farms get built next, and we're a large scale generator here in the province, so we want to be ready for that future.
"It is policy driven, with our government stating that they want to have 30 per cent of the energy come from renewables by 2030. That effectively creates a much larger demand for renewable energy, so getting ready for that is our main motivator. But we've always been interested in wind, we would always be interested in building more, but it just depends on having the right market conditions to have it be viable, and for the last five or six years, it just really hasn't been viable, given where our market is at. However, we see the change coming, and that's going to motivate us to get ready."
ENMAX is currently in the middle of environmental studies — particularly regarding bat and bird activity and migrations in the area — for the project's site. No applications to the Alberta Utility Commission have been filed yet.
According to their schedule in documents handed out at the open house, they expect to submit their phase one application to the AUC in the fourth quarter of 2016, with the energy contract process starting at the beginning of 2017. In the second quarter of 2017, they expect to begin public consultations on the final design, and, if the project is approved and a contract is awarded, they expect to begin construction on the wind farm in 2018. with it coming online by the end of 2019.