Health foundation telethon fast approaching
Posted on October 19, 2016 by Taber Times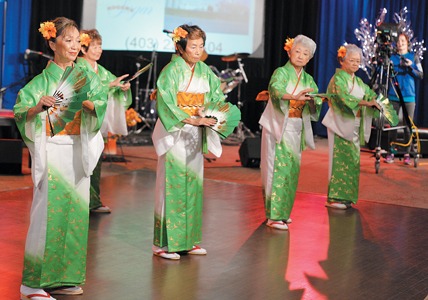 TIMES FILE PHOTO
By Greg Price
Taber Times
gprice@tabertimes.com
Different day, same fantastic event for giving with the Taber and District Health Foundation 22nd Annual 'Share in the Experience' Telethon.
The Taber and District Health Foundation has managed to raise nearly $5.5 million to date in its 21 years of existence as the Share in the Experience of Giving Telethon looks to make its 22nd appearance on Shaw Channel 9 on Saturday, Oct. 29 at the Heritage Inn from 2-8 p.m.
Having been situated on a Sunday in late October in previous years, organizers decided to make the switch to Saturday for 2016 for various reasons.
"It allows for all our volunteers to have a day off before they go to work and also respect the Lord's Day," said Dave McKee, fundraising co-ordinator for the Taber and District Health Foundation. "Before they would be working their normal Monday through Friday job, do set up on Saturday, do the telethon on the Sunday, strip it down and then back to work again."
Along with being a help against volunteer burnout, it is also a help for Shaw Cable, who could not previously have half its crew donate time for when the event was on a Sunday.
"Before they would only have half their crew available on the Saturday. So they'd bring maybe 75 per cent from Lethbridge and 25 per cent from Medicine Hat. Technically, you can have more guys on the Friday (doing set up), where on Saturday it's ready to go," said McKee.
Another thing different for this year is having the telethon having the ability to be live streamed on Smart TVs or laptops/iPads.
"It is going to allow people who haven't been able to see it before because they weren't Shaw customers to at least watch it on their iPhone, hand-held device or computer," said McKee.
"It also helps get to our donor base that did not have options to watch the telethon because once you go north towards Vauxhall, Hays, Enchant area, Shaw isn't there at all. They have never had the opportunity to view the telethon which makes it really exciting."
Entertainers will be making their way from across southern Alberta for the telethon Oct. 29, including Wrentham which is new this year.
The medical equipment the telethon has been able to purchase for the Taber Health Clinic because of the generosity of donors has allowed rural patients to enjoy some big-city perks in delivering medical services to Taber and surrounding-area residents.
"It has made it easier for patients. We just completed an upgrade in radiology where everything looks like it is working correctly and that was a $190,000 upgrade. Even the upgrade to the autoclave (sterilization) room where before instruments used in the operating room were being transported to Lethbridge for sterilization. That increases the sets of instruments you need because two sets are either coming or going. Instead of needing two or three sets maximum, you were needing six. If it can be done here, it speeds up the operating room and gets more people in quickly," said McKee. "Now more knee surgeries are being done in Taber because of the equipment that was upgraded from the telethon. And we have Dr. Torrie with the colonoscopies where that is very important."
The telethon goes Oct. 29 from 2-8 p.m., live from The Heritage Inn and televised on Shaw Channel 9. The event can be live streamed at http://livestream.com/shawtvcalgary/events/1733076.
If you catch the show and want to call in a pledge, you can call 403-223-2404. Advance donations are welcomed at the Taber Health Clinic.