China investment opportunity possible
Posted on October 19, 2016 by Taber Times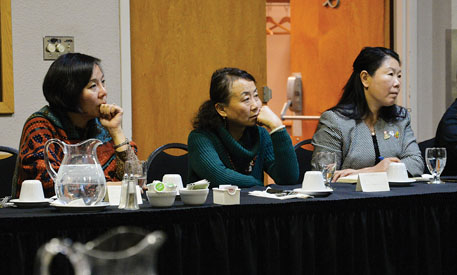 MADE IN CHINA: Representatives of various economic development organizations and area businesses, along with local dignitaries, gathered at the Heritage Inn last week for a investment meeting with a delegation of Chinese business representatives. TIMES PHOTO BY TREVOR BUSCH
By Trevor Busch
Taber Times
tbusch@tabertimes.com
As the province and the nation grapple with the impacts of economic recession, the Town of Taber, in conjunction with a number of economic development organizations, are doing what they can to try to spur on investment in southern Alberta.
To that end, last week the community hosted a delegation of Chinese investors interested in the opportunities the region might have to offer. The three-person delegation from Anyang, China, was made up of Zhang Rui, vice president of Anyang Steel International Trading Co. Ltd.; Bai Qing, general manager of Anyang DHL Transport; and Dorothy Zu, board member of the Shandong Importing and Exporting Association. Hosted at the Heritage Inn on Oct. 12 and organized by the Town of Taber and Taber Economic Development, the business luncheon which was attended by a number of business and industry representatives was followed by a tour of area amenities, industries and facilities. A locally-sourced meal was prepared to highlight agricultural opportunities in the area.
During the meal, representatives from various local industries provided the delegates with an overview of some of the hallmark business interests in the region. This included town planning and economic development assistant Kattie Schlamp, who gave a presentation on Taber's population, major industries, various amenities, and business opportunities, and was followed up by Taber Irrigation District manager Chris Gallagher, who provided an overview of the irrigation industry in southern Alberta.
Other presenters included John Evans, managing director of Tractus, an organization involved in building businesses in Asia, who described some of the advantages and pitfalls involved in attracting investment from Asian concerns. David Bekkering of TFS Expanse Feedlot gave a presentation on the local cattle industry, and fielded questions from the delegates.
Following the luncheon, which concluded with some photo ops with the representatives, the delegation took a guided tour of a number of amenities and facilities, while highlighting the town's police force, hospital, schools, and the newly-developed Eureka Industrial Park.
As part of the goal to present the community as an agri-food processing hub, the delegates — who spent four days in southern Alberta — also took in a tour of the Lantic Sugar, Inc. processing facility. To kick off the tour near the end of the luncheon, the delegates were provided with a description of the local sugar beet industry by Alberta Sugar Beet Growers executive director Melody Garner-Skiba. Other organizations involved in formulating the tour by the delegates included Economic Development Lethbridge, County of Lethbridge, SouthGrow, and Alberta Southwest. Themes explored during the visit and tour included a focus on agriculture, agri-food processing, renewable energy, clean technologies and tourism.