New principal at St. Pat's
Posted on October 13, 2016 by Taber Times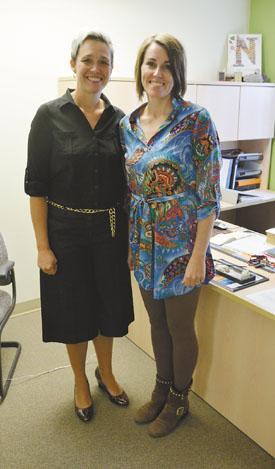 LADIES FIRST: Associate principal Meghan Calder (left) and principal Michelle Nevil are both new to the school's top administrative roles for the 2016-2017 school year. TIMES PHOTO BY TREVOR BUSCH
By Trevor Busch
Taber Times
tbusch@tabertimes.com
Always a familiar face among the staff at St. Patrick's Elementary School in the past, new principal Michelle Nevil has now stepped up to the top administrative role for the 2016-2017 school year.
"I've always been here at St. Pat's. I started teaching 12 years ago, and I've probably held every position here at St. Pat's," said Nevil. "I was a Grade 3 teacher, Grade 4 teacher, I went part-time into kindergarten, and that's where I truly found my love for teaching was in early learning."
Nevil views forging a relationship with students at an interpersonal level to be an ideal approach to ensuring success in the classroom.
"In a sense, my own personal philosophy of teaching is teaching the whole child. Understanding who they are, how they learn, and their individual needs, and ensuring that they feel loved. Because the big thing — all research says — if you're in a positive environment, you will learn. If you feel appreciated and loved, you will learn what that adult is teaching you. So those relationships, and that connection, are very important to me, and always has been in my teaching career. And I think that's what has motivated me to go into administration. About six years ago I got into administration."
Nevil holds a Masters in Leadership, in addition to majors in maths and sciences, which she achieved at the University of Lethbridge.
She envisions St. Patrick's as a school where all aspects of a community can meet in an atmosphere of acceptance and understanding to achieve mutual goals for the future.
"I just want to replenish the hallways of St. Pat's, so when people walk down the hallways they feel loved, they feel welcomed, that the door is always open," said Nevil. "My big thing is making those connections, building those bridges with the community. A 21st century learner is the whole village, it brings that whole notion back, so I have a couple of projects that aren't on the go but I want to get going, that can bridge that gap. That's important to me, is bringing the parent community in, bringing our church community in, bringing the high school community, even the Taber community — making sure we have all these people involved in these kids' education."
At the same time, Nevil admits her administrative style will not always be sunshine and rainbows.
"I'm a good people person. I care about everybody. And I'm tough — my expectations are high, sometimes too high."
Faith-based learning will be a key aspect of Nevil's approach to providing education at the school during her tenure.
"St. Pat's is like my home. When you walk down the hallways, it just feels right. So I'm very protective of St. Pat's, I guess, in a sense. The students are my kids, and the staff are my family. I feel very lucky that we have our Catholic schools, and that we can teach our faith, and we can share the faith with everyone in our school. I just feel blessed that way, that I can bring God's word into our assemblies, and just teach the kids about that stuff. I want to make this the best place to learn."
As a busy mother in addition to her career, Nevil humourously pointed out it sometimes seems like her own interests have been abdicated in favour of her children.
"I've been a devoted hockey mom for the past 12 years, since my kids started hockey. I actually don't know what I like to do, because I've been running around with my children, just watching them play hockey, and all of their activities. I do love to be home; I live out by Warner on a ranch, so it's my sanctuary."