Food drive dedicated in memory of long-time volunteer
Posted on October 5, 2016 by Taber Times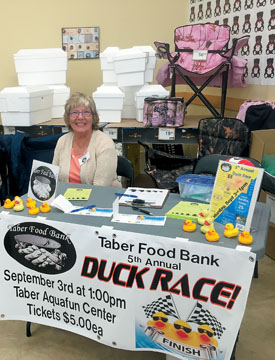 DUCKY: Karen Tverkutes was all smiles as she helped sell tickets for the Taber Food Bank's hugely popular duck race. TIMES PHOTO SUBMITTED
By Greg Price
Taber Times
gprice@tabertimes.com
The Taber Food Bank food drive last Wednesday proved a bitter-sweet day for the volunteers within the organization.
Sweet because of the outpouring of support by the community for the initiative that proved one of its most successful to date, but a day filled with sadness because of the passing of one of its own.
Karen Tverkutes was a long standing Food Bank Board member and volunteer, representing St. Theodore's Anglican Parish.
She suffered a fatal heart attack while canvassing for the community food drive last Wednesday as volunteers took to the streets of both Taber and Barnwell.
"The staff and board dedicate the food drive in memory of Karen and her dedication to the food bank. She was passionate about helping those most in need," said Vicki Koersen, president of the Taber Food Bank Society.
"She gave countless hours, always with a broad smile and loving heart. Karen not only volunteered, she brought her friends along, because she knew the joy and importance of giving back, and loved to share the gift."
Karen's final act of kindness in the community food drive last Wednesday helped net 11,524.5 pounds of food product along with $2,270 dollars in cash donations. Tverkutes was one of approximately 300 volunteers who gave 221 hours to the cause.
"Our thoughts and prayers are with her husband Bill and family. Karen was an amazing lady, who gave selflessly to others. Thank-you Karen for your service and love of the Taber Food Bank. You will be greatly missed and never forgotten," said Koersen.