Body recovered from Oldman River
Posted on September 28, 2016 by Taber Times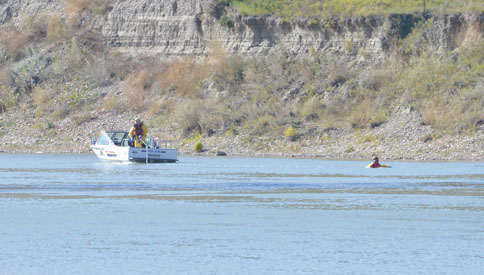 TRAGEDY: Search and rescue crews were out in full force on Sunday and Monday in search of a missing swimmer in the Oldman River at the M.D. of Taber Park. The body of the swimmer was eventually discovered on Monday afternoon. TIMES PHOTO BY TREVOR BUSCH
A two-day search for a missing swimmer at the M.D. of Taber Park has ended in tragedy, as the swimmer was pronounced deceased upon the discovery of his body at 12:06 p.m. on Monday afternoon.
The 33-year-old was enjoying a morning/afternoon of swimming on Sunday at the park along with three of his siblings, when he decided to climb a pillar of a bridge going over the river, and then jumped into the water according to RCMP reports.
While the river has its very shallow, waist-high depths, reports among locals note the water can get as deep as 12 feet during this time of the year, with strong currents.
At approximately 2 p.m. on Sunday, Taber/Vauxhall RCMP were called with a report of a missing male involving the swimming incident which started the process of hours of search and rescue with the combined resources of the RCMP, Lethbridge Fire Dive team, Taber Emergency Services and M.D. Of Taber staff.
The RCMP continue to investigate the incident, however, it is not believed to be suspicious in nature. The RCMP did not release the name of the deceased male according to the Federal Privacy Act.