Physical literacy being explored for trail system
Posted on September 14, 2016 by Taber Times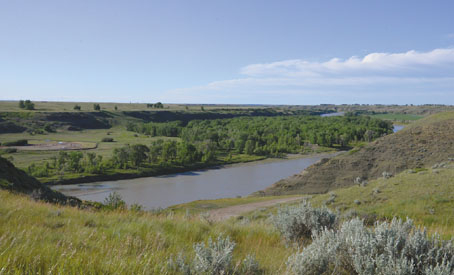 TIMES FILE PHOTO
By Greg Price
Taber Times
gprice@tabertimes.com
An interactive literacy adventure for youth may soon be making its way to Taber's trail system.
Dawn Kondas and Pat Bremner, representatives for the Taber Public Library, were on hand at the Sept. 8 recreation board meeting, to pitch the idea of physical literacy.
"About a year, year-and-a-half ago, I was on the Internet and I was looking at different programs that libraries do. And I came across this awesome idea called a story walk, and it was from Gillette, Wyoming," said Kondas, program director at the Taber Public Library. "Knowing we were building our pathway, I thought let's see if this idea would work."
Bremner added the Taber Public Library wants to promote any type of learning, not just the learning that is found between the four walls of the library itself.
"I am a strong believer of lifelong learning," said Bremner.
That lifelong learning could be aided by families who do a story walk along the walking trails where signs are put up at various intervals, as parts of an overall story.
"It's very simple. Mom and dad, or grandma and the little ones are all out walking and they start to read the story. But, the thing is, they have to go on to the next sign to read more of the story and so on and so on," said Bremner.
"We would change the stories up periodically, but it would be a way for families to get out with their kids and make that walk a little more interesting for kids than just walking. It will make kids eager to get to the next one, kids are curious. It could be a story about Tank 77, it could be a detective story. It could be something the schools write for us, where teachers would jump on this bandwagon and maybe have a contest with their students."
Bremner assured the recreation board that financing the project should not prove difficult as Friends of the Library would do the fundraising.
"It is a very active group and have raised money for us before like the Jingle at Christmas," said Bremner. "We just didn't want to go down that road until we got a yay or nay (from the recreation board and town council). "We are comfortable with financing. We are not concerned about that."
The concept has been used heavily in trail systems in the United States, but Bremner and Kondas were unaware of any similar initiatives being done in Canada other than the trivia 'Did You Know' signs that appeal more to adults.
"This is an opportunity to add some excitement to a child's walk. It also instills healthy habits," said Bremner. "Kids are starving for exercise. The Pokemon craze has shown that. They will do the exercise if there's a little something extra in it for them."
The Town of Taber has not passed an official signage policy as it pertains to the trail system as of yet, but recreation board member and town councillor Randy Sparks seemed amicable to the idea.
"This is a good idea. We know you want a story book, but how many signs? What kind of signs? We just need more information before we go forward with this," said Sparks. "And we also have to find out once these signs are up, who is responsible for maintenance?"
It is a sentiment Luke Wijna, chair of the Taber Recreation Board echoed in giving something that was appealing to youth on their nature walks.
"You got my vote if we were to vote on it now. It's nothing I would of thought of, it's fantastic," said Wijna. "But, Randy did ask some questions that we need answers on."
Kondas and Bremner assured the recreation board that the signs would be made to be very attractive, yet functional, standing up to rain, wind, sun and snow.
With recreation board member Darcy Firth having young children of his own, he could see nothing but positives through physical literacy.
"As a parent, I have to drag my kids around on walks two to three times a week, especially my four-year-old. That's always a problem for me and I'd want ways to make it more enjoyable. You can talk as you're going, but you know they're not having any fun," said Firth. "I think it's a great idea."
Aline Holmen, director of recreation for the Town of Taber brought up the concern that signage on the trails would need to be streamlined with other types of signage initiatives to go alongside physical literacy.
"One thing we have noticed is if there are too many signs, people do not look at the signs regardless of what they have on them," said Holmen. "If we can collaborate and maybe have different uses for the same signs."
Sparks made the motion that was passed unanimously that to ask members of the Taber Public Library to come back with more information for the Taber Recreation Board at its October meeting, concerning the physical literacy initiative.