Fall class booklet available
Posted on September 14, 2016 by Taber Times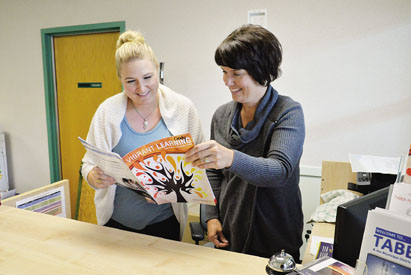 TIMES FILE PHOTO
By Trevor Busch
Taber Times
tbusch@tabertimes.com
As fall temperatures begin to descend across southern Alberta and local citizens look for opportunities to wile away those less hospitable hours, Taber and District Community Adult Learning Association has released their fall classes booklet with a host of offerings for the continuing learner.
As of July 1, 2015, Alberta Advanced Education set forth a new set of guidelines for community adult learning programs in the province, shifting the organization's focus to Literacy and Foundational Learning, including adult literacy, family literacy, English language learning, basic computer skills, numeracy and essential skills.
"We've made the transition now, a lot of the general interest courses have been taken out of the booklet, and the focus is now on foundational learning," said Jane Brenner, TDCALA executive director. "That focus is primarily for learners who need the basics in anything, so basic computer skills, basic literacy skills, basic math skills, family literacy skills. Literacy and foundational learning are required programming that we do, and we also do community capacity building."
TDCALA is now offering increased learner support services, including post-secondary information, assistance with basic technology, knowledgeable referrals, and newcomer assistance.
"We're moving toward learner support services," said Brenner. "Those are the one-on-one services that learners may need. We can help research what your skills are, we have a computer program called Career Cruising, where any youth or adult can come in, free of charge, it assesses what their strengths are, and then steers them toward the career choices that would be in their best interest, based on strengths."
Programs being offered by TDCALA for the fall season include Basic Computer Skills (Computer Basics, Internet and Email Basics, Introduction to Microsoft Word, and One-on-One Computer Tutoring), English Language Learning (Improve Your English – Vauxhall, Improve Your English – Grassy Lake), Foundational Life Skills (Study for Success), Community Capacity Building (GED, GED Exam, What Every Babysitter Should Know – Taber, Canadian Non-Restricted Firearms Safety – Taber, Canadian Non-Restricted Firearms Safety – Vauxhall, Canadian Restricted Firearms Safety, Introduction to QuickBooks, Introduction to Microsoft Excel, Bookkeeping Basics), Alberta Law Foundation (Enduring Power of Attorney, Information, Identity Theft and Law, Being an Executor, Small Claims Court, Grandparents, Grandchildren and Law) and Especially for Seniors (iPad Basics for Seniors, Seniors Technology Tutor, Facebook for Seniors, Accessing Digital Resources).
"We're a GED testing site now. We want to focus on that," said Brenner. "Most companies now require a Grade 12 equivilancy to go to work for them, and so we're running a GED course that is happening on Sept. 27. It's two nights a week, Tuesdays and Thursdays to Dec. 1. They can take the class, and then they can actually write the exam here now. Previously they would have had to go to a post-secondary setting, either Medicine Hat or Lethbridge College. We're also running a program called Study for Success, Connie Gross is doing it. So anybody looking at higher learning and wanting to get an edge on the course, what do they need to do to get into the post-secondary system."
TDCALA's English Language Services ESL Drop-In Centre has also moved from its previous downtown location to the Provincial Building at 5011 49th Avenue. At the same time, TDCALA's main offices, once located in the northwestern area of the Provincial Building, have moved to a larger and more central office space in the same building.
Other programs on offer include English Language Services, Learner Support Services, GED Prep Class, Career Cruising, Family Literacy Programs and Seniors' Morning Out.
Through Barons-Eureka-Warner Family and Community Support Services, programs include Parent Programs/Parent Link Centre, Teen Programs, Counselling Programs, Seniors' Wellness Programs, Stay and Play, Parent Preschool Program, Wondering About Your Child's Development, Baby and Me, Kids: Why They Do What They Do, Navigating the Teen Years and Caring for the Caregiver.
"We've partnered with FCSS to hire a family supports co-ordinator, so she'll be working with families to introduce family literacy, and coordinate the programs that we presently run in our Families Learning Together program," said Brenner.
One of the cornerstone projects to receive funding in 2016 for TDCALA will be a resurgence of their successful Youth Employment Program, which has proved popular in recent years.
"We're doing a Youth Employment Program, we got funding again for that program," said Brenner. "It's for youth 15 to 30 who are at risk of finding and then keeping employment. It's a 17-week program. For eight weeks they come to class, and we work on group-based employ-ability skills. And then for nine weeks they actually go into work experience, into hopefully the field that they're looking at. The success of the program is they're either employed at the end of 17 weeks, or they've returned to school. The whole time that the youth are in school, they get paid minimum wage. They can register online, or they can text us at 403-715-6616. The program was offered seven years ago, and a couple of the youth that we placed seven years ago are still working at their present positions in Taber, and these youth are going to come back as mentors to the new youth coming into the program."
TDCALA has also developed a welcome guide for the area, Welcome to Taber and the Municipal District of Taber: A Guide to Services in Our Community, designed to assist residents and newcomers to Taber in finding access to local services such as accommodations, food and restaurants, local information, recreation and relaxation, medical, legal, or counsellor services, and highlighting general points of interest.
"This summer we developed a guide to services in the community, based primarily for newcomers coming into the community, and it's just a list of all the places and contacts that they might be interested in as a newcomer," said Brenner.
Confusion in the public over classes being offered by Cypress College has caused some recent consternation for TDCALA employees.
"Taber and District Community Adult Learning Association is not affiliated in any way with Cypress College. They also put out a little brochure and people were getting them confused," said Brenner.
The work that TDCALA does in the community is extremely important in keeping it vibrant and progressive, according to Brenner.
"I think that the work is long-ranging. Last year we had the story of an English as a second language learner who was in our Families Learning Together program, and she was going into Wal-Mart with her little girl, and her little girl looked up at her and said 'Mummy, I sure like you better now that you're in school', and the mother said 'Why?', and she said 'Because you talk to me more and you're happier'. So you can really see the effect that had on that child. It's not just about building literacy skills in the community, when you have a more literate community you have an educated community, and a more progressive community. And it's a better community all around."
Registration deadlines for classes is one week prior to the start date of the class.
"We've been serving the community since 1972, for forty-four years. And so for something to exist for forty-four years, there's got to be a reason, and there's got to be a need for it. There's about 130 community adult learning programs across Alberta."