Mayor gives Cornfest retrospective
Posted on September 7, 2016 by Taber Times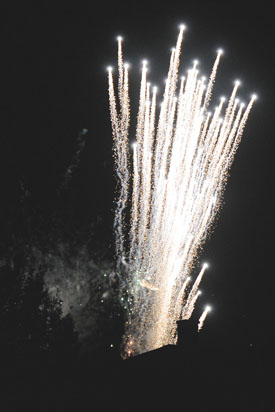 TIMES PHOTO BY TREVOR BUSCH
By Trevor Busch
Taber Times
tbusch@tabertimes.com
With Cornfest 2016 a recent wrap, Mayor Henk DeVlieger reflected back on the year's event for Taberites.
"I was very happy. I think the attendance was there. The Cornfest Committee did an excellent job. As far as I could see things went very smoothly. Beautiful fireworks, a nice selection of entertainment, there was something to do for everybody."
Cornfest is always an event where Taber can showcase all it has to offer to those who come to visit the community of 8,380 people.
"As I said on stage, I see it as a big family party for the town of Taber, and people come together and invite their friends and family from far away," said DeVlieger.
"It's just a happy occasion, and I think it turned out very well. A big thank-you to the Cornfest Committee and the chamber of commerce."
Beyond the initial novelty factor of having a permanent stage in place for 2016, DeVlieger sees longer-term benefits to the structure.
"The new stage, I think nothing but praise for the chamber on that one. I think it turned out nice, and it's an investment made to the town that will last for a lot of years. It will take a lot of volunteer time away that they can use for something else."
Despite some limited criticism in some quarters about the date (Aug. 25) and timing (4 p.m.) of the annual parade, DeVlieger viewed the event as a general success.
"As far the change in the parade, it doesn't matter when you do it there's always somebody that can't make it, but in general I think it turned out well. It was a little rainy, but there's nothing you can do about that. As far as I could see — I was sitting in my car there — the whole route was packed with people."
DeVlieger went on to point out that other communities host their parades on weekdays during the day, so residents shouldn't have been too surprised or disappointed by the date and timing.
"It's the same with Lethbridge, they have their parade Tuesday morning at 10 a.m. or 11 a.m., so people have to take off work, too. If you look at Calgary Stampede, same thing, they have their parade in the morning during a weekday. It's a nice way to start Cornfest, I thought it was actually done very well."
Looking forward to the fall season, DeVlieger was all positivity.
"We've got a nice, vibrant town. I'm happy about it."