Power agreements need to be honoured; Hunter
Posted on August 31, 2016 by Taber Times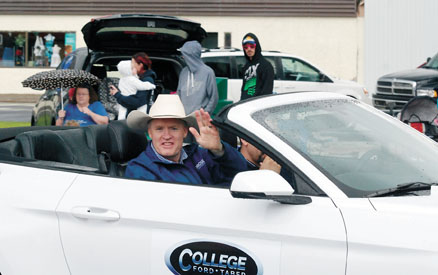 TIMES FILE PHOTO
By Trevor Busch
Taber Times
tbusch@tabertimes.com
The provincial government's campaign to eliminate power purchase arrangements (PPAs) in an effort to protect consumers from Alberta's power corporations will negatively impact investment and business confidence, says Cardston-Taber-Warner MLA Grant Hunter.
One of the legacies of electrical deregulation almost two decades ago under the Progressive Conservative government of Ralph Klein, PPAs were originally designed to boost competition and usher in lower prices for consumers.
Through the PPA system installed in 2000, power corporations can buy electricity from generators at auction and re-sell it to the public with the guarantee that no matter what the conditions, generators will receive a reasonable rate of return.
"The issue here is that the government has made an agreement — it wasn't the government of the day, but a government of the past — made an agreement with the power companies, and that agreement was made 16 years ago," said Hunter.
"Now a new government has come in and said we're not going to honour that contract."
Under the status quo established at that time, power producers were also permitted to wash their hands of the contracts if the province enacted legislation that made contracts unprofitable, or further impacted deals that showed a declining rate of return or were already unprofitable.
Recently, many companies have returned — or announced they will return — a number of PPAs from coal-fired power plants, which the Notley NDP have asserted could cost taxpayers more than $2 billion over the next several years.
"I've heard Rachel Notley say many, many times about union contracts, 'We're not going to break those contracts, because that's the law', whether it was made by a previous government, or other people in the government — we're not going to break those contacts," said Hunter. "And yet she's willing to do it with these ones. So I just think it's duplicitous. Why is she willing to break contracts with the electric companies, and yet she's not willing to break the contracts with any of the unions, and their wages and contracts?"
With the province planning to phase out coal-fired electricity by 2030, power buyers claim that the implementation of carbon fees on large generators have made unattractive PPAs even more unprofitable, leading power companies to hand back contracts.
The province's legal argument, which has prompted the lawsuit, is that from the inception of the system in 2000 Alberta's energy regulator did not have the authority to allow companies to shed themselves of unprofitable PPAs simply because they were unprofitable.
Hunter sees disturbing realities for the province's business environment should the PPA system be reformed or eliminated through a series of broken contracts.
"The reality is, if she (Premier Rachel Notley) breaks the contracts, what do you think other businesses are going to think, if you're going to change the rules of engagement down the road — a year or two years down the road," said Hunter. "If you're willing to do that with the other guys, we don't have any confidence that you're not going to break contracts, or break the rules with us down the road. Business confidence is at an all-time low already, and for her to do this, it just exacerbates the problem even more. Business confidence is going to continue to deteriorate, and we're going to pay for that."
The province's legal case against Capital Power, Enmax and TransCanada will have its first hearing in court in Edmonton on Nov. 2.
"It's a very complex issue," said Hunter. "Politicians as well as reporters find themselves in the situation where they have to be jack-of-all-trades, but they're not masters of any of them. This issue is extremely complicated."