Cornfest wraps up successful year
Posted on August 31, 2016 by Taber Times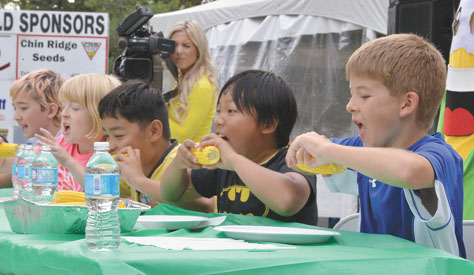 TIMES FILE PHOTO
By Trevor Busch
Taber Times
tbusch@tabertimes.com
Cornfest 2016 has come and gone, and those who came for the corn and stayed for the fun were immeasurably pleased on both accounts.
"I think it was really good, I'm very pleased just all the way around," said Cornfest 2016 chair and organizer Tom Paterson. "It was a little cool on Friday night, but Saturday was beautiful. So I'm pleased with that part of it."
Paterson rustically compared the art of organization to making homemade sausage, in so much as the participant doesn't always witness the "ingredients" that go together to make up a successful event.
"To my knowledge (it was good). I always judge all that by the letters to the editor on Wednesday, so I'll let the citizens decide that. But from our point of view, there's always a few things that crop up, but nothing that the general public usually sees. It's kind of like making sausage — if you don't see what goes in, you don't know."
Prior to the event, some residents expressed mixed feelings about the integration of the town's annual parade into Cornfest festivities, and many were especially critical of the 4 p.m. timing, but Paterson was positive about the event and hopes to see it return for future Cornfests.
"I never heard anything negative personally. What I picked up from people is that, in general, I know we had a lot more participants, which is a good thing. And I suspect that, it being the first year, people getting used to the route and what not. But I hope that everybody enjoyed it, and we'll see what comes about in terms of public opinion. I would suspect that we'll probably start doing it again."
Determining numbers of attendees over the weekend is always a milieu of guesswork, but overall Paterson believes numbers were probably up, especially on Cornfest Saturday.
"That part is always a challenge because you have no gate, right? I do know that a couple of the vendors sold out early. The one fella — who's been coming here for years — said this is the first time he's ever sold out early, just as the fireworks were about to go off. Considering Friday was a little bit slower, I have to suspect that Saturday was up for sure."
The new stage, finished just mere days before Cornfest 2016, has proved to be a popular feature for volunteer organizers as well as attendees and performers.
"From an organizer's point of view, it worked out wonderfully, because we didn't have to put it up, or take it down yesterday (Sunday)," said Paterson. "But everybody — the performers — they all said it was great. Again, there's a few little things we're going to try to fix for next year, like where the speakers were, we need to make a little pad. Other than that, I'm very proud of that stage and I think it's a wonderful addition to the town."
Paterson thanked town staff for all of their efforts in helping to make Cornfest 2016 a successful event.
"I'd like to give a shout out and thanks to public works and the parks and recreation people, they did a lot of extra things and helped us out this year."