Raising awareness about kidney disease a family affair for Clemis household
Posted on August 26, 2016 by Taber Times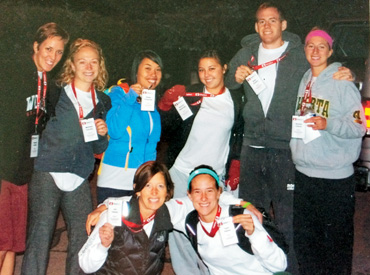 Times photo submitted
By Greg Price
Taber Times
gprice@tabertimes.com
It is a voyage Jan Clemis will continue to do, with every step she takes in September's Kidney March bringing Canadians a step closer in awareness about the importance of organ donation.
Clemis has either walked or served as part of the support staff for the Kidney March since its inception back in 2010.
Clemis, along with many members of Clemis' family have Polycystic Kidney Disease (PKD), a condition passed on genetically that sees cysts develop from the nephrons (filtering units) of the kidneys, which enlarges them and eventually prevents the proper filtration of blood.
Kidney disease has taken an emotional toll on Jan's family as her Grandma Ehlert, father, Aunt Jo, Uncle Heim, and two of her cousins Kenny and Myrna, have all passed away from the ailment. Jan's daughters Bonnie and Carli also have kidney disease.
The Kidney March, which goes Sept. 8-10, starts at Millarville Race Track, goes through Kananaskis Country, and then on the third day, finishes at Canada Olympic Park in Calgary. In total, it marks a 100-kilometre trek.
"The first two days are the longest, with the first day being around 36-38 kilometres," said Clemis. "I can't march in it this year, so I will be on the crew helping out in another capacity. I can't do heavy lifting so I won't be setting up tents or hauling luggage, but we will serve the meals and man the tents and things like that."
While immediate family with her children has joined Jan in year past, she is hoping her sister Susie, who is also afflicted with polycystic kidney disease will join her for the Kidney March in early September.
"I'm crossing my fingers my sister will come from Idaho Falls. I've been trying to convince her to come up year after year after year, but she hasn't been able to come because she was starting dialysis or other things got in the way," said Clemis.
"But the march is like a family reunion. You see a lot of families come back year after year and there are people you lose which is hard too. And there are the people in the different progressions of their disease. and we all have our stories. I met a gal from Ontario, she was all set to donate a kidney to her son, and then her son passed away unexpectedly, literally days before the transplant was to take place. In the end, she donated a kidney to a young child, and that was successful where she still donated a kidney and saved a life as a result of that gift of life. We have all discovered in the march that we are not so alone."
So far, the Kidney March has been able to rise $4.5 million with funds, as it remains the only event of its kind in Canada.
Funds go towards new research, kidney disease prevention strategies and aiding families dealing with the disease.
March participants come from across Canada, hailing from Quebec to British Columbia.
Each year there are about 20 participants (marchers or crew) who are living with kidney disease. Some are walking between dialysis appointments, and provide motivation for even the weariest marcher to carry on.
"Our goal is to always try and raise $1 million in a given year, but we haven't been able to do that yet," said Clemis. "There is that heart-warming feeling that you have as you walk with somebody new walking down that path, and you hear their stories and share your own journey."
Clemis' kidney disease had progressed to the point where she can no longer outrun the disease so she will serve as a member of the support team for the Kidney March in 2016. She is at a bit of a crossroads of decisions as she is looking at dialysis or transplant herself, as her kidneys are nearing the size of footballs.
Clemis is undergoing preliminary testing to gain a spot on the transplant list, with everything going good so far with no cancers detected or other health issues that would preclude Clemis from the transplant list. Clemis has an appointment with a heart specialist in November.
"My kidney function is between 12 and 15 per cent at this point, and it's around that 10 per cent mark where you are around that cusp where you would need a transplant tomorrow," said Clemis.
"But we know it's eminent. Many people I've met have said that it just came to them one day that this is what they wanted to do. They have two kidneys and they only need one and they do it for very altruistic reasons," said Clemis.
Clemis admitted the wait time for a cadaver donor is so long, that medical officials would likely not have even done any preliminary tests on her if that was the only avenue for organ donation.
"Because by the time the kidney was available, those tests would be out of date. They usually wait four or five years before they test you, so you would be on dialysis," said Clemis.
"The average wait time for someone waiting for a cadaver donor is four to seven years, so someone's health can change a lot in that time. My sister is a prime example, and she started her dialysis almost three years ago and they didn't get a donor right away. And then she came up with cancer, so she had to deal with that and now she has to be cancer free for five years before she can be considered a recipient."
Jan's son Blair has been discovered as a blood match for her (Type A), where other tests are ongoing to see if her son is a match.
"They look at your antigens and your tissue type. There are eight markers, and if you match four of the eight markers, they consider you to be a good match," said Clemis. "The more matches the better."
Clemis sited a study that showed people who donate an organ have a longer life expectancy than those that don't, but the reasoning is simple, those people who are screened for organ donation are rigorously tested in their health.
"They don't allow you to donate a kidney unless you have really good health. So you probably would have lived a longer time if you had two kidneys and you'd still live a long time with one kidney," said Clemis.
"You are very thoroughly screened. And many people have discovered they have a health issue and they couldn't give a kidney, but it brought attention to another health issue so they could be treated and enjoy better health."
As a teacher, education is important to Clemis in raising the awareness level for organ donation. Clemis encourages everyone to have their blood pressure checked regularly, as the condition can have a damaging impact on kidney function.
"If you get that checked right away, you can avoid some long-term damage to your kidneys," said Clemis. "It's about overall awareness. Even if I am in favour of organ donation, but after I'm gone, it is my family that makes that decision. We need to have those conversations with our families so that our wishes are known and carried through. If you don't share that information, at the time of death, it's so hard to make those decisions. Eight people can benefit form one person donating their organs."
For those wanting to donate to Clemis' journey in her Kidney March where she has a minimum goal of $2,200, can log onto https://kidney.akaraisin.com/pledge/Participant/Home.aspx?seid=10942&mid=9&pid=1948063.
There is also a 'Cans for Kidneys' bottle/can drive people can donate to. You can call (780) 843-6962 for more details.
For those who are interested in donating a kidney as a live donor, it can be done anonymously or to a specific person, they can call the "Living Donor Co-ordinator" number in Calgary at 1-403-944-4635 for more information.
KIDNEY KORNER: Kidney disease is a leading cause of death in Canada. One in 10 Canadians has kidney disease. Daily, 15 people are diagnosed with kidney failure.
– Kidneys usually filter 200 litres of blood a day.
– Kidney transplants typically last 10-20 years, meaning a second and third transplant are often needed.
– Right now, over 3,400 Canadians are on the kidney transplant list. Over 75 per cent of the people on the total transplant list, are waiting for a kidney.