Project Paintbrush making its way to Taber
Posted on August 17, 2016 by Taber Times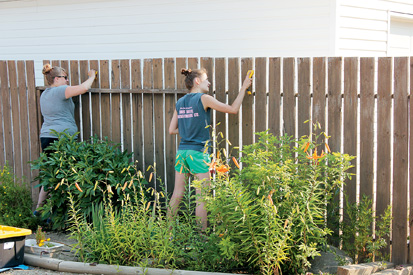 Times photo submitted
By Greg Price
Taber Times
gprice@tabertimes.com
Project Paintbrush is making broader strokes by once again branching off into rural areas.
Project Paintbrush has existed for 13 years where Volunteer Lethbridge provides the community-volunteer program aimed at helping seniors and disadvantaged people by giving them an opportunity to rejuvenate their property by painting their fence, house or garage by volunteer teams.
"YPM (Young Parkyn McNab Chartered Accountants) contacted Volunteer Lethbridge and they would like to do a paint project for all the communities where there is a YPM office," said Diana Sim, executive director for Volunteer Lethbridge. "We are looking at putting a promo out there for homeowners to apply, so we can do a home assessment and pick projects for their Sept. 9 Care Day."
Project Paintbrush has completed over 175 projects in its existence. A typical residence-painting project can involve anywhere from six to a whopping 70 volunteers.
"We have over 200 volunteers to help us out over the summer. This year we are on project 15, but it's been a pretty rainy summer," said Sim. "Often what I find is people look at their fence and say man I wish I could paint that, but I physically can't do that anymore.' And they are regretting even looking out the window to look at their fence. Then they hear of Project Paintbrush, and you watch how people change with their demeanour in just one day, it revitalizes their whole attitude when they see their improved home. There is a visible difference they make in a day."
The YPM Care Day for Sept. 9 will be done by volunteers from the business itself.
"It's team building for them. We don't need the volunteers, but we need people to come forward with projects for the YPM staff to do as volunteers," said Sim. "YPM staff becomes Volunteer Lethbridge volunteers for the day."
Not only does Project Paintbrush help the homeowner, but it also adds to the value of the neighbourhood and the community as a whole.
"We do ask that people are planning to stay in their home for two years. Of course you never know, but we ask people make that commitment for our volunteers. But things can come up you have no control over," said Sim. "It's painting fences, exteriors, decks, garages, car ports, window sills, things like that."
Homeowners are invited to complete a homeowner application form which can be found online at:
volunteerlethbridge.com/project-paintbrush/ or pick up a copy at your local YPM office. For more information, call Diana at 403-332-4320.
YPM is looking to do projects in Taber, Vauxhall, Coaldale, Fort Macleod, Lethbridge, Claresholm and Pincher Creek.
"Basic qualifications are they are physically, or financially unable to do it themselves," said Sim. "Those are the two main assessments we use for the home assessment. Also the size of the project, if there are a lot of repairs that are needed, we don't do the repair piece. If the repairs can be done ahead of time by someone else, and be ready for the paint, that will be given consideration. We want to go in and scrape, sand and paint."
The event will also show the transformation of Young Parkyn McNab which will soon be Avail CPA.