New principal at L.T. Westlake
Posted on August 17, 2016 by Taber Times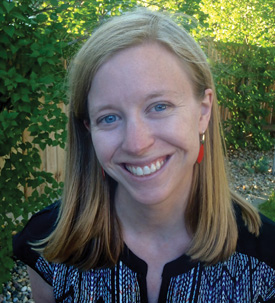 Times photo submitted
By Trevor Busch
Taber Times
tbusch@tabertimes.com
Taking over the duties of principal at Taber's L.T. Westlake Fine Arts Elementary School for the 2016-2017 school year, Rebecca Edwards is ready for the challenge.
"I am very excited to be the new principal of L.T. Westlake Fine Arts Elementary School," said Edwards. "It is a great school and I can't wait for the school year to begin so I can meet all of Westlake's amazing students and community members. I look forward to working with all of them."
Edwards has been an elementary teacher within Horizon School Division since 2009, primarily teaching grades three and four, and has been the vice-principal of Chamberlain School (Grassy Lake) since 2013. Rebecca holds a Bachelor of Science and a Bachelor of Education with Distinction (Mathematics, Geography, Chemistry, and French) as well as a Master of Education in Educational Leadership from the University of Lethbridge.
"I also gained experience teaching some junior high options and literacy classes," said Edwards, who is taking over from outgoing principal Murray Brown. "In 2013, I became the K-9 vice principal of Chamberlain School. During my time at Chamberlain, I was responsible for all literacy and numeracy programming. Although my instructional leadership experience has focused on elementary literacy and numeracy, I have a firm appreciation for the fine arts. I have organized the Chamberlain School Christmas Concert many times and volunteered with drama productions. I have experience teaching elementary music and art classes."
Enhancing the fine arts framework and advancing the school's expertise in this area will be key goals for Edwards.
"First and foremost, I want to establish good relationships with Westlake's students and staff, and community members so that we can work together as a team. My goal is to collaboratively work with Westlake staff and community members to continue to build Westlake's fine arts reputation. This year we will be working on incorporating fine arts into regular daily instruction. This will also enhance our literacy and numeracy programming. The staff and I look forward to providing new and enriching fine arts opportunities for the students and community."
Edwards is hoping to bring a fresh perspective to the school, and to work closely with staff, students and parents.
"I am a very collaborative person. I believe that teamwork is essential. I appreciate hearing everyone's perspectives so that informed decisions can be made. I believe that a leader should lead by example. I am very passionate about education. My passion and my hardworking mentality make me an effective leader. These qualities show people that I am committed to doing what is best for everyone in and related to the school."
Appreciative of the work that has already been completed in morphing Westlake into a fine arts environment, Edwards is looking forward to immersing herself into the task of working to improve this area.
"The Westlake staff and community have been very friendly and welcoming. Everyone is very dedicated to the school and the students. I am in awe of their work in transforming Westlake into a fine arts school. I am very grateful that I will be able to work with an amazing group. I currently reside in Lethbridge with my husband, Terry. Terry teaches grades 1-8 at a colony school, south of Fort Macleod. Lethbridge is the midpoint between our two positions."
More than just a job to perform, Edwards has a personal interest in continuing to make fine arts thrive at L.T. Westlake.
"I've always had a strong appreciation for the fine arts ever since I was very young. Music and drama were a large part of my formative years. I love listening to Broadway soundtracks. My husband and I enjoy visiting museums and going to plays in our spare time. Also, teaching has been in my family for four generations. My grandmother was a beloved elementary school teacher and administrator in New Jersey. She talked fondly about her experiences as an educator as I was growing up. I keep a teaching toolkit she had on her desk on mine as a memory of her since she lives so far away."
Edwards detailed some of the goals and responsibilities she will be taking on as principal, as well as her personal approach to ensuring success will be achieved at the school.
"As Westlake principal, I will be overseeing all of the inner workings of the school and acting as a community liaison by interacting with the Westlake community and the Horizon school division. My responsibilities will include providing quality instructional leadership to staff and ensuring students are receiving the best possible education. My experience as a vice principal has prepared me to take on these responsibilities. I regularly filled in for my previous principal when she had to be away, and was able to handle any events that occurred. I formed excellent relationships with staff, students, and community members, which allowed me to be an effective leader."
Past experiences have infused Edwards with the will and skill to try to make L.T. Westlake a benchmark for success in the evaluation of school environments throughout Horizon School Division.
"Leading Chamberlain School's literacy and numeracy initiatives allowed me to gain experience with providing teachers with quality instructional leadership. These experiences have also prepared me to work with Westlake staff and community members on the upcoming initiative of incorporating fine arts into daily instruction. As previously mentioned, I will also be working with Westlake staff and community members to bring in new and enriching fine arts opportunities. I have started to find new possible fine arts experiences for the school and I hope that everyone at Westlake enjoys them. I am confident that my education and experiences as a vice principal at Chamberlain School have prepared me to take on all of the duties that I will have as Westlake's principal."
Part of Edwards' new approach will be efforts toward making her position as approachable and accessible as possible.
"I would like people to know that my door is always open. I truly look forward to meeting all of Westlake's community members once the school year begins. I am committed to doing what is best for Westlake's students."