Former bar manager charged in $500,000 fraud/theft case
Posted on August 17, 2016 by Taber Times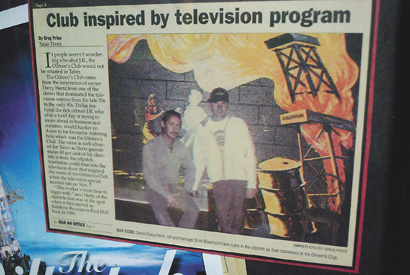 Times photo by Greg Price
By Greg Price
Taber Times
gprice@tabertimes.com
On Oct. 23, 2014, the Taber Police Service received a complaint of theft and possible fraud with respect to the operations at the Oilmen's Club in Taber from owner Darcy Hertz.
After a lengthy investigation, police determined close to $500,000 in funds were allegedly misappropriated.
Scott Blanchard (45 years old) of Taber, the former manager of the Oilmen's Club, was arrested on Friday and charged with one count of theft over $5,000 and one count of fraud over $5,000.
Blanchard has been released to appear in Taber Provincial Court on Aug. 30.
"This complaint involved numerous hours of investigation, many judicial orders, and consultation with Special Prosecutions in Calgary. The alleged victim in this matter has been patient as the Taber Police Service worked through the complexities of the case and I am pleased with the results of the work of our officers," said Graham Abela, chief of police for the Taber Police Service.
As the case is set to officially enter the court system in late August, complainant Darcy Hertz admits the proceedings have taken a toll on him given the former relationship the two had, not only as owner/manager, but as friends of a quarter century.
Hertz has been inundated with interview requests from various media outlets including the Calgary Sun, Global TV, and CFCN in the mere hours after the Taber Police Service issued its press release at 10:28 a.m. on Monday morning.
A local business partnership/friendship that spanned nearly 15 years in Taber as Blanchard helped manage the Oilmen's Club, along with other ventures that Hertz was involved like rental properties, a liquor store in Lethbridge and a renovations company, the two formed bonds past business.
Seven years ago, Hertz was undergoing changes in his life which included divorce proceedings, where he wanted to put a greater focus on his family in which he relented more control of the day-to-day operations to Blanchard according to the Oilmen's Club owner.
"I was looking after a 12-year-old and a 14-year-old daughter which I love to death I needed more time to spend with them, at that age with all their activities, you can become a taxi driver," said Hertz. "I asked Scott to help take over the company. I gave him cheque-signing authority at the bank. I basically let him run with the company. He signed and gave me my own paycheque, that's the trust I had in him. I think he did a pretty good job, but in the last three years or so, something changed, I began noticing stuff."
Hertz alleges he started seeing irregularities in bar financials around Thanksgiving 2014, with claims months passed without a financial statement being issued. Hertz had scheduled a meeting with Blanchard, only to arrive at the Oilmen's Club to see Blanchard's office cleaned out with a note from the accused saying he would never work for Hertz again, according to the owner.
Now with nearly two years of investigation resulting in hundreds of man hours, into the case to bring charges forward, Hertz added the toll has been both financial and emotional.
"There is the money that is missing with the company that affects things like my retirement, and the second part is the human side where Scott was my best friend for almost 25 years. Because of circumstances with my family, I put him in a position of trust in the company to look after it so I could look after my children," said Hertz. "Not only have I lost the financial part of it, but I lost a friend. Our friendship was so close that with my family, my two daughters called him Uncle Scott, his kids called me Uncle Darcy. My mom would make him special baking where she would send it with me to give to him. That is how close we were."