New fire chief in the M.D.
Posted on August 10, 2016 by Taber Times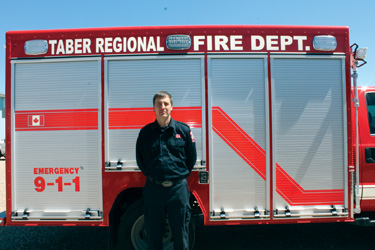 Times photo submitted
By Nikki Jamieson
Taber Times
njamieson@tabertimes.com
The Municipal District of Taber has a new fire chief, and the department is not even open yet.
Joe Bruyere became the Deputy Regional Fire Chief/M.D. of Taber Regional Fire Department Fire Chief in late June. Coming down from Wembley, Alta, he brings with him 13 years of experience as a volunteer and professional firefighter.
Bruyere began his fire fighting career in May 2003, when he began volunteering for the Wembley department as a volunteer firefighter. Over the years, he worked his way up to being a paid firefighter, eventually becoming the fire chief of the Wembley department.
"My father-in-law was a volunteer firefighter for 47 years, so he talked me into joining," said Bruyere. "I found I had a huge love for firefighting, so I wanted to make it a career. I worked many years to become a paid firefighter."
Early this year, Bruyere successfully applied to become the first M.D. Regional Fire Department Chief. In addition to fleeing from the infamous northern Alberta winters, he believed that running the new department would be a good step in his career as a professional firefighter.
"The position brought me here. I think it was a great career move for myself, to start a new department, build from the ground up."
In addition to managing the day-to-day operations of the department, as a Level 2 Fire Service instructor, Bruyere is qualified to train the new recruits to the professional standard, and is currently working on getting them trained for the official launch of the department on March 1, 2017. As of late July, they have 24 out of the 25 volunteer positions filled for the M.D. department, and he is confident that everyone will be fully trained by the time the department launches.
"The biggest part, right now, will be the training of all the new recruits that came on board."
New recruits from the other regional departments — in Hays, Enchant, Grassy Lake and Vauxhall — have also been training with them. Crediting a recent recruitment campaign, in total, Bruyere says that the number of firefighters for the entire M.D. is 80 members.
Besides the considerably warmer weather, Bruyere will also be covering a much larger area.
While his old department served the town of Wembley — a community of 1,500 — and had a mutual aid agreement with the neighbouring County of Grande Prairie, the M.D. is a lot larger.
Although the county has an area of 5,863 km with just over 20,000 residents, it also had 10 departments within its borders and several mutual aid agreements, according to the County website. By comparison, the M.D. manages five departments in an area of 4,204 km with a population of 7,173.
"The M.D. of Taber is a lot larger then my area, that I was contracted up north as fire chief," said Bruyere. "It's a much larger area, and it's brand new to me."
But while the area might be new, he considers it a "huge benefit" that he has until next year to learn his way around the M.D.
"I'm out, I'll say once a week, to the various areas, just so I can learn where everything is, so I'm not struggling with response. I get to go meet all the people from the other departments, see how they operate, see how we can assist them, how they can assist us," said Bruyere.
"I think the six, seven months before we go live is a huge asset to this position. Instead of jumping in with my feet running, this way I get to learn more about the communities that we're going to protect."
Outside of work, he enjoys travelling, saying that in southern Alberta he has a "whole new area" to explore. He has already been to Medicine Hat and Great Falls, Mont. It doesn't matter the type of trip, whether it's a day trip or camping or a cruise or a resort, when he's not on shift he is traveling as much as possible. He figures the furthest place he has travelled to is Costa Rica.
For the next year though, it will be mostly day trips as he and his family explore the area.
He and his wife of almost 24 years have two children; his older daughter is married with two children, and his youngest is 15 years old. He has a stepson living in Lethbridge — another draw to the area — and a stepdaughter in Edmonton.