Taberite girl's death could have been prevented; family
Posted on July 27, 2016 by Taber Times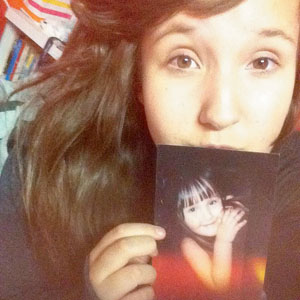 Cynder Robinson
By J.W. Schnarr
Southern Alberta Newspapers — Lethbridge
Cynder Robinson was an old soul with a big heart who loved her family and lit up any room she entered.
On July 15, the 17-year-old Taber girl was killed in Big Island Cree Nation Territory, Sask.
Her girlfriend, 21-year-old Brandy Arnelle Benson, has been charged with one count of manslaughter in connection to Cynder's death.
Cynder's family have been left devastated by the news of her death, and outraged at the helplessness they felt from what they say is a failure in the system to ensure Cynder's safe return to her family.
"She loved her family," said Mya Robinson, Cynder's sister. "She loved everyone, and she always had an open heart to everyone."
"She had a very big heart," said Melissa Tersigni, Cynder's aunt.
Cynder's father, Kent Robinson, said Cynder suffered from arachnoid cysts in her brain, and a blow to the head could cause serious or fatal injuries. They also believe there was a pattern of domestic abuse in the months leading up to Cynder's death, and that authorities ignored the signs.
"I told them this was going to happen," Kent said. "I told them she couldn't be around any violence. She could get killed, even from a push."
"All of her family and friends knew something was wrong," said Tersigni. "She wasn't acting normal. Even in her messages, they weren't normal."
"Everybody could see the pattern here, but social services and the authorities couldn't seem to see it," said Kent.
In 2012, the Robinson children lost their mother. Kent said the loss was devastating to Cynder.
"Cynder took that really hard," he said. "She never recovered from it, and started to act out."
Cynder was an emotional person who was dealing with a lot of issues, including bullying at school.
"She just didn't want to be in Taber anymore," said Tersigni.
"She wanted a new name, and a new face."
Shortly after Cynder met Benson, the family says trouble started. They say Benson caused a disturbance at a home where Cynder was staying, and as a result, Cynder was asked to move out.
"I knew right away this woman was bad news," said Kent.
When Cynder began talking about moving to Big Island, her family strongly tried to counsel her about it.
"That was my biggest fear," said Kent.
"If she goes up there, she's an outsider. If anything goes wrong, they are going to blame her and put her in danger. There's nobody around to watch out for her."
Kent said he tried to enlist the help of social services and was told there was little that could be done. While parents are legally responsible for children until they reach the age of majority, children also have rights that take precedence in some cases.
Kent says he was told he would need to try and convince his daughter to come home on her own, as there are no mechanisms in place for authorities to take her into custody, outside of imminent danger — something that had been unproven in this case.
He also found no help from the band council in Big Island.
"I phoned the band office three times and they never returned my calls," he said. "The RCMP basically told me not to bother them, because it's harassment, and they told me if I go up there not to take Cynder against her will, I could be charged. My hands were tied."
Kent said a welfare check was performed by RCMP, but at the time Cynder told police she did not want to come home.Often, Cynder would say she was coming back to Taber, but the timeline would change, and there were always delays. The family believes Cynder was being influenced by other people in an effort to placate her relatives, but with no real intention of returning.
They also feel that other people may have had access to Cynder's social media accounts. It is possible they weren't always speaking to Cynder when they thought they were.
"They just drug it out and drug it out," Kent said. "And I have a feeling that once they realized Cynder really wanted to come home, that's why she was killed."
He added he hopes the story of his daughter's death will remind people who might be in a position to help someone in trouble, that they have an obligation to do everything they can.
"I want them to read my daughter's name," said Kent.
"And I want them to know they could have helped my daughter and not let this happen to any other families. It's all so senseless to me, when a parent turns to the government for help and they refuse, who do you turn to next? She was taken from us, and no one would listen."