Cadets helped steer Lloyd to navy leadership
Posted on July 6, 2016 by Taber Times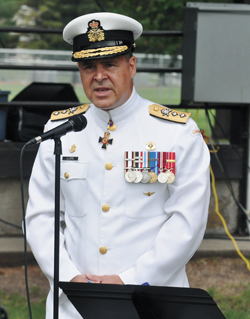 Times photo by Greg Price
By Greg Price
Taber Times
gprice@tabertimes.com
From sea to sea, former Taberite Ron Lloyd is still settling into his new role as official commander of the Royal Canadian Navy.
While announced in January, Vice-Admiral Lloyd officially took command on June 23, with a ceremony at HMCA Carleton in Ottawa, from Vice-Admiral Mark Norman.
Not too shabby for a hometown boy, who got the call to the armed forces at an early age with his involvement in the air cadet program that will be celebrating its 75th anniversary next year.
"As far as a defining moment, it was when I was in our cadets in Taber. The whole cadet movement, whether it's army, air or sea cadets, it's probably one of the best youth leadership programs available out there," said Lloyd. "One of my cadet instructors, Gord Hanley, said 'Hey, you could probably be an officer in the military. You should go talk to your local counsellor/recruiter and see what opportunities present themselves'."
The Vice-Admiral just had the opportunity to be the reviewing officer for the sea cadet corp. in Toronto, and it brought back reflections of when Lloyd was just discovering himself on the path he would eventually take to his distinguished military career.
"It was just as applicable back in my day (with the cadets). The opportunity, in terms of responsibility, leadership and all the attributes that accrue to not only being responsible for yourself, but other young Canadians is a very big responsibility," said Lloyd. "Being a leader and making a difference in your community are probably foundational in terms of the way you look at the world."
Lloyd was directed to the three military colleges that were available at the time in Canada where Lloyd would eventually graduate from the Royal Roads Military College in 1985 with a B.A.
In Calgary, he participated in Operation Tranquility, which consisted of enforcing United Nations sanctions against Iraq in the Persian Gulf and enforcing a United Nations embargo against the former Yugoslavia in the Adriatic.
He was an Executive Officer in HMCS Ottawa that deployed as an integral member of the USS Abraham Lincoln (CVN 72) Carrier Battle Group on Operation Mercator, in the Persian Gulf in support of United Nation's operations.
In 2000, he was promoted to Commander, and on being transferred to Maritime Forces Atlantic was appointed as Commanding Officer of HMCS Charlottetown(FFH 339) at Halifax, N.S.
On Charlottetown he deployed as an integral member of the USS Harry S. Truman (CVN-75) Carrier Battle Group on Operation Augmentation 2001 that also deployed to the Persian Gulf.
After a three-month reprieve in Halifax, Charlottetown returned to the Persian Gulf in support of Operation Apollo, Canada's commitment to the War on Terrorism.
In 2006, he was appointed Director General Maritime Force Development at National Defence Headquarters in Ottawa.
In July 2010, he was promoted and appointed Chief of Force Development, before becoming the 35th Commander of the Royal Canadian Navy.
"That's a good question, because if you talk to the people I've commanded and how I think, it might be two different answers," said Lloyd with a chuckle when The Times asked him to describe his command style. "I've often communicated and told to our command teams that it's about chain of command and we are there to serve. You are there to serve your sailors and look after them. You need to ensure they have the tools that they need to be successful. You have to get out of their way and allow them to excel. You need to have a standard that is achievable and one that they can take confidence and pride in being attained. It is things I've aspired to do, I haven't always been successful, but that's the manner or lens to which I believe is my command philosophy."
As of 2015, Canada's navy operated one destroyer, 12 frigates, four patrol submarines, 12 coastal defence vessels and eight unarmed patrol/training vessels, as well as several auxiliary vessels. The Royal Canadian Navy consists of 8,500 Regular Force and 5,100 Primary Reserve sailors, supported by 5,300 civilians. The nation is undergoing a defence policy review in which the Canadian navy will see where it fits with national defence.
"I have to communicate the great job Canadian sailors do on behalf of Canadians day and night above, upon and below the water both at home and abroad," said Lloyd. "I will work very diligently to ensure all their stories are knowN and understood. It is probably not well known what Canadian sailors are doing on behalf of Canada daily. It's one of the things I will follow in the wake of Admiral Norman is to ensure I continue that education. Where we fit internationally, I wasn't kidding in my speech during the change of command that we are privileged enough to lead if not some of the world's best, the world's best men and women sailors which I've had the honour to deploy on a number of occasions."
Canada is the second largest nation in land mass to Russia at nearly 10 million square kilometres with the Atlantic on the east, the Pacific Ocean on the west and the Arctic Ocean to the north. That's a lot of real estate with the world's largest coastline and of course all the international water missions Canada embarks on to help in the security of the world.
"We have a lot of maritime real estate. We have to remember the navy is but one important element of the overall system. You take a look at the air force which has a piece to contribute, the coast guard has a piece to contribute, working with several other government departments, we are one part of a very complex system that looks after that maritime awareness. We are really looking forward to getting our arctic and offshore patrol ship to give us that capability to work in a little more challenging environment in Canada's arctic. It's a big team effort."
Looking back on his navy career that has spanned four different decades, it is hard for Lloyd to pin down a particular mission he was on to help serve his country.
"There were a number of events that stick out, and they all revolve around being part of a ship's company. I've been blessed to have a number of great opportunities to make a difference in sailor's lives," said Lloyd. "I was the XO (executive officer) of the first frigate to integrate and deploy with a carrier strike group on the west coast. I was fortunate enough to be the ship's captain of the HMCS Charlottetown which was the first frigate on the east coast to integrate and deploy with a carrier strike group. But, regardless of what type of positional leadership, anytime you are working with sailors, it's a great navy day."
Lloyd attended Taber's Canada Day celebrations in 2015 and was at the head table of the celebratory dinner at the Legion for the Netherland's 70th anniversary OF its liberation during WWII. Lloyd confirmed to the Times that if his schedule permits, he will be attending Taber's 75th anniversary of the 225 Royal Canadian Air Cadet Squadron which coincides around the same time as his nephew's wedding.
It will be a homecoming that Lloyd will treasure with his small-town roots that helped him make the man he is today.
"My opportunities started at the schools back in Taber with how well I was educated. I feel fortunate that I live in a country and town where I was able to leverage my opportunities. I thank my parents, my family for the motivation and support," said Lloyd. "I was a small boy out of Taber. You can take the boy out of Taber, but you can't take the Taber out of the boy."