Medium reconnects Lutz with departed brother
Posted on June 29, 2016 by Taber Times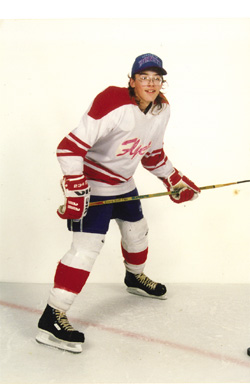 Times photo submitted
By Greg Price
Taber Times
gprice@tabertimes.com
All across North America there are family reunions being celebrated to reconnect with loved ones this summer.
For Misty Lutz-Evans, her reunion came in another way — in front of thousands of strangers at the Enmax Centre in Lethbridge, and Lutz never felt more connected.
There she was with her mother, going to an event that is very close to her heart with her belief in mediums, where she went to watch one of the biggest in Theresa Caputo, the star of the TLC series Long Island Medium.
"I've always believed in a higher power and spirits being around you and I've always wanted to see physic mediums and what not," said Lutz of the fateful day on June 10. "You go there hoping your loved ones will come through, but there are 2,000 people there."
That belief was strengthened when Lutz and her mother were at the Caputo show for two-and-half hours when they were the last reading done in which Lutz noted Caputo connected with her departed brother Derek who passed away in a oilfield work accident 10 years ago.
Working in a tank in Lethbridge, when Derek went for his lunch break, another guy from another company accidentally let gas back into the tank. When Derek went back to work to weld, the tank blew up and he was killed instantly. Derek left behind his wife/high school sweet heart of 11 years.
"She looked right over at us and asked, 'Who is the young male who passed, a brother?" said Lutz. "I raised my hand and stood up."
Derek was indeed a young man at 26 at the time of his death. A huge hockey fan with the Detroit Red Wings being Derek's favourite team, Caputo continued to say things that amazed Misty.
"Your brother wants to say he's sad about the passing of Gordie Howe," said Lutz. "My brother was a huge hockey fanatic and that morning was when Gordie Howe passed away."
Lutz knows there are skeptics out there, as well as there should be. As well known as Caputo is out there, there are a dozen others that prey on the gullible.
"There are skeptics, like, 'Did she interview you before?" Did you tell her information? Literally, the moment she read me was the first time I ever talked to her in my entire life," said Lutz. "That is what made it so emotional. There are things she said that there is no way she could have known. There are tons of fakes. You look back on readings, and the person is asking you questions trying to get information. They ask you certain questions to give more information out, or they play off specific things that could be anybody."
One of those things that could not be just anybody was the portrait Misty has tattooed of her brother on her back.
"She could see I had tattoos, but my back was covered. She said, 'Your brother wants to thank you of the mural you have of him'," said Lutz. "I turn around and move my shirt to show her the portrait of my brother on my back. Everyone in the audience was amazed. I was in complete shock because there was no way she could have seen my tattoo on my back or to know that it was a portrait of my brother's face."
Lutz is planning on having children where Caputo noted it will serve as a connection to her departed brother.
"She asked if I was going to have children and name one after my brother. I've always said that and how did she know that I didn't already have children? There were just so many different specifics she asked (without any prodding)," said Lutz. "He also wants me to know that he will always be my best bud."
Caputo's comments continued to flow that connected Derek like the poker tournament Derek's friends had done in memory of him and if his hockey teammates retired his jersey.
"I didn't remember at the time, but my brother had joined a hockey team a month before he passed away and his teammates had made patches for their jerseys with Derek's initials on it in memory of him," said Lutz.
Misty has always felt a bit of a disconnect from her brother Derek in the form of closure, as she was away to hair school in Calgary and hadn't seen her brother in many months prior to his passing.
"It was tragic. You didn't get to see him, you didn't get those last conversations where my mother got to see him three days before he passed," said Lutz.
But it was the calmness that Misty felt after the meeting with Caputo where she felt she got to connect one last time.
"He says I'm sorry I left you without being able to say good-bye, but I loved my life. He said I did so much, I saw so much and I wouldn't have traded my life for anything. Then he says that why only the good die young. I was able to explore so much that maybe even someone in there 90s wouldn't have been able to experience what I did," said Lutz, repeating what Caputo told her and her mother.
Lutz was supposed to see Caputo in Great Falls, Mont. where Misty's bridesmaids were secretly getting her tickets, but Misty could not go.
"They were asking to see if I could get an extra day off work, but I was having a client that was being difficult and I couldn't. I found out later they had tickets for me and my mom and I was devastated," said Lutz. "This opportunity came in Lethbridge, and to get a reading? It was fate, I wasn't meant to go in Great Falls."