Wiebe takes on role of Times publisher
Posted on June 22, 2016 by Taber Times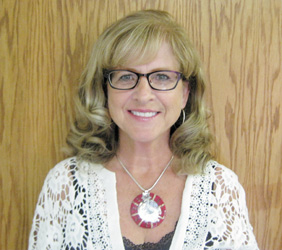 Times file photo
Val Wiebe has been named the Publisher of Alberta Communities Group, which includes the publications of the Vauxhall Advance, Taber Times, Coaldale Sunny South News, Bow Island Commentator/Cypress Courier and Westwind Weekly News.
Wiebe began her career at the Taber Times in 1974 as a typesetter and has progressed through nearly every phase and department of a community newspaper. She did bindery work when The Times had a job printing plant, helping out on the web press when needed, inserting flyers into the newspapers, and organizing a crew of people to insert thousands of papers by hand as there were no inserting machines at that time. Wiebe also looked after circulation for many years, and was the production supervisor and resident IT person, creating advertisements and doing page layout, among other responsibilities.
In 2012, Wiebe was named Assistant General Manager of the Alberta Communities Group. In her new position as publisher, she will expand her leadership in all areas of the newspaper business and will lead staff in planning and implementing of all goals as they relate to growing the weekly newspapers. Public involvement, communications, marketing and fostering community partnerships will be a big part of her new role.
Wiebe is a Taberite, born, raised and educated in the community. Married to her high-school sweetheart Malcolm, the couple have two sons Jason (Dawne) and Chad (Michelle), and four grandsons in Logan, Gage, Konnor and Lincoln. Family time is sacred where you will often find Wiebe fishing, camping, and traveling together with her family. From October to March, it is a safe bet you will find Wiebe at a hockey arena enjoying her favourite sport and cheering on her grandsons who all play the game.
Besides the changes in technology, Wiebe has seen eight different owners and has worked with hundreds of staff.
"Without a doubt, it is the people that I have had the privilege of working with over the past 42 years that have made this career choice the right one. The opportunity to work with the best in the industry is an honour and I cherish many lifelong friendships made along the way," said Wiebe.
Coleen Campbell, who has been publisher and worked with the company for over 40 years, has her last day with the company on June 30.