Organ transplant story raising spirits of Chestermere youth
Posted on June 22, 2016 by Taber Times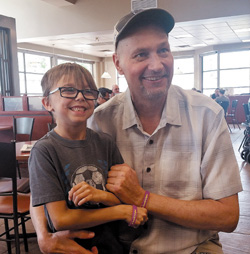 TIMES FILE PHOTO
By Greg Price
Taber Times
gprice@tabertimes.com
As town councillor town Jack Brewin continues to recover from his liver transplant that he got from fellow Taberite and live donor Andy Tams, the story has helped inspire other families as well as they battle to find a match for their loved ones.
A small group of concerned Taberites helps spearhead a media Find a Liver for campaign after Jack had gone months upon months of not being able to find a match. Thanks to the story that got provincial and national attention, Brewin was able to find a match right close to home in a little over a month after the campaign made the news.
The story drew the attention of Vince and Rachel Phillips in Chestermere, Alta. who have a seven-year-old son Kristopher who has been diagnosed with Alpha 1 Antitripsyn Deficiency at just three months old. The deficiency causes liver cirrhosis.
"Jack has been a big inspiration just living the future through his transplant. That's been really encouraging, to see he has found a live donor and seeing his recovery," said Phillips, with his son Kristopher haven officially been put on a transplant list in early April. "It is comforting to know there are live donors out there, and people are willing to do that."
There is a closed Facebook group entitled 'I Love Chestermere' where there were some posts about Kristopher and with that, someone shared a post about Brewin's battle to find an organ donor and his success finding a match.
"Someone tagged me in that group and then I went to Jack's Facebook page and it all spun out from there. I came in contact with Sharla (Kane) and shared our story and asked what they did to raise awareness," said Phillips. "She and Jack have been a really big voice in helping get Kristopher's story out there and other people we don't know. It raises awareness for organ donation."
"Their little guy, knowing someone who lives so close to them and is going through the same thing and being able to follow the story and see these updates with what's happening, what's the process, how is Jack doing?? Is he sick today, is he better today? Going to Edmonton, having the surgery. Just to see all these updates being posted, they have been able to discuss it with their son," added Kane. "This is what Jack is going through and you're going through the same thing."
According to Vince, his son has been having to take medication since Day One and as the days have progressed those levels of medication have increased in their need.
"His day-to-day energy is a little bit less, but we try as much as possible to treat him as a normal little boy. There's been a lot of community support here and it has kept his spirits up. He seems to gain energy from all the support around him," said Phillips. "His classmates surprised him with a video. The day he found out he was on the donor list, he was very excited to go back to school the next morning and tell his teacher he was on the transplant list. Out of that, they decided to make a little video to tell Kristopher's story and raise awareness for his disease and for organ donors to show he has a big team behind him."
Most of the Phillips family is from Nova Scotia and a few family members are currently going through the live donor process as Andy Tams did with Jack Brewin.
"I also have family in the U.S., but they would be last if they can't find anyone in Canada at all," said Phillips.
Jack and Kristopher were able to meet face to face last Monday at a Tim Hortons in Edmonton, as Kristopher's family checked him in for an appointment at the hospital.
"It was very nice to see the hope one can have face to face," said Phillips.
Kristopher's father Vince was disappointed to hear the news last Wednesday that a proposed bill by Conservative MP Ziad Aboultaif to establish a national organ donor registry was rejected by the Liberal federal government. Aboultaif's first private member's bill was inspired by his own family's experience. His 23-year-old son, Tyler, suffers from a rare genetic liver disorder called ornithine transcarbamylase deficiency. It was diagnosed when he was three years old and causes excess ammonia to accumulate in the blood, which can become toxic to the body.
"To not pass that motion doesn't make a lot of sense to me. This is a national thing trying to help everyone. We once had a national gun registry, I can't understand why we can't have a national registry for organ donation that could save lives," said Phillips. "I obviously don't know the numbers. But I think there are a number of people who just assume they are a donor, but haven't checked their card. I think it goes both ways where a number of people would appreciate the opt-out versus the opt-in in raising awareness."
The Phillips family has been so thankful of the outpouring of support of the residents of Chestermere along with Alberta residents who have heard of the family plight.
"It has been amazing and very appreciative by the family. Just the moral support alone has been phenomenal. I hope it encourages people with the same sort of struggle to reach out and share their story and gain the same sort of support and strength from everyone around them," said Phillips.
If you are willing or able to get tested, or know someone who may be willing or able to get tested to see if there is a match to be a living donor for Kristopher, contact Living Donor Services in Alberta at 1-780-407-6533 or toll free 1-866-253-6833, and indicate you are interested in being tested for Kristopher Phillips of Chestermere, Alta. for a liver match.
To register online in Alberta: myhealth.alberta.ca. To register to be an organ donor in Canada: becauseicanproject.com/the-registration.
"To be a living donor, you have to be an acquaintance, a friend, or a family member," said Kane. "You have to know the individual. So in Jack's case, it was a little easier because people know him here. In Kristopher's case, no one may know him in our area, but we are hoping to do is reach out to as many people as possible, because maybe someone knows the family. We just want to raise as much awareness as we can in spreading Kristopher's message."