Museum offering self-guided tours
Posted on June 8, 2016 by Taber Times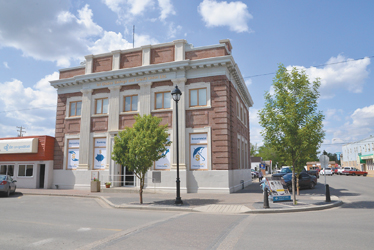 TIMES FILE PHOTO
By Trevor Busch
Taber Times
tbusch@tabertimes.com
If you're ready to take a few steps into the community's rich history, the Taber Irrigation Impact Museum can help you view the sights with a self-guided driving tour.
"A number of years ago I did up a self-guided tour of a number of the historical homes, buildings and churches within the town of Taber," said museum manager Karen Ingram. "Those booklets will be available here for the summer months if anyone is interested in seeing some of the more historic buildings in Taber, they can stop by here, grab a booklet and then drive around."
The tour document includes a point-form listing of events of major historical significance for the community, including quotes and anecdotes, interspersed with descriptions of various historical buildings. For the residential portions of the tour, actual addresses of the homes listed are provided for ease of locating the properties.
"It will take you past the older churches in town, and give you a little bit of the history of when they were built," said Ingram. "The Robber's Row district — now the Douglas Lake addition — and it's one of the earliest 'fancy' subdivisions of Taber. At that time, the houses there were owned mostly by business people, bankers, store owners — and that's why it got the nickname at the time of Robber's Row, because 'only those crooks that are operating the stores can afford to build over there'."
Many of the homes and buildings are not officially designated for historical preservation, but are worthy of a second look nonetheless — even for long-time residents.
"I find some of these houses important enough historically that they should be recognized, but they've never been designated historical sites, and probably never will, because there's so many requirements and things that go along with that designation if they ever wanted to re-model," said Ingram. "So a lot of them never will. But it's still important to recognize that there are older properties in the community that are still looking grand."
Although total tour times will vary depending on how much time is spent in each location, the driving tour can be completed in roughly an hour.
"I've driven it. If you've got someone there reading it to you, you can probably do it in maybe an hour," said Ingram. "Most of the areas, other than the churches, they're close together, so it's not like you'd have to do a wide search of the town to find these. Robber's Row, you could do that in 15 or 20 minutes, pointing out the houses that are listed there."
A passionate advocate for preserving the community's history for present and future generations, Ingram outlined why it is important people keep in touch with their past.
"To me, if we lose our past totally, we've lost all the lessons that go with our past. We learn from what happens, and what goes on before us — if we don't start to recognize that, all these buildings will be gone, the stories about them will be gone, and we're not going to have any connection with anyone that came before us. And to me, that's sad."
Copies of the tour booklet can be picked up at the Taber Irrigation Impact Museum, located at 4702 50th Street.