Newlyweds win STARS dream home
Posted on May 11, 2016 by Taber Times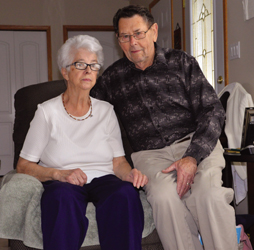 Times photo by Nikki Jamieson
By Nikki Jamieson
Taber Times
njamieson@tabertimes.com
For their first anniversary, Peter and Olive Huveraars received one big gift: a dream home, courtesy of the STARS Lottery.
"Very excited, but sort of dumbfounded," said Olive, of when they found out they had won. "Think, 'Oh, how could that happen to us'?"
Three days after their anniversary, the Taber couple had received a call saying that they had won the Grand Prize, the Sylvan Lake Dream Home. It was their first time winning anything from the lottery.
The couple met about two years ago, on a bus trip to Coeur D'Alene, Idaho, and ended up exchanging numbers. At the time, Olive was living in Saskatchewan, and Peter was living in Taber, having retired after turning his farm in Hays over to family. Olive made the move to Taber a year ago, and they got married on April 11, 2015.
They haven't decided what to do with their new house, but they are keeping their options open.
"We haven't decided anything yet, we want to see it first," said Peter. "Our plan is to get up there as soon as we can get there."
The Sylvan Lake house is 3,331 square feet and worth about $945,000. Some of its features include 3 1/2 baths, oversized windows with a view, wine room, glass interior handrails and a fully landscape yard with aggregate lower decking and a fire pit.