Town councillor finds match for live organ donation
Posted on May 4, 2016 by Taber Times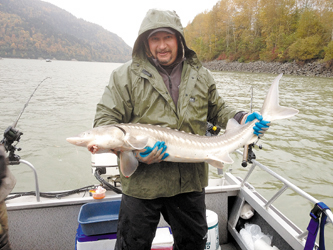 Times photo submitted
By Greg Price
Taber Times
gprice@tabertimes.com
For those in need of an organ transplant, some may need to wait years for the life saving procedure.
For Taber town councillor and family man Jack Brewin, thanks to a social media campaign he was able to find a match in a little over a month.
While diagnosed with an autoimmune disease last year affecting his liver, Brewin was struggling to find a match of a live or deceased donor. Hearing of his plight, Taberites rallied around him in the form of bringing the plight to the media and forming the Find a Liver for Jack Facebook page in March.
Those efforts have secured a positive test from 'Andy' from Taber, as of last Wednesday, who, as a live donor, will be donating a part of his liver to Brewin, with the surgery scheduled to go yesterday in Edmonton.
"We were very hopeful people would be very supportive, but I honestly didn't expect this much support with this many people offering their livers. Within one day (of the Facebook page being posted), 30 people called Edmonton with the potential to donate," said Karen Hamilton, co-organizer of the Find a Liver for Jack campaign, who herself knows of the trials and tribulations of the process, having been diagnosed with cystic fibrosis and is the recipient of a double-lung transplant.
"That was overwhelming for us and for Jack, he didn't ever feel comfortable asking himself. I know for myself, when you are waiting, it's so hard to ask somebody. He's over-the-moon excited and thankful. It's a lot to take in. Leading up to the surgery, it's going to be a roller coaster of emotions for Jack's family and Andy and his family."
Family members and close friends had been tested earlier, but were deemed not compatible. Rough parametres for finding a match for Brewin were being Type O-Positive or Type O-Negative for blood, minimum height of five-foot-10, free of chronic disease and of good health, a BMI under 30 and a male or female between the ages of 18-55.
Just as Taberites rallied for Brewin in helping secure a live organ donor for his liver, there is that support needed in the recovery process as well.
"I know Andy will have a fight on his hands where recovery won't be easy, but he'll do it and have that support," said Hamilton. "For recipients, I'd say it's probably six months to a year where you feel totally back to normal and you have a life-long battle with your drugs and levels. For the donor it'd be like five or six weeks."
The Find a Liver for Jack campaign committee members are asking for thoughts and prayers for Jack and Andy and their families to get through the surgery and recovery time.
"They'll be up in Edmonton for awhile, away from their families. It's a long, emotional process."
"It's an exciting process, but it's an emotional process," said Hamilton.
Studies have shown 95 per cent of Canadians said they would accept an organ if they needed one.
Yet, there are only 13 donors per million in Canada. Canada ranks near the bottom in the developed world for organ donation rates.
Ninety per cent of Canadians say they support organ donation, yet only 24 per cent are registered as organ donors. This has caused a backlog of over 4,500 Canadians waiting for life-saving organs and nearly five are added to that list every single day (becauseicanproject.com). One organ donor can save the lives of up to eight people. The latest medical procedures have made for huge success rates – 98 per cent for kidney, 90 per cent for liver, and 85 per cent for heart.
There was the near immediate success of the Find a Liver for Jack campaign, but committee members hope Brewin's plight will help galvanize southern Alberta to bring sustained awareness about the importance of organ donation. Dr. James Shapiro is in charge of Alberta's living donor liver transplant program and has noted in a CBC story that up to a third of people waiting for an organ transplant will die while waiting.
Volunteers were on hand on April 22 at IGA in Taber, setting up an organ donor drive booth in support of the Donate Life campaign. Approximately 40 people took multiple registration forms home with them, along with someone registering right at the booth every 15 minutes of the drive to be an organ/tissue donor.
Hamilton confirmed there have been messages from families of loved ones in need of an organ transplant from across the province noting the Find a Liver for Jack campaign has given them renewed hope in their quest.
"For Jack, for him to see the cause for organ donation moving ahead and getting people to think more about organ donation, it's a big thing on his heart," said Hamilton. "His life can be saved, but there are so many other people waiting. I hope the awareness doesn't just stop here, but keeps going forward."