Taber town councillor in the presence of local angels
Posted on May 4, 2016 by Taber Times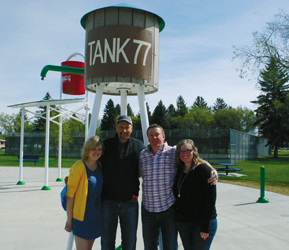 Times photo by Greg Price
By Greg Price
Taber Times
gprice@tabertimes.com
Town councillor Jack Brewin went into surgery for his live liver transplant yesterday thanks to the generousity of fellow Taberite Andy Tams.
However it turns out, Brewin's wish is it turns into something bigger than himself.
Brewin's recent birthdays as of late have been trying for the family man, as they have benchmarked his battle with his auto immune hepatitis disease.
"On my 49th birthday (Feb. 10), I went in for a physical for my Class 1 and I passed it with flying colours. Got some blood work done and Dr. Torrie said things didn't look quite right and that I'll need further testing," said Brewin. "They found out it was my liver."
On Jan. 1 of that year, it was Brewin's goal to lose weight, as he was nearing his 50th birthday and hovering around 300 pounds in weight.
"I looked at myself in the mirror and said 'I want to lose weight and be around for my kids and see them grow up and have kids and see my grandkids," said Brewin. "I started working out, but I wasn't losing my belly."
Brewin did indeed start to lose weight, but wasn't losing any of his belly. That was because the stomach was full of fluid and was not being expelled form his body. Brewin's auto immune disease had Brewin dropping from 300 pounds to 220 at his lowest. It made for a 50th birthday that was not memorable, both metaphorically and physically.
"I am not officially 50, because I do not remember my 50th birthday because I was unconscious in a hospital bed in Calgary," said Brewin, adding he had a loss of brian function from hepatic encephalopathy. "That is toxins building up in your blood stream and your body is retaining fluid and it can't get out of your body. It starts to affect your thinking. You become confused, and that's happened to me about a half dozen times. The worst one was when I ended up in Calgary. I woke up four days later in Foothills Hospital, and that's how I turned 50. I didn't know where I was, and it was the first time in my life during this whole battle, that I didn't know who my wife was."
Perhaps in those days he was out, angels visited him in his dreams in helping accelerate the help he needed. Those angels materialized in the form of a caring Taber community who embarked on a social media Find a Liver for Jack campaign.
Upon hearing Jack's family was not a match for him along with close friend Paul Turcato, a small group of Taberites mobilized to get a concentrated message out to the public on Brewin's need for a new liver.
"The problem with finding a match is I'm very tall and a big guy. The liver has to fit as it will grow into you," said Brewin. "It's quite an involved process."
Brewin admitted as the days/months passed he was getting down on his himself and losing hope, when his spirits were lifted in the form of Sharla Kane and Karen Hamilton, who herself was a recipient of a double-lung transplant stemming from her cystic fibrosis. The two along with a small contingent of Taberites launched its live donor awareness campaign on Facebook and alerted the Taber Times with Brewin's story eventually going both provincial and national.
"They stepped right up to the plate and I called them my two angels. They got things rolling on Facebook and got the word out on posters and on billboards," said Brewin. "I don't even know how many people tried in the end. But there was a lot, Edmonton was overwhelmed with people asking to be tested. They are my two angels and there were a lot of other people who helped too, who have their own wings."
As Brewin transitioned in his life in early retirement, he and his wife had the financial means to set up roots anywhere, but Brewin chose Taber knowing what the community had meant to him.
"I wanted to stay in Taber. This is where my friends are, I know the town and surrounding country. This is what makes towns like Taber great, is the community spirit," said Brewin. "When someone is in need, people step up. When you are in a big community, you are just another face. Here, people care. People were coming up and asking me how I was doing and the town council I serve on, they were very supportive too, helping me work through this."
Now Jack's wish is with his plight that the importance of organ donation does not just end with him, but remains on the public conscious nationally.
"One person, after they are gone can help eight lives. In Spain, they have a law, you are an organ donor. You have to sign (opt-out), not to be one. You see more organ donation in Spain. That's what Canada needs, something to inspire people to donate." said Brewin of Spain, which currently has the highest organ donation rate in the world. "Wherever we end up (depending on your belief system), we don't need our organs. If you can save someone's life, or help with research, more power to you. Whatever happens to me, I hope good comes from it for other people."