Four-legged friend assisting people with medical disabilities
Posted on April 27, 2016 by Taber Times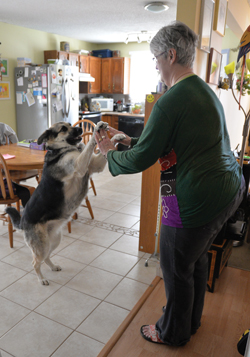 Times photo by Nikki Jamieson
By Nikki Jamieson
Taber Times
njamieson@tabertimes.com
Sally is a friendly, laid-back dog, seemingly without a care in the world. But when her harness comes on, she goes from happy-go-lucky to serious in an instance.
That's because Sally is a service dog, and she knows that once that harness comes on, it's time for work.
Service dogs are specially trained to assist people with various disabilities, such as visual impairment, mobility problems, hearing loss, seizure disorders or PTSD.
Sally has been with Katharine Hockney since Oct. 4, 2014, when the German Sheppard was about 16 months old, to help her manage her PTSD.
"With PTSD, the situations I face in my normal life can raise my PTSD, and she'll either pull me or give me a nudge to walk away, or stand between me and whoever/whatever is causing the PTSD," said Hockney. "(It's) quite remarkable, I don't know how they trained her to do that."
The two are now training together to help combat Hockney's balance issues, after her Parkinson's Disease symptoms got worse in the last year.
"She was brought and trained for my PTSD. And then in this last year and a bit that I've had her, my Parkinson's has taken another step up," said Hockney. "I started to lose more of my abilities with the Parkinson'. And so… we've gone back to school once a week."
Hockney and Sally are working with two trainers from Alpha K9 Canada/NASH – a non-profit aimed at connecting service personal and others with PTSD and special needs with service dogs at no charge to the recipient – to train with the pair for Hockney's new needs. Sally is learning how to open doors, push disability buttons on buildings and pull Hockney up after a fall with her new harness. Sally is also teaching herself some tricks to help Hockney out.
"This part, she trained herself. I have to take medicine about six times a day, and I have it tuned into my cell phone, so it rings to remind me. And by the time it stops ringing, if I haven't gotten up, or gone towards my pill bottle, she'll come and nudge me."
Hockney had gotten Sally from Alpha K9 Canada/NASH – then known simply as the NASH (Neglected Animals Serving Humanity) Project – a non-profit aimed at connecting people with PTSD and special needs with service dogs at no charge to the recipient. Since the average cost to train and raise one is about $20,000, buying a service dog can be quite pricey. The non-profit takes in rescue dogs – much like they did with Sally, and trains them as service dogs.
"We primarily have a rescue program, we use dogs that have been surrendered to us," says Rebecca Santanna, executive director of Alpha K9 Canada/NASH. "We're not a rescue, we use rescue dogs."
The majority of their service dogs are rescue dogs, although they do have a bred-for-purpose program, to assist people of a larger stature, as Santanna had been breeding dogs before she started the NASH Project. None of the dogs in the breeding program are rescue dogs, those dogs were privately owned long before the rescue program started, for 20 years now, for mastiff gladiator dogs only.
"Those dogs are never rescue dogs, those dogs are dogs we've had in our family – like that particular line of dog – are dogs that we've had, and been breeding way before any of the service dog ever started."
Sally was a rescue dog from Saskatchewan, when Alpha K9 Canada/NASH found her. Since being paired with Hockney, Santanna is amazed at their process together.
"Sally and Katharine have been doing a wonderful job, we're very proud of them. They're very happy together, Katharine's extremely happy," said Santanna.
"It's difficult, to be faced with a disease that's totally debilitating, and to watch somebody work as hard as Katharine has been working, and take every measure and step that she can, to get as much out of life as she can, that's really fulfilling for us, to watch that and see that she is getting as much as she possibly can… and we can facilitate that with one of our dogs, and being able to use one of our dogs to help her in her every day life. And our staff is really pleased to be part of the process for her."
The trick to successfully placing a dog with a person, according to Santanna, is to look for similar personalities.
"We knew Katherine had Parkinson's, and we knew where her health was headed. So we found a dog (Sally) that had the personality we needed, and was able to complete the tasks we needed at the time, and had the capabilities for further learning," said Santanna, adding that while they train the dogs, their dogs continue learning throughout their life. "Katharine (Hockney) is a very well educated woman, she is very soft-natured, she is very loving, it's her personality type and it's Sally's personality type. The personality types have to match."
"Sally is not a dog, say like a Lab, who would want to go out and play a lot of ball, and do a lot of things that were very active and outdoors. She's not an aloof dog; she's a dog that likes the attention, Katharine likes to give a lot of attention. So, it was matching the dog personalities and capabilities with Katharine's personality and Katharine's needs."
Back in 2014, Hockney had a service dog, Ted, but as he was having some health issues, he needed to retire. She had heard about the NASH project and decided to apply. After they interviewed her, her doctor sent them a dog 'prescription' of what she needed, and the match was made.
"I knew I was going to have to retire Ted, and I was told about this wonderful NASH project that would look after training dogs," said Hockney, saying that Ted had been her service dog for ten years. "What the requirements were was out in Saskatchewan, and it was Sally, and she was brought out and trained specially for me. Which is beautiful."
When she first got Sally, she had already been trained to help with Hockney's PTSD, and that training continued as they bonded. But now, they need to be retrained for Hockey's Parkinson's symptoms.
"Now, she has to train for the Parkinson's, and we're back with the trainers, with the Nash project, teaching me how to do this, and how to do that and how to handle this situation, and unteach her, some of the things she had to know for PTSD, we have to change around for my Parkinson's."
"She (Sally) has, as you can see, her harness, we had done some balance training with her, and our complete staff is helping solidify that balance training," said Santanna, adding that her organization offers lifetime support and training. "So as Katharine's situation progresses, our staff is there to help the dog and Katharine adjust to the situation."
One example would be where Sally walks. She had been trained to walk sort of beside and behind Hockney to watch her back. But now she also needs to learn to walk directly beside her, in the event Hockney needs help balancing.
Hockney has been leaving the choice up to Sally, who has been walking beside her when it's just them, and behind when someone approaches from behind. They are still attending classes together, and have been working hard.
Taber has been great with her and Sally, and Hockney is happy to answer any questions anyone might have. But please, when Sally is working, respect that and as gorgeous as she is, do not try to cuddle her.
"When you do see a service dog, with identification, you are not to approach them, you are not to pat them and you are not to get their attention," warned Hockney. "Because that dog has been trained specifically to look after the person they are with. And if you distract them, you are taking their mind off of the job they have been trained to do. And in some cases, it could end up very tragically, especially if it's a seizure person."
"There's a fine line when that chemistry in your body changes, and if they're getting praise from somebody outside, a person passing by or whatever, and that chemistry in a persons body changes and they go into a seizure, that dog feels terrible, because that is their master."
According to Alberta's Service Dog Act, Sally goes wherever Hockney goes. Legally, unless Sally misbehaves, the pair cannot be denied entry to any public establishment, occupancy of a self-contained residence or service on the basis that Sally is a dog and dogs are not allowed. Sally is never really off the clock, even at home when she's not in her harness she keeps an eye on Hockney. While she may have been rescued for the purpose of becoming a service dog, Hockney feels they have both helped each other in the end.
"She rescued me, and I rescued her. We're both rescued together. That's how I put it."