Taberite trying to bring more positive messages in hip hop/rap genre
Posted on April 13, 2016 by Taber Times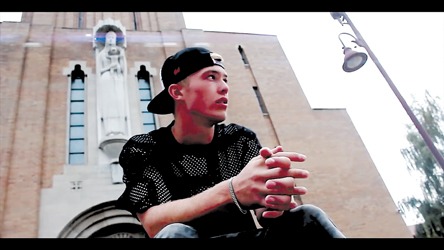 Times photo submitted
By Greg Price
Taber Times
gprice@tabertimes.com
Rap tends to get a bad rap though some eyes with some of the messages it portrays. You have to look no further than some of the highest paid performer's and their music videos filled with misogynist overtones with women in bikinis, dollar bills raining down and night club escapades.
For Taberite and young Christian rapper Aypayne (Alex Wiebe), the messenger can bring a much more positive message through the art form.
Aypayne just dropped his album Activated at the end of March and is now promoting it throughout southern Alberta.
"I've been working on it for a few years now, looking forward to releasing it. The theme of the album is activating me and kick starting my music career and coming into the industry as an independent artist."
Growing up in Taber where he attended Taber Christian School up until Grade 9, then bussed to Chamberlain School in Grassy Lake, Aypayne's faith in Jesus and God has always been close to his heart. Also, Wiebe has an appreciation for rap and hip hop, where he decided to fuse the two together in spreading more positive messages as the artist Aypayne was born.
"Musically, I've been influenced by guys like Lecrae, Andy Mineo and other guys in the mainstream that are representing something other than all the other secular artists were representing," says Aypayne. "There's a big stereotype that comes with hip hop and that's clubbing, drinking and girls and all that type of stuff. I'm trying to represent something clean and something that can give people hope, and to inspire kids."
Activated is an 11-track release that also features guest artists Kira Lyseng, Zach Taylor, Alida Van Beek and The Blue.
"I have a song, Journey, that is about continuing that journey no matter what gets in your way. It's one of the most motivational songs in my opinion on the album," says Aypayne. "I also have a song, Grind, that describes my work ethic. I have a grind mentality when it comes to work."
Aypayne is working full time for a concrete company out of Bow Island with work that takes him across Western Canada, which makes his pursuit of his love of hip hop challenging at times for the 18-year-old Aypayne.
Carry On is Aypayne's favourite song, which has a similar message to the track Journey, with a very strong beat accompanying it.
Aypayne is a fan of many secular hip hop artists as well, noting the appreciation of music can come on many different levels in building bridges in enjoying art.
"For the art of writing music, Eminem is definitely once of my biggest role models. The way he compresses so many different lyrics together and sandwiches them together," says Aypayne. "I have a lot to say and a very little time span to get it through. I also grew up listening to a lot of heavy mental which you wouldn't think listening to the album. I'm pretty broad when it comes to listening to music. I enjoy everything from heavy metal, to country to pop."
Aypayne has physical copies of his release along with downloading it on social media where people can listen to it on YouTube.
Aypayne has performed at the National Music Centre in Calgary in front of a few hundred people, along with the E-Free Church in Taber on youth nights. Aypayne has been making arrangements to see if he can perform as part of the musical entertainment for Cornfest in August.
If Aypayne were to be able to secure a set at Cornfest, it would offer something unique to the Cornfest stage that is usually dominated by country, classic rock and top-40 bands.
"I remember at Cornfest like five years ago, there was a rapper form Lethbridge who performed two songs on a side stage where purple Cow is set up. That was the only taste of hip hop I had ever seen at Cornfest," said Aypayne. "If you can get something like that on the main stage with say a half-hour set and switch things up, I think it would be good for the young people in the Taber area too. When you hear hip hop, you hear that base and beat and it will attract a younger crowd. I think Cornfest is bias sometimes to the older people with the entertainment."
Aypayne is available on iTunes, Apple Music, Google play, Band Camp, and SoundCloud, or can be viewed on YouTube.
"A lot of the people I know who are enjoying the music are non-Christians. I have friends who are broad in their beliefs and just enjoy the music," says Aypayne. "Just because I'm Christian doesn't mean I just listen to Christian music. I can appreciated the art behind it and I find it the same way vice versa. If you are not Christian, you can easily listen to Christian music as long as it has good quality."