Sudanese refugees settling in nicely
Posted on April 13, 2016 by Taber Times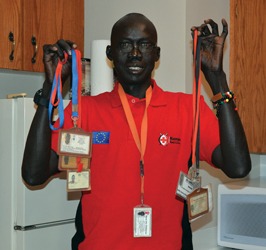 Times photo by Nikki Jamieson
By Nikki Jamieson
Taber Times
njamieson@tabertimes.com
It's been a month since Taber has gained seven new residents from halfway around the world, and they have been settling in with the help of a local church group.
Sponsored by the refugee committee at the Taber Christian Reformed Church, the seven South Sudanese refugees are adjusting to life in Taber with the arrival of spring, and they have been enjoying their new home.
"It's a friendly environment," said Zakeria Magok Mabeny, 38 years old, one of the refugees. "I'm feeling good and am happy, because I am warmly received by the Christian people in the church, and everybody welcomed us. I'm good, I am happy."
Mabeny has been sponsored alongside Martha Aluel Anyuat and her five children; 13-year- old Yar Shadia Bol, 11-year-old Akuol Ann Bol, nine- year-old Atem Kizito Bol, six-year-old Nun Nathaniel Bol and four-year-old Dut Pilologas Bol.
Before coming to Taber, the group had been living in camps in Kenya, having fled from their home country of South Sudan years ago to escape the fighting.
The conflict in South Sudan isn't just a mere conflict. It was constant fighting, first between the Arab north and Christian south in 1956, and then, more recently, between South Sudan President Salva Kiir and the governing SPLM party and former Vice President Riek Machar and his rebel faction.
"It begin a long time (ago), it wasn't something that had started recently," said Mabeny of the conflict in his home country. "Our past ancestors, they were fighting before I was even born. So the conflict was been ongoing."
While there was a brief lull in the fighting in 2011, after an overwhelming majority had voted for referendum granting South Sudan the right to became it's own country and separate from it's north counterpart on July 8, it didn't last very long.
After over two years of ethnic clashes, tensions between the north and the south and internal power struggles, Kiir dismissed his entire cabinet, including his then-vice president Machar, in July 2013, and in December 2013, Kiir accused his past vice president of attempting to stage a coup against him, and the newly-minted country erupted into its third civil war in less then 60 years.
"The dispute, currently going on, is about leadership, among South Sudanese currently. It was not like before, about struggles between the…Islamic regime and the Christian community. This conflict (is) between ourselves, as Sudanese, fighting over the leadership. That's what's currently happening in southern Sudan now."
While peace agreements have been signed over the course of the war – the most recent one being signed in August 2015 – they have been repeatedly violated.
From this civil war alone, approximately 2.5 million people have been displaced, although all but 750,000 are still in the country, and an estimated 50,000 have died as a direct result of the fighting since this civil war began.
Zakeria Magok Mabeny wasn't in South Sudan at the time of independence. He had fled the country long before then for a camp in Kenya in 1992, during the second civil war in Sudan, which had began after Sudanese President Jaafar Numeiri abolished South Sudan's self-rule in 1982, which he had granted to the south ten years prior during the first civil war.
"Sudan was not – is – stable, it wasn't stable, even in time we were getting independent from north, we were still having more crisis," said Mabeny, who was 21 when he left. "Even now, it is not stopping. So, I do not been to Southern Sudan, for rest of my life I was (refugee)."
Mabeny had ended up in a refugee camp in Kenya. Martha's husband, Bol Brach Dut, and himself were both Lost Boys and lived together in a camp, before the program to bring them to the U.S shut down.
"The husband of Martha was my colleague, we stayed together in Lost Boys – I was a Lost Boy – we were suppose to be going to the United States," said Mabeny, adding that only the lucky ones were able to go before the program shut down.
In a joint program between by the United States Government and the United Nations High Commissioner for Refugees (UNHCR), about 3,800 Lost Boys were resettled into the U.S in 2001 but the program was short lived due to security concerns after 9-11. Other organizations, such as UNICEF, worked on reuniting the Lost Boys with their families.
Since he had known Bol, Mabeny and Martha supported each other out while she and her children were in the camps. He was able to stay with the family during their time in the refugee camp, and during this time, he began working with agencies such as IOM, and made the case to UNHCR be resettled with the family, as Bol was still in Sudan. Although the two were not related, the request was approved.
Mabeny had lived in the Kakuma refugee camp, located in the northwest region of Kenya, before being moved to the Dadaab camp, near the border of Somalia, in 2004. Dadaab is considered the world's largest refugee camp, and is largely made up of Somalian refugees.
"That's how we continued the life, until we get a chance. UNHCR called us for interview, and we went to interview. Then we went for a medical check up, and at long last, the flight came in and we started moving to Canada."
Last summer, at the time, church groups across Alberta were starting to sponsor Syrian refugees, and the TCRC decided see if anyone in it's congregation would be interested in sponsoring a group of refugees. A group was soon formed, and the process for sponsoring began.
"We just felt God's calling, I think, to do something," said Janny DeVlieger, secretary for the TCRC refugee committee. "We are very well off in this area, we can support a family."
The first meeting was on Oct. 15 in 2015, and working closely with World Renew, a international agency of the church that provides relief worldwide and helps refugees resettle in Canada, who worked with the federal government on the group's behalf. The agency also helped them learn about the resettle meant process and what to expect, along with going through various refugee profiles.
"After a couple of meetings, we came with the choice to ask if we could sponsor Martha and her five children and Zak," said DeVlieger. "They wanted to be together in the same area, to continue to support each other."
In late December 2015, they were given notice that they could sponsor them and bring them over, but it could take up to a year to do so.
"We didn't know when we would get a call, that they were going to come, we didn't know. So we started to get ready by collecting household furniture and doing fundraising… In the meantime we kept collecting and meeting and paperwork, until we got a call they were arriving."
As sponsors, they are responsible for them for a year, but DeVlieger says they are prepared to continue to support them afterwards.
Mabeny had learned that they were going to Canada when he was asked to surrender his refugee ID to the government of Kenya, and given his identity papers, also known as alien's passport. Without these, you cannot be resettled into another country.
"If you do not have this, you will not get access to go to any of the international communities," said Mabeny. "You will not go to United States, you will not go to Canada, you will not go to Australia… But if you have this, at the time of your flight, you have to surrender and show this on your security status. This is giving you identity with the government, because that country has a lot of terrorism."
The group traveled to Nairobi, Kenya, by bus to board a KLM flight, which would eventually take them to Canada. At 11 p.m., they boarded a flight to Amsterdam, Holland. They waited six hours for another KLM flight, which took them to Calgary, and landed at the Calgary International airport in the evening. After going through security and customs, they boarded a small plane with 14 passengers that took them to Lethbridge, where they met up with their sponsors.
"I got my house, everything was organized and everything was inside," said Mabeny, thanking the TCR Church for their help.
Martha's children are currently attending school in Taber, and they all routinely attend classes in Lethbridge to improve their English skills, and were even able to see distant relatives in Calgary and Lethbridge. Mabeny is looking for a job, and if he has the opportunity, attend the university in Lethbridge.
"I would see if I should study diploma, if there is the opportunity," said Mabeny, saying he would need to discuss it with his sponsors and Citizenship and Immigration Canada. "Time would tell exactly, not me."