Taberites rally around councillor in need of liver transplant
Posted on March 23, 2016 by Taber Times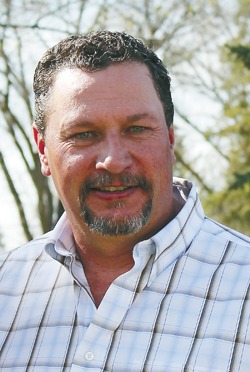 Times file photo
By Greg Price
Taber Times
gprice@tabertimes.com
Seeing the struggles Taber town councillor Jack Brewin has had in securing a match for a liver transplant, Taber resident Karen Hamilton could not stand on the sidelines any longer.
A movement has been mobilized to approach the southern Alberta community to see if a live donor can be secured in Brewin's quest. His life depends on it.
"For the last few days, I had seen things on Facebook where Jack was saying thanks for trying to be a live donor to a friend, but it obviously didn't work out," said Hamilton, who was born with cystic fibrosis and is the recipient of a double-lung transplant."I've seen a lot of people successfully have live donors. I've seen organ donation save my life, and I felt I had to do something for Jack."
A small group of Taberites mobilized last week upon hearing that Brewin's friend Paul Turcato was not a match.
"Jack has been a pillar in this community for many years, and has always provided support for individuals and organizations when in need," said Hamilton. "His dedication and drive to encourage success, solidarity and opportunity for Taber and surrounding communities has been a strong contributing factor to the continuous growth of this town."
Many people may ask Turcato why he went through the process to see if he was a match for Brewin given he has a family to call his own and a farm to look after. But for Turcato it was simple, he saw a friend in need.
"Jack and I go back quite a lot of years; two good friends in high school, we did lots together. When I found out about Jack's illness and need for a liver, and that a live donor could help him live, I couldn't just sit back and watch a friend die," said Turcato. "Jack is an outstanding person, and has so much more to offer yet in life, as a dad, a husband, a friend and as a town councillor."
Turcato noted the whole process can take up to a month-and-a-half to complete, but not much time personally. Most of the time is waiting for appointments. Most of the testing can be done in your home town.
A trip to your family doctor and blood work is the first step, then a trip to Lethbridge for x-rays and then an ultrasound. From there, if everything is still a go, you go to Edmonton for a CT scan and MRI.
"They ensure you that if at any time you change your mind and do not want to proceed with the tests or transplant, that it is all kept confidential. After my MRI and CT scan, I found out that my liver isn't the right size to transplant from," said Turcato, adding recovery time for a transplant can be three months. "Every step they take is to make sure that you the donor is taken care of properly, and that everything is good for a successful transplant, for the donor and Jack."
While Turcato wanted to help his friend Jack, he was grateful he had the support from his family and friends if he had ended up being a successful match.
"I'd like to thank all the people who offered help, whether it be for seeding or whatever was needed to help me and my family through the process had I been the donor for Jack," said Turcato. "I'd like to thank my family as well for supporting my decision to go through with this. Our community is amazing when it comes to support."
The liver is one of the few organs that can be live-donated, due to the fact it will grow back.
"If you donate the lobe they need, the other one will grow back to about 90 per cent within a few months," said Hamilton. "There's obviously implications where you have a scar, you go through surgery, but it's generally not life-threatening. Especially if you are healthy."
A Find a Liver for Jack Facebook page has been created. Committee member Sharla Kane said a goal is to raise awareness about organ donation in general.
"Be aware, sign your donor card," she said. "Don't be afraid to be a live donor."
"We want to encourage people to get tested. Live donation is Jack's best chance. It's at a point now where we need to help him."
Studies have shown 95 per cent of Canadians said they would accept an organ if they needed one. Yet there are only 13 donors per million in Canada. Canada ranks near the bottom in the developed world for organ donation rates. Ninety per cent of Canadians say they support organ donation, yet only 24 per cent are registered as organ donors. This has caused a backlog of over 4,500 Canadians waiting for a life-saving organs and nearly five are added to that list every single day (becauseicanproject.com).
"We are focusing on live donation. But if everyone who has died donated their organs, we wouldn't have this problem," said Hamilton. "Jack would be transplanted by now. There are so many organs that just get thrown away."
One organ donor can save the lives of up to eight people. The latest medical procedures have made for huge success rates – 98 per cent for kidney, 90 per cent for liver, and 85 per cent for heart.
If you are between the ages of 18-55 and are willing or able to get tested, or know someone between the ages of 18-55 who may be willing or able to get tested to see if there is a match to be a living donor for Jack, contact Living Donor Services in Alberta at 1-780-407-6533 or toll free 1-866-253-6833, and indicate you are interested in being tested for "Frederick John Jack Brewin" of Taber, Alberta for a liver match.
To register online in Alberta: myhealth.alberta.ca/Pages/OTDRRegister.aspx
To register to be an organ donor in Canada: becauseicanproject.com/the-registration.
Log onto the Find a Liver for Jack Facebook Page for more information.