MP Jim Hillyer dead at 41
Posted on March 23, 2016 by Taber Times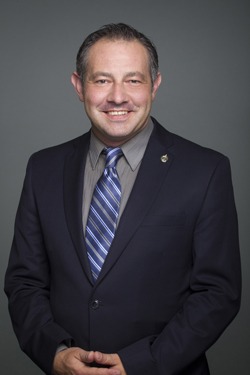 Times photo submitted
Medicine Hat-Cardston-Warner MP Jim Hillyer, a former MP for the Lethbridge riding, has died at the age of 41.
News reports said Hillyer was found dead in his Ottawa office Wednesday morning. He had complained Tuesday of not feeling well.
Interim Conservative Leader Rona Ambrose said in a statement she was deeply saddened to learn of Hillyer's death.
"Jim was a valued and hardworking member of the Conservative team, and a passionate advocate for those he represented," the statement said. "More than that, he was a dedicated husband and father, and a man of strong faith and conviction. I pray that his and his family's faith will help them through this very difficult time."
Initial reports suggest Hillyer died of a heart attack. He was a cancer survivor and had undergone a bone marrow transplant in 2003.
The Medicine Hat News reported earlier this month that Hillyer had undergone a successful surgery Feb. 13 to deal with a bone infection in his leg.
Hillyer had suffered recurring problems with the leg since he broke it in a skiing mishap three years ago.
Hillyer was first elected to Parliament in 2011 representing the Lethbridge riding. He was re-elected last fall in the newly configured riding of Medicine Hat-Cardston-Warner.
Hillyer is survived by his wife Livi and four children — London, Taylor, Nation and Asia.
"On behalf of Jim's staff in Ottawa and in the riding, I extend our heartfelt sympathies to Jim's wife Oliviai and their children during this difficult time" commented Colleen Valin, Chief of Staff.
Alberta's Wildrose Party leader, Brian Jean, who had served previously with Hillyer during his tenure as a federal MP in Ottawa prior to taking over the leadership of the provincial party, was also saddened to hear of the MP's passing.
"Jim was a man who lived his life with passion and dedication to public service – an individual who lived faithfully and honourably to his family and friends," said Jean. "There's no question of his perseverance after earlier in his life overcoming a battle with leukemia. I was honoured to serve for several years with him in Ottawa and he will be deeply missed."