Folk singer returns home to promote live music
Posted on March 23, 2016 by Taber Times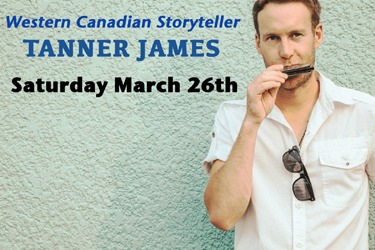 Times graphic submitted
By Nikki Jamieson
Taber Times
njamieson@tabertimes.com
Former Taberite folk singer Tanner James is heading home this Easter weekend, and is prepared to sing about it.
James is having a concert this weekend at the Taber Curling Club, alongside pedal steel guitarist, Dylan S. Keating.
Coming fresh off a western Canada tour that saw James traveling to the Prairie Winter Song retreat in Manitoba from Feb. 28-March 2, to performing in Field, British Columbia, on March 12, James will be performing in Taber before traveling to Saskatchewan, for a series of concerts in April.
He will be performing again in Taber for Cornfest later this summer, and hopes to make a biannual event out of playing concerts in his hometown.
"Being from Taber, I should be playing in Taber and trying to encourage live music and try to help the community a little bit," said James.
This concert will feature songs from his upcoming album, 'Painted Horses'. Unlike his previous album, 'How To Ruin Your Life With Women', released in 2013, which focused on his own stories, 'Painted Horses' is about other people's stories.
"This album is mostly about people I've met on the road and other people's stories, written from their perspectives," said James. "I played 150 shows in 2015, have been on the road, full time, for almost three years now, and so a lot of these songs they're fun songs, they're sad songs, they're about the human condition, and they're about people from different parts – mostly Canada and mostly western Canada – that I've been able to meet at shows and in bars in these communities, and sort of telling other people's stories."
Although he had first stepped out into the music scene in a rock band, which was "a good band to be young in", James had felt the call of his roots, of listening to his grandpa spin words into stories.
"Growing up on a farm outside of Taber, I guess it's sort of in my pedigree to be interested in western life, and folk music is very genuine, it's very connected to the people in concert, and it's something that's just kind of in me, and I like to tell stories," said James. "You're telling stories about other people, and folk music is a way to do that, for me."
He credits his grandpa as the reason he became a good storyteller, saying that between his grandpa, dad and uncle telling him stories, he had sat around listening for "the first 18 years of my life."
"It's an art not many people do anymore – especially young people. I learned how to do that from them."
Of course, just because he's playing in his hometown doesn't mean he won't get any pre-show jitters. James says that there's actually more pressure, in playing in front of people you know, over playing for people you don't know.
"It's easy to show up and be anonymous in other cities," said James.
"In an anonymous, you have nothing to prove, you just show up and do your job, it just feels like another day at work. While playing home, I just feel I have something to prove a little bit."
James' concert will take place on March 26 at 8 p.m. at the Taber Curling Club. Tickets are $15 online or at the door.
For more information on upcoming shows, visit http://www.tannerjamesmusic.com.