Music stylings of Neil Diamond featured
Posted on February 24, 2016 by Taber Times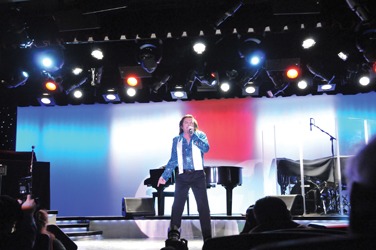 Times photo submitted
By Nikki Jamieson
Taber Times
njamieson@tabertimes.com
A celebration of Neil Diamond is coming to Taber.
To be more precise, Jason Scott's show, Diamond Forever: A Celebration Of The Music Of Neil Diamond, will be in Taber on March 5 at the Taber Canadian Legion, coinciding with the 100 anniversary of the Legion.
"I don't like to say it's an impersonation, because it's not. Although the show is a tribute show, I don't consider it to be an impersonation but rather a celebration of the music of Neil Diamond." said Scott. "There is the look of Neil – in the hair, the sparkly shirt and the outfit, stuff like that – and you can't help but move like Neil, and Neil Diamond falls out of my face when I'm singing, but I don't try to impersonate him, per say. I like to tell the audience to look at this show as a Neil Diamond party."
There is a lot of audience interaction as well. In the addition to things like dance offs with prizes and sing-along, Scott can often be found in the audience instead of the stage.
Scott started doing the show in 1997. Before that, he was in a rock band that was just assigned a recording contract by Canadian musician and producer Brian "Too Loud" MacLeod, who he had regarded as a mentor. But when MacLeod died, the American side of the label dropped all distribution.
"That left me out in the cold," said Scott. "Brian was a very good friend, and I found myself looking in the mirror wondering if I wasted the last 20 years of my life. So, much like Neil in the Jazz Singer movie, I went on a eight, nine, ten year walk-about, just trying to figure out what to do with my life."
One day, he ended up singing a Neil Diamond song from the Jazz Singer film, which the crowd went "nuts" over, giving him the idea for the show.
Since then, Scott has preformed on stages around the world, been the opening act for the Country Superstars show in Las Vegas' Golden Nugget Showroom, won a Reel award for Rock & Pop in The Reel Awards Show, was the first Canadian International performer to win the Be a Legend celebrity tribute competition as Neil Diamond in 2005, won the Sunburst Convention of Celebrity Tribute Artists Best Platinum Showcase Award in 2011 and for the last two years, has perform his show on the First Street Stage at the Fremont Street Experience.
Scott will also be the only Canadian artist to be included in the upcoming documentary Diamond Mountain, a two-hour film which features 14 Neil Diamond tribute artists and tells their stories on how they became tribute artists and got into doing their shows, featuring artists from all around the world.
"The film isn't about who sings the best 'Sweet Caroline', the film is about our back stories, how many times we've hit the ground and picked ourselves back up again. For me, for my part of the story, I had to completely reinvent myself and reinvent a whole new career from scratch after the devastation of cancer and the lost of a career I've worked on for 20, 25 years."
"It's a film about redemption. The audience is going to have their hearts ripped out and at other points in the film they're going to jump up and cheer. There's all these different stories going on, and Hollywood right now is giving what they've heard and what they've seen in little snippets of the finished product, it's getting the same kind of buzz that '20 Feet From stardom' did, which is a film about backup singers, and '20 Feet From Stardom' got an Oscar in 2014."
Because the documentary is up for consideration for 20 different film festivals, such as New York's Tribeca Film Festival, there will be no official premier as of yet. However, Scott will be attending an audience preview, complete with red carpet treatment in Las Vegas, on April 21-24, at the Suncoast Hotel and Casino.
"Nothing can be billed as a premier, but we can have a private showing," said Scott. "That's what we're doing in Los Vegas, with a red carpet and most of the cast members from around the world."
They will find out if they got into the Tribeca about a week after his Taber show on March 5. Tickets for that show are $30 each in advance, the doors open at 6 p.m. and the show itself starts at 7 p.m.
Needless to say, Scott admires Neil Diamond, saying that not many people can claim a six-decade career, let alone one whose music spans so many generations.
"I think there's only five people on the planet Earth, that are operating and can say they have a six decade history of hit after hit after hit after hit after hit after hit – take a deep breath, turn the page – hit after hit after hit after hit. It just doesn't stop. He is the quintessential American singer/songwriter."
"If Neil Diamond started from the first hit to his latest hit, he would probably sing the soundtrack of your life."