Abela settling in new role as Taber's police chief
Posted on February 24, 2016 by Taber Times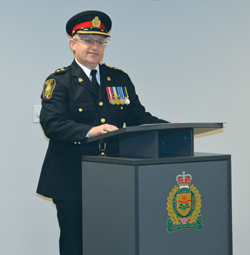 TIMES FILE PHOTO
By Nikki Jamieson
Taber Times
njamieson@tabertimes.com
Taber has a new police chief.
Graham Abela became the town of Taber's police chief last week, on Monday, Feb. 15, taking over from former police chief Alf Rudd.
Rudd had been the police chief since 2009, and Abela is now the 17th chief in the department's 112-year history.
Abela has been with the Taber police service for over 25 years, and considers this appointment as something that he had worked hard and waited a long time for, and that this achievement was a group effort with fellow officers, mentors, family, friends, the police commission and the town.
"I want to thank you for believing in me and giving me the opportunity to serve this wonderful organization," said Abela, in a speech in front a standing-room-only crowd on Feb. 16. "The support I have received since it was announced that I would become chief of police, it has been outstanding. The numerous phone calls, e-mails, text messages, face-to-face congratulations and posts on social media have lifted my spirits and given me oodles of encouragement."
Although he was born in England, Abela did grow up in Taber, and after a brief absence, he returned to Taber for his policing career.
He credits his fellow officers – both current and past – as well as mentors and teachers for him getting to where he is now. While geographically, Abela will only be moving to the office next door, he will continue to seek their guidance in his new role, even after he "fixed the many nail holes in the wall," resulting from the display of Rudd's 45 years worth of certificates.
"But I must remember, that a fresh coat of paint, does not allow one to hide from the responsibilities of the office of chief of police. And I hope the transition, that you see today, is as seamless when I take that office."
"I'm very satisfied that we've got such a good candidate as chief. I'm feeling good about the future of the police service," said Rudd.
As for his own future plans, despite rumours to the contrary, Rudd does not have any plans other then enjoying his retirement.
He will continue to be active on the committees he serves on, such as Taber Community Against Drugs and the Taber and District Community Adult Learning Association board, but for the most part, he will just be enjoying his free time.
"Just to take life at a different pace, and just doing a bit of travel, visit some family, a few things like that." said Rudd. "I'm not pursuing another career or anything at this point."
Although Abela has been working with his fellow officers for many years, Rudd does advise that he works quickly to earn their respect as chief.
"They know him and he knows them, but this is a new position for him… Respect needs to be earned, and he is well on the way to doing that."
"Respect is earned from the organization, it is not something you get from a position," said Abela. "You need to serve your community as well as the members (of the police service) in order to achieve greatness. And I hope to be able to continue that."
While Abela does not plan on making any significant changes to the police force in the near future, they are currently undergoing strategic planning – including surveys and focus groups – to form a business plan for the next five years.
In addition, he will be keeping an eye open on emerging drug cases in Taber.
"Right now, we're seeing issues around the new drug trends in the community. We're seeing an increase in break and enters, as a result of, I think, of drug activity as well as the economy," said Abela.
"Our officers are diligently working to try to deal with that initial little threat we have right now occurring."
Whatever the challenge might be – from the economics, governance and business of policing – he is confident that the force will continue to work on and improve on those aspects of policing.
"Policing, the actual catching of bad guys, putting them before the courts, the community policing part, the 9-1-1 dispatch centre – that runs slick. The people that we have managing those departments are great, and I don't see any hiccups coming with that," said Abela.
"It's more the business part of policing that I see we have to get a little bit better of a grasp on as we move forward."
As for himself personally, he feels humble and proud to be Taber's new police chief.
"Taber is where I want to be," said Abela. "And I am proud, and extremely humbled, to be your next chief of police."