Decorated policing career spanned five decades
Posted on February 10, 2016 by Taber Times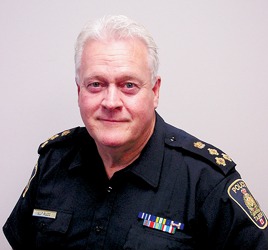 Times file photo
By Trevor Busch
Taber Times
tbusch@tabertimes.com
Reflecting back on almost five decades of service in law enforcement, Taber Police Service Chief Alf Rudd will be stepping down from that role for a well deserved retirement next week.
Officially, Rudd's last day is Feb. 15, and the TPS is planning a transition ceremony for Feb. 16 at 10 a.m. in the Dreaddy Room of the Taber Police Station to hand over the reins of the service to new chief Graham Abela.
"There comes a time when 'it is time'," said Rudd. "Although I am privileged and honoured to enjoy the respect of the commission, the officers, and staff and the community, it is time to take things in a different direction and pace. This was a decision that my wife Melanie supports me in and we are both looking forward to it. The first order of the day will be some household tasks that are already planned. Once the weather warms we plan on taking a trip to Europe where we have family living and working."
Rudd joined the Royal Canadian Mounted Police in 1971 and completed a 27 year career in Alberta, receiving his basic police training and completing a variety of in-service training qualifications. During his early career with the RCMP in the 1970s, Rudd served in Strathmore, Drumheller, Rocky Mountain House, and Innisfail, before taking over as operational watch commander in Cardston until 1990. Rudd then worked in various roles in Lethbridge with the RCMP before taking over the Milk River detachment for a two-year stint in 1997.
Rudd spent several years policing in First Nations environments in the late 1990's and 2000's, as chief of the Blood Tribe Police in Standoff, and later as chief of the Louis Bull Police Service in Hobbema, before coming to Taber to take over the community's service in 2009.
"I have been in Taber for seven years," said Rudd. "My highlight here has been enjoying the efficiency of the officers and staff. I am pleased that we have developed quality senior personnel who are capable of managing a wide variety of policing issues that face us in the high speed digitized world. I have enjoyed participation at the provincial level with the governments of the day and am pleased with the voice that Taber has. Our police commission has also developed into a strong governance body with a positive vision for the future."
As an officer in charge of a multi-national monitoring station in Srebrenica, Bosnia, in 1994 Rudd did a tour of duty with the United Nations peacekeeping force during the conflict in the former Yugoslavia.
"My work in Bosnia was very challenging, likely the hardest thing I have ever done," said Rudd. "Some terrible things took place in Srebrenica and life in harm's way was quite stressful. I was actually tracked down last year by a survivor who remembered kindness shown to her as an 11 year old girl by a policeman from Canada. A few gifts of necessities and friendship prompted her to find me after 21 years just to say how much it meant and thanks."
During his time in Taber, Rudd was responsible for overall operations and administration, and was in charge of 15 officers and 10 support staff.
Rudd has also served on various boards, committees and commissions over the years, including the executive committee of the Alberta Association of Chiefs of Police, past president of Alberta First Nations Chiefs of Police, Victims of Crime Protocol Advisory Committee (Premier's Award of Excellence – 2008), Family Violence Advisory Committee, the Lethbridge Community College Law Enforcement Program Advisory Committee, the Safe Haven Women's Shelter board, the Taber and District Adult Learning Association board, and the Taber Community Action and Prevention Society board.
"On a personal level I plan on being more involved in life-long learning. I serve on two boards and two committees. Because of the great people I get to associate with, these are enjoyable and satisfying and I will continue to serve," said Rudd.
Some of Rudd's awards and citations include a Meritorious Certificate from St. John's Order of Jerusalem, a certificate award from the Policing Standards of Alberta working committee, a Premier's Award of Excellence for development of a victims of crime protocol, Queen Elizabeth Diamond Jubilee Recipient, Order of Merit of the Police Forces, and most recently a Queen's Commissioned Officer appointment by the Lt. Governor of Alberta.
"Continuing to serve in the community will satisfy the itch to be involved and assuage any feelings of missing the job," said Rudd.