Heroic actions of local student honoured by police, EMS
Posted on February 4, 2016 by Taber Times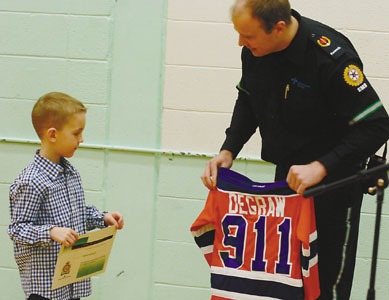 Times photo by Greg Price
By Greg Price
Taber Times
gprice@tabertimes.com
In stressing the importance of knowing proper 9-1-1 protocol, one needs to look no further than the heartwarming story of Joley DeGraw and her five-year-old son Dane.
Dane was able to help her mother who collapsed from a medical emergency shortly after Christmas, making an emergency 9-1-1 call to a dispatcher which led to medical help, saving his mother's life in the process.
On Dec. 27, 2015, at 3:22 p.m., a 9-1-1 call was made by Dane to dispatcher Ashley Edgson. Dane's mother was not feeling very well and after lying on the couch for a while went to the bathroom where Dane heard a loud noise from Joley collapsing. Dane went to the bathroom, where he could see through a slight opening in a wedged door which his mother's body was blocking, his mother face down and unconscious. Dane could see blood which was from teeth that were knocked out according to Joley. Dane called to his mother, but she was unresponsive.
"This young man saved my life that day. I truly believe that. He is my angel, as well as the emergency personnel that responded that day. It may be a job to them, but for us, it's so much more," said proud mother Joley, who teared up recounting the story and seeing the swell of support at the St. Patrick's School assembly on Thursday. "He is a remarkable child, very bright. I wasn't surprised to see he was able to get me the help I needed that day. He is a remarkable child. I'm blessed. He's only five, but he is wise beyond his years —sometimes too wise," she continued with a chuckle.
From the dispatcher and police officers who arrived on the scene in Cst. Tim Johnson and Cst. Andrew Evanson, to medical personnel, all were impressed with how calm, cool and collected young Dane was in his aid to his mother.
"We were there within minutes and the police were already there with him (Dane). They stayed in the room and we were able to find out pretty quick what was going on with the history with what he was telling us. From there, we made contact with the patient at the time and we got her to the hospital in a timely fashion," said paramedic Travis Scott, who attended the scene with fellow paramedic Gerdine Oosterwijk. "He (Dane) was in the room the whole time and he stayed with us and when I asked him questions about what happened, he was able to tell me right away what he saw and heard. It was a big help to us, and we are so proud of him. He made our job so much easier and we were able to give his mom the best care we could."
Dispatcher Ashley Edgson noted most of the calls she receives for 9-1-1 assistance are from adults, but often are a lot more disjointed than the calmness that five-year-old Dane DeGraw showed in their conversation for first contact in the emergency.
"They are usually so frantic and upset about the emergency. It's their emergency and they are scared in needing help. But, he was so calm and so well mannered. He knew where he was and what was going on," said Edgson.
Dane's mother Joley made it a point to have periodical training sessions on how to properly make a proper 9-1-1 call, practising scenarios of what a dispatcher may possibly ask Dane in a critical situation. Little did she know at the time that love she showed her son would save her own life.
"I was thinking I hope my mom is going to be OK'," said Dane of his quick-thinking call in late December.
A school assembly was held at St. Patrick's School on Thursday to honour the brave Kindergarten student at the school in which school resource officer, Cst. Dave Gyepesi, asked kids in the crowd what was important to do during the emergency.
"Stay calm"…"Don't run away"… "Pray for them"… "Call 9-1-1" were a few answers from students at St. Patrick's School in which Gyepesi asked the kids the important things to remember when making that call.
Knowing your number and home address, and describing the problem were stressed.
"I challenge you to get to know your number and your address which is very important. Here we have a five-year-old who knew that information and was able to get emergency personnel to his house to help his mother," said Gyepesi. "I've been working as a policeman for about 16 years, and there are teenagers, 16-17 years old who do not know their address. Our dispatcher Ashley Edgson knew what questions to ask, and Dane knew the answers and that's very important, because that allowed our police officers and our emergency medical group to show up and help with the matter. The important thing we want to take out of this kids is even though it's a bad situation, we do positive things to make it better. This was a good example of how Dane was prepared, and he made a positive outcome."
During the presentation, Taber Police Inspector Graham Abela presented Dane with a certificate of merit for his heroic actions. Also, Dane was presented with a special Edmonton Oilers jersey with his last name and the jersey number 9-1-1 on the back, a fitting gift given the youngster says he wants to be a hockey player when he grows up.
"It is so important for everyone to know how to respond in an emergency and how to get help. There was just the two of us in the home, so if he didn't know how to respond, what would he have done?" said Joley DeGraw. "It's important to teach your children, no matter what their age is. You can start teaching your kids at age three years old, in the importance of responding in an emergency situation."