Abela tabbed as new police chief
Posted on January 27, 2016 by Taber Times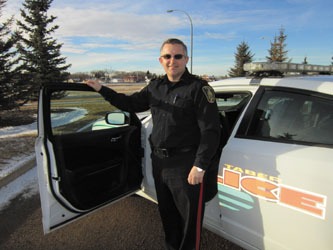 Times photo submitted
By J.W. Schnarr
Southern Alberta Newspapers – Lethbridge
Taber's new police chief is Dr. Graham Abela.
Taber council made the decision during an in camera session of their council meeting on Monday night.
Deputy mayor Rick Popadynetz said council was unanimous in their decision.
"We think he's the right fit for the job," he said. "We think with his education, and his experience, he's more than qualified for the position."
"He's definitely a very educated person, he's got a lot of experience, and he's got great leadership skills," said Popadynetz. "We're looking forward to seeing him as our chief."
Outgoing chief Alf Rudd's last day is Feb. 15, and Abela will be sworn in on Feb. 16. Taber Municipal Police Commission chair Ken Holst said the process is designed to be seamless, so there will be no gaps in the chain of command.
Abela began his career in law enforcement as a park ranger in 1990 before moving on to work in Customs and Excise with Revenue Canada as a border patrol officer. He then applied for and landed a spot with the Taber Police Service on Sept. 1, 1994. He had previously been in Taber volunteering as an auxiliary constable for four years.
He worked his way through the ranks locally and in 2003 was promoted to the rank of "Inspector," where he would remain until his promotion to chief.
He said during that time he has tried to establish and maintain many community relationships.
"I've always believed in community policing," he said. "That seemed to serve me well."
He also said his career has been bolstered by the support of friends and loved ones.
"I've had a lot of really good people around me," he said. "I've had a lot of support from families, friends, and co-workers. I've also had some really great mentors in my life."
Abela has been involved in complex investigations and has experience in undercover drug work throughout southern Alberta He entered policing with a bachelor's degree in sociology, and went on to earn a master's degree in leadership and training, specializing in justice and public safety administration.
His next challenge involved taking on a doctoral program at the University of Calgary where he specialized in leadership with research in identifying potential in police officers for executive development.
The education and experience could serve him well in his new post.
"I've had a goal to become the chief of police," he said. "I'm fortunate and very happy that I was selected to be the next chief in Taber for the forseeable future."
Abela said he sees many challenges for policing in the coming years.
"What I hope is that we, as a team, are able to face those challenges head on, and keep maintaining the service levels that we provide, where no call is too small.
"Where we follow community police principles, where we, as a police service, enter into a relationship with the community where we provide public safety.
"(But) it's a two way street, and we work together to do that."
Abela said one of the biggest current challenges faced by policing organizations across the province are the costs associated with the service. While those costs have gone up, crime rates have gone down, causing some to question the need for some of those expenses.
"I'd like to think that the reason the crime rate has gone down is because communities have invested in policing, and we've done a great job keeping the public safe and reducing crime.
"In doing so, there's a public sentiment that, therefore, you can do more with less.
"We enter into a cycle of crime rate up, more officer, crime rate down, less officers, and it's not an effective cycle."
For now, residents of Taber should know there are no big changes planed for the forseeable future with the incoming chief.
"We're status quo," Abela said. "There's no big shift or change that's going to occur. I'm going to be entering into a new role, but it's the same face, it's still me."
Holst said the decision to make Abela the new chief was the right one for Taber.
"We, as a commission, feel very confident."