Recipients honoured at chamber of commerce awards night
Posted on January 20, 2016 by Taber Times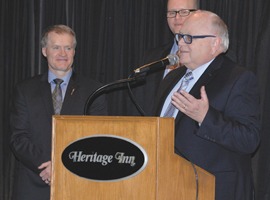 Times photo by Trevor Busch
By Trevor Busch
Taber Times
tbusch@tabertimes.com
Honoured during the Taber and District Chamber of Commerce's Awards Night and Dinner hosted on the weekend, four recipients were lauded for their business and volunteer efforts inside and outside the community.
Taking the stage at the Heritage Inn on Friday evening, Wade Kerner of Wade's House Moving and Heavy Hauling, which took home the 2015 Customer Service Excellence Award, indicated a focus on customer service has always been important for the business.
"I'm truly honoured to be here tonight to accept this award on behalf of the team at Wade's House Moving," said Kerner. "I feel very privileged to be recognized alongside such great companies as Kinniburgh Spray, Molnar Farms, and Doug Emek. Superior customer service is a constant goal which our company strives for on a daily basis. In the 30-plus years that I have been moving buildings and homes, besides safety, excellent customer service is a major component in our family business."
Accepting the Spirit of Taber Award on behalf of Molnar Farms, son Kyle Molnar focused on the unexpected popularity the Molnar Pumpkin Festival has enjoyed since its inception.
"On behalf of my parents, James and Jennifer Molnar, and my sister Julianne Molnar, I am pleased to accept the Spirit of Taber award for our family's farm. Our family is pleased to offer our annual pumpkin fest each Thanksgiving weekend for our community and surrounding area. We've had the pumpkin fest for eight years now, and each year more and more families come for a day on the farm. We are honoured to have been selected for this award."
Outstanding Citizen Doug Emek honestly admitted he really didn't think too much of Taber when he first arrived in the community in the mid-1970s.
"My first visit to Taber was actually in 1975. I came from Winnipeg where I had grown up and gone to university, for a job interview at Canadian Sugar Factories. I remember stepping on the plane in Calgary after flying from Winnipeg, in the old Calgary airport terminal — which was nothing more than a quonset — on to a TimeAir Twin Otter, flying into Lethbridge and thinking 'what am I doing here?'. The next morning I was picked up and driven to Taber to the factory. That year, a number of the roads had been torn up, many of them weren't paved yet, and I thought 'this is the end of the world'. And if it wasn't the end, you could see it from here. Despite those misgivings, I took the job, and moved to Vancouver initially. But I knew a year later I'd be coming to Taber."
Reminiscing about his early years in Taber, Emek noted his initial impression was slow to change once he and his family arrived to take up permanent residence.
"So in 1976 — 40 years ago in a couple weeks — we packed up our apartment, packed up our Vega — and for those of you who are old enough to remember what a Vega was, there was not a lot of room in it — and we drove to Taber. It was one of those winters when there was no snow, it was quite mild, the wind was howling, and everything was brown. And I thought 'it's still the end of the world. There's no way we'll stay here very long.' And not in my wildest dreams did I ever think I'd be standing here tonight."
Eventually, Emek realized the true value of the community is not necessarily its aesthetics, but its people.
"But as we bought our first house, made friends, joined our church, and began raising our family, it did begin to feel like home. As I became involved in many different activities and groups, I also came to realize that we live in a great community, with many dedicated people who are willing to help make our town better. There are many people in Taber that are deserving of this award, so I'm truly honoured to be here tonight."
The evening's final recipient, Kinniburgh Spray Service, selected as Small Business of the Year, saw Shaun Kinniburgh take to the podium.
"I'd like to thank my grandparents, for doing what they did. Because of them, now we're three generations in and still loving it. It's in the blood, it's what we do, and we enjoy it. As far as being able to enjoy it, it's a strong community, a strong customer base, that keeps us going and keeps us in the air, and that way, keeps it so that we can keep giving back to the community. It's an honour."