Bottle drive helps family recovering from house fire
Posted on January 20, 2016 by Taber Times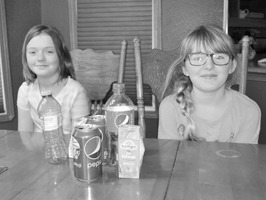 Times photo by Greg Price
By Greg Price
Taber Times
gprice@tabertimes.com
Through tragedy has come a friendship that is as strong as ever.
A Barnwell family of five lost their home to fire back in early December where Frank and Susan Wolf and their three children had to rebuild their lives from scratch. An outpouring of support from both the Barnwell and Taber communities, including Taber Christian Alternative School which the children attend, has things turning relatively back to normal in the New Year.
One of the children affected was Grade 5 student Shakaela Wolf, where one of her classmates and best friends in Lena Fehr wanted to help. An idea emerged where Fehr would help do a four-week bottle drive which finished last week and managed to raise over $1,150 for the family.
"My mom and I brainstormed and we thought we could start with a fundraiser to give stuff back to them," said Lena Fehr.
"We set up an account at the bottle depot and they also set up a container there where some people dropped off money after selling their cans. A lot came in that way," said proud mother Maria Fehr. "Her initial thought for doing it was because (Shakaela) is diabetic and her first worry was she lost all her supply of medications and so wanted to do the bottle drive to get her medications back."
Within 24 hours, the Wolf family had an alternate house they could rent right near Taber Christian School and within 48 hours had many needed household items donated by community members to help the family reach a level of normalcy in their everyday lives as the school served as a drop-off hub for items as well, along with other donations.
"The community has been helping out a lot in getting our home put together. Every little bit helps," said a thankful Susan Wolf.
That included the Wolf children getting donated presents at Christmas that overwhelmed the family with the community's generousity, who have sworn they are going to Pay It Forward for families in need for Christmas 2016.