Space… the final proposal frontier
Posted on January 6, 2016 by Taber Times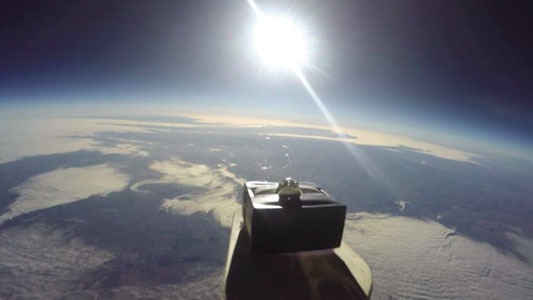 Times photo submitted
By Nikki Jamieson
Taber Times
njamieson@tabertimes.com
Shawn Wright is responsible for literally setting the bar sky-high when it comes to proposals.
The Calgarian had first proposed to his finance Maylynn Stephenson last year, on a beach in Spain under a full moon. The ring he had given her then was a replica, something to stand in for the ring that he was saving up to buy her.
With the actual engagement ring however, he wanted to do something a little different, something that she wouldn't suspect. That's when he got the idea; since diamonds are from deep underground, why not try and send the ring into space?
"I'm really into space and stuff like that, and I thought it would be really cool to kind of put it out there and enchant it for her," said Wright. "Just so when she wears it, she knows that it was up there, and knows how unique it is."
To prepare for the flight, he enlisted the help of his sister, Tiffany Wright, to help him study for the radio license exam, in order to use the transmitter to track the ring.
Then, on Oct. 5, with the help of his father Gordon Wright, who only learned about what he was up to 20 minutes prior, he launched a weather balloon in a field south of Calgary. Mounted on that balloon was a spatula, and attached to that, was the engagement ring and a GoPro camera, filming the ring's flight.
Father and son followed the ring's journey in their car, with Wright keeping a careful eye on the GPS at all times. The ring's flight path went south of Calgary, loosely following Highway 2 before heading east at Claresholm, at which point the GPS went dark.
Once the weather balloon had climbed to above 30,000 feet, it could no longer be tracked by GPS. For two hours, Shawn had to wait for it to turn back on, but even then there was no guarantee that he could recover the ring.
"If it landed in a lake or a pond, or if the GPS turned off and did not turn back on or if my radio transmitter failed; there'd be so many ways that this ring wouldn't be rediscovered. There was kind of a high chance that I couldn't find it again, but I took the risk anyway because it's kind of genuine to do something cool like this."
During the time the GPS stopped responding, the ring had climbed up to around 110,000 feet, before beginning its descent. Depending on where it landed, Wright may not have been able to recover the ring or the camera.
Luckily, when they stopped at the McDonald's in Taber for coffee, the GPS picked up the ring again, just north of Taber. But it was coming down fast. The pair hopped back into the car and raced to get to the ring, arriving minutes after it landed around noon, just 10 feet from a pond off of Highway 36.
"I expected it to land probably 100 km north of Taber. But it came down right near Taber, which is great because it was right near the highway," said Wright. "You can imagine how stressed out I was, but it was part of the plan."
With the ring and camera safely recovered, Wright re-proposed to Stephenson the next day, in a blacked-out storage locker filled with glowing jars with glitter, anniversary gifts and a video of the ring's epic flight. Of course, he also gave her the ring.
"She was blown away, she didn't even think something like this was possible."
Wright and Stephenson hope to get married in October of 2017. While the wedding bands will be custom made, he has no plans to send them up to space.
"I don't think I'll take the risk twice."
To view the video, visit https://www.dropbox.com/s/vg3btghyzqzbcvt/Epic%20Proposal.mp4?dl=0.