Many new initiatives for Town of Taber in 2016
Posted on January 6, 2016 by Taber Times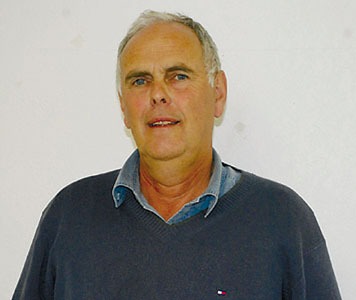 TIMES FILE PHOTO
By Trevor Busch
Taber Times
tbusch@tabertimes.com
As the embers of 2015 are carefully extinguished, the Town of Taber is looking to the new year with a range of projects on the drawing board while focusing on improvement of the region's economic conditions.
Much focus will be centered on the municipality's rollout of a new solid waste initiative involving mobile cart-based collection to replace the present system of large-scale bins.
"We'll finally start our new way of waste collecting, in different forms of course, with composting — hopefully that will be up later this spring," said Mayor Henk DeVlieger. "They have to put this pad in yet, so they'll probably have to wait until the frost is out to make the facility ready, so I would say later this spring. That should work out perfectly, because the containers are arriving here probably in the next couple of months. It's the same with the truck, because we bought that together with Toronto to get a better deal, and that one isn't quite ready yet. It all will fall into place later this spring, and then we can start implementing it in the residential areas."
A number of important infrastructure improvements were completed in 2015, including 50th Street north of 64th Avenue, a project which had drawn fire from M.D. of Taber residents for implementing previously non-existent weight restrictions on that stretch of road.
"We accomplished 52nd Avenue, we re-did quite a bit of it, quite a few blocks, especially the water line which was a ticking time bomb, so that all got replaced, and new sidewalks and pavement," said DeVlieger. "We filled in quite a few potholes last spring. We're going to do that again, but I think we did quite a bit. 50th Street, by the McDonald sportsfield and the cemetery, of course got replaced. I know we still have a little issue there, but it's a 500 per cent improvement. Hopefully in the spring — I think we're getting closer to resolving the issue with the M.D. of Taber, and if we do it, we should do it right."
Also underway in 2015 was the new Eureka industrial development, located to the north of present developments, which will be opening up new roads and industrial lots in 2016.
"The deep utilities are all in, and as soon as the frost is out, the roads and main structure will be done. Also, the intersection will be started as soon as the frost is out, on Highway 36. So that'll open that up. I think not too long from now the Co-op will start on a bulk fuel station. That's a major accomplishment we did last year," said DeVlieger. "We were happy to see in January that the gymnastics club moved in. That's a big asset for our town, and has made the whole area look nicer, too — more friendly."
On the recreation front, online registration options are currently being weighed by administration, while the town's trail system is slated for improvement in 2016.
"We're getting closer with our online registration system," said DeVlieger. "I know that's been a long time coming, but some tenders went out, and now they're reviewing them to see what is the best suitable system for the Town of Taber. Hopefully that will be a big improvement, and up the enrollment again, for especially swimming. But it can be used for other things, too. We want to get the trail going down to the park, as a recreational option, that's important to our people to keep up recreation facilities. That is a healthy one, and that people will use, so it's something we want to accomplish."
The fate of the historic courthouse, former library and police station complex has also been decided, according to DeVlieger.
"We'll try to sell off the old courthouse and library. Council has decided we're going to separate the two buildings, and make it two separate properties basically, to make it easier for someone to be interested in it."
Costly infrastructure improvements, some being mandated by Alberta Environment, will have town council struggling to address a proper balance between fiscal restraint and non-deferrable spending on large-scale projects throughout 2016 and future years.
"We kept our budget at 1.5 per cent, which is close to the inflation rate," said DeVlieger. "We have some challenges ahead of ourselves here with some major projects that we might have to do, like the sewage lagoons and storm drainage systems. We really have to see how we're going to finance that, which will be a tough one. It can be done all in phases, but Alberta Environment pushes these projects on us, but we don't want to deplete our reserves completely, or our borrowing capacity, that's just not acceptable — so we'll have to see what we're going to do. So that will be a big challenge."
DeVlieger outlined what he believes citizens will expect to see from his worship's office as well as the rest of town council in 2016.
"The main thing is to keep the finances in line, and the taxes in line especially. A lot of people have some uncertainty, with our economic downturn. We're very fortunate that we have the agriculture sector, which is a big part of our economy. But the oil and resources sector is something that is really going to have to adapt to a new reality. We still have a fair amount of oil-related businesses in our town, too. So that's going to be a challenge."
Although likely to be an obstacle in 2016 considering prevailing economic conditions in Alberta, DeVlieger maintains a positive outlook and pledged to work hard to attract new investment for the community.
"We're going to spend some more time and effort on lobbying our town with industry, especially farm-related industry, value-added products. That's one of our goals, because we have to grow somewhat in order to sustain ourselves. We want to keep this community sustainable, and a place of choice to live. I really hope that we can add some industry."
Taber's top elected official was also careful to hold out an olive branch to the M.D. of Taber with an eye towards improved relations, which had became strained over 2015 due to issues such as the rejection of a development permit for the town's compost operator by an M.D. subcommittee, and most recently the furor surrounding weight restrictions on 50th Street north of 64th Avenue.
"We'd also like to start improving our relationship with the M.D. of Taber, get a better working relationship, do things together to make it more viable."