Life comes full circle with arrival of Yawney New Year's Baby
Posted on January 6, 2016 by Taber Times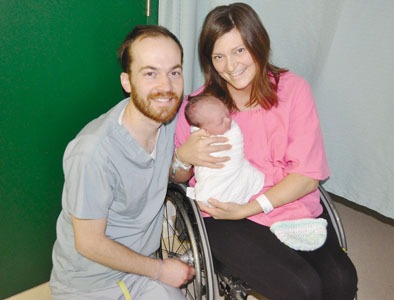 Times photo by Greg Price
By Greg Price
Taber Times
gprice@tabertimes.com
Eliza Yawney is in the Taber Times news under much happier circumstances this time around.
That's because the Yawney family introduced their latest bundle of joy in a bouncing baby boy at 11:13 p.m. on Jan. 3, making him Taber's official New Year's baby being delivered at the Taber Hospital, coming in at a healthy seven pounds and 10 ounces, measuring 21 inches. At the time of the interview with The Times, a name for the latest addition to the family had not officially been arrived at, although the family is leaning towards Todd.
"He arrived a day late, the official due date was Jan. 2. We are very excited," said mother Eliza Yawney, adding siblings in six-year-old Karsten, four-year-old Thomas and two-year-old Edith are elated they have a little baby brother.
"I haven't talked to my kids yet, but my four-year-old said he was too busy to look at the pictures," she added with a laugh on a toddler's hectic schedule, along with proud father Davis and grandparents David and Petra Walters, who took turns holding their grandchild in the hospital room.
Davis is an adventurer with his love of the outdoors, but for the time being in the holiday season, Davis had strict orders to stay close to home.
"I was anxious when he was going to come. I wouldn't let my husband go hiking in the mountains, he had to stay close. He wanted to go camping, but I said no," said Eliza with a chuckle, adding the labour felt shorter compared to her other children. "I came into the hospital, then came home and watched a movie and then came back again. It felt shorter."
It takes a village to raise a child, and community support for them has come full circle as Barnwell residents looked after the family's children as the New Year's birth was pending.
"The community of Barnwell, which is where we come from, has been amazing already. They watched our kids (Sunday) night. They are all pretty excited about our little baby."
The New Year's baby is one of five grandchildren the Walters' family is expecting in 2016 with the next one expected to come later this week according to due dates. The Walters family has 22 grandchildren already with the arrival of the New Year's Baby.
"He will have lots of cousins to play with," said Eliza.
This is the second time Eliza has made big news in Taber, although the first time was under much more sombre circumstances. Eliza suffered a serious snowboardng accident in her youth where even the thought of having a future family to call her own was put in a perilous situation.
"The community put a big benefit dinner on (Lion's Club) for me," said Eliza of the accident that occurred 14 years ago which had Eliza wheelchair bound with months of medical recovery in the process. "This community has shown over the years how much it cares. The community was just awesome. I think every inch of my (hospital) room was covered in cards. Horizon School Division which my dad worked for, they donated a bunch of money. We ended up (moving) back here about a year-and-a-half ago and moved back to Barnwell."
Dr. Davis Yawney gave a tip of the hat to his colleagues in Dr. Wes Steed who helped deliver the New Year's Baby, family doctor Dr. Jillian Demontigny for her medical care throughout the pregnancy and the nurses and other medical staff at the Taber Hospital.
"They were wonderful through all of this."