The Times reviews the news headlines of 2015
Posted on December 30, 2015 by Taber Times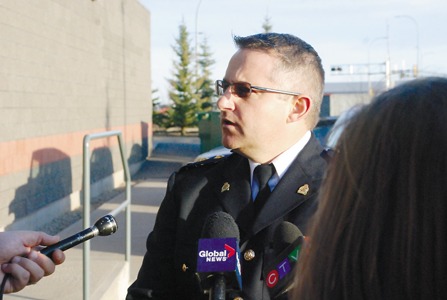 TIMES FILE PHOTO
As another year draws to a close for Taber and area, the Times reflects back on the major issues that made headlines throughout 2015.
Economic concerns dominated the public conciousness during the year, but it would also see major developments on the political front, with the fall of the decades-long dynasty of the PCs provincially in May, and the supercedence of Stephen Harper and the CPC by the Liberals and their upstart leader Justin Trudeau.
January 7: It didn't take long and it wasn't much of a surprise, but Taber was welcoming its 2015 New Year's baby while many local residents were still blowing their party horns and kissing their loved ones to ring in 2015. Malia Jordyn Farough was born at the Taber Health Centre at 12:27 a.m. on Jan. 1, a baby girl for new parents Jesse and Shayla Farough.
January 14: No official date has yet been fixed, but the probability of a nomination campaign to select a new Wildrose candidate for the Cardston-Taber-Warner riding by spring 2015 is high, according to party officials. "I'm sure it will be in the next three months," said Dave Wright, vice-president of communications for the Cardston-Taber-Warner Wildrose constituency organization.
January 21: A dumping of snow earlier this month had town work crews scrambling to clean up the roads before the expected rush of warm weather turned it all into a sloppy mess. However, the town noted the priority streets were cleaned first and were spending their time working on the rest of the roads and trying to clean drain roads and ditches for the following Chinook that blew through.
January 28: It is a political nomination campaign that has been 27 years in the making. Having attended the Progressive Conservative Association of Alberta annual meeting all those years ago, on Monday, Municipal District of Taber Reeve Brian Brewin announced he will be seeking the PC nomination for Cardston-Taber-Warner for the upcoming 2016 election.
February 4: It appears that patience isn't regarded as a virtue by some members of town council when it comes to consideration of the Town of Taber's solid waste disposal initiative. At their Jan. 26 meeting, town council voted 4-3 to accept the intention behind a notice of motion proposed by Coun. Joe Strojwas, and agreed to add a discussion of possible changes to the town's current municipal solid waste system to the Feb. 9 meeting agenda, while requesting administration provide alternatives for consideration.
February 11: A dangerous stretch of highway south of Taber is going to be widened in order to keep traffic away from a portion of the road which is falling into Chin Coulee Reservoir. During a meeting of the Veterans Memorial Highway Association South Zone on Feb. 6 at the Warner Senior Citizen Drop In Centre, representatives Darren Davidson and Gordon Zack from Alberta Transportation were on hand to update the association on the plans for Highway 36 near Chin Coulee Reservoir, which has been sloughing into the coulee since the 1970s and is now unusable in places due to breakup.
February 18: Haste makes waste? Not if you're talking about further discussion of the Town of Taber's municipal solid waste initiative. At their Feb. 9 meeting, just two weeks after a split 4-3 vote to ignore their own policy against returning to discussion of a defeated agenda item, in a unanimous vote town council has now temporarily reversed that decision.
February 25: Regional Internet provider Telus, working in partnership with the Town of Taber, is about to put the community on the fast track to a bright future through the expansion of their fibre optic network. Selected as part of a Telus pilot project for 2015, Taber will be the only rural community in southern Alberta to become part of the corporation's fibre optics network. Once complete, over 90 per cent of Taber homes and businesses will be eligible for the upgrade, giving residents access to the fastest internet speeds Telus offers (currently as high as 100 Mbps).
March 4: Questions may still linger in the mind of Coun. Joe Strojwas, but town council has pushed ahead with the approval of Community Standards Bylaw 4-2015. At their Feb. 23 meeting, town council voted 6-1 to pass third and final reading of Community Standards Bylaw 4-2015, with minor amendments. Strojwas opposed the motion. The bylaw will attempt to regulate and prohibit certain activities in order to prevent and compel the abatement of noise, nuisances, graffiti, and public disturbances, as well as a curfew for minors.
March 11: The recent Community Standards Bylaw that was passed by town council late last month has come under fire by some over the sweeping powers some parts of it give to police due to how wide its parametres are in some of its wording. Ken Holst, chairman of the Taber Municipal Police Commission (TMPC), who, along with the Taber Police Service, helped draft the bylaw, took issue over what he feels is a misconception of the intent of the bylaw by media outlets.
March 18: Feeling the Taber Police Service, Taber town council, and Taberites themselves have been unfairly branded under the controversial Community Standards Bylaw making its way through national and international social media, TPS held a public information session Friday evening to dispel any perceived misconceptions about the bylaw. Passing third reading late last month, Inspector Graham Abela was critical of social media which has spread worldwide with the notion some of the provisions in the bylaw feature draconian measures.
March 25: More than three citizens assembled in Confederation Park to protest the town's controversial new Community Standards Bylaw on Saturday evening, but the Taber Police Service wasn't handing out any fines. Intense media coverage, as a well as a firestorm of online reaction, has followed the passing by Taber town council of Community Standards Bylaw 4-2015 in late February by a 6-1 margin.
April 1: From Municipal District of Taber councillor, to reeve, to MLA hopeful for Cardston-Taber-Warner. Brian Brewin has now taken another successful step in his political career. On Saturday, Brewin won the PC nomination and the right to run for the party in the upcoming provincial election for the riding, although no exact time has been called yet.
April 15: With the Taber Irrigation District celebrating its centennial in 2015, producers will be reflecting on the long history of the district and the continuous efforts of their forebears to bring life-giving waters to the arid plains of southern Alberta. Integral to the governance of the TID board for almost half of the district's existence, Keith Francis has stepped down after 46 years and is being honoured at an open house and reception on Friday at the Heritage Inn at 6 p.m.
April 22: The Town of Taber has approved implementation of a controversial three-cart system for disposal of municipal solid waste, which will see the present system of large-scale bin collection going the way of the dodo by early 2016. After months of deliberation by town council and administration, including a split 4-3 vote to defeat implementation of a cart-based municipal solid waste initiative in late 2014, the Town of Taber is now pushing forward.
April 29: Despite a perfect storm arising — a televised leader's debate and Calgary Flames playoff hockey — to limit the turnout at Taber's election forum on Thursday evening, a sizable crowd was still on hand to hear the pitch from each party's candidates. As the provincial election heads into the home stretch this week in the lead up to a May 5 vote, as has become customary in Alberta elections a large percentage of the electorate remains undecided, and parties have been energetically targeting this swing vote.
May 6: It has only happened twice in Alberta's long political history — in 1935 and again in 1971 — but Albertans are now waking up to a new and unprecedented political reality. In a landslide majority victory, Rachel Notley and the NDP have decimated the ranks of the long-ruling PC government, even pushing Jim Prentice's party out of the official opposition position, which will be taken by the Wildrose.
May 20: The Town of Taber has elected to go their own way after the M.D. of Taber's development authority denied an application to have a compost site located at the town's waste transfer station.
May 27: The battle continues over the Lord's Prayer at Dr. Hamman Elementary School in Taber. After two years without it, the school will bring back the morning tradition in the fall, and not everyone is happy about it.
June 3: The Town of Taber's odyssey of woe continues with regard to the old rodeo grounds dry pond facility located in Taber's northwest end, with area residents recently expressing renewed frustration at the lack of progress towards a permanent solution. The area, which includes a dry pond and a park, has been a perennial problem for the Town of Taber with the pond, grass areas, shrub, flower and wood-chip plant beds and rock-flanking concrete paths posing difficulties for the town in terms of maintenance.
June 17: Council will be considering the recommendation of experts consulted on permanent solutions for problems plaguing the old rodeo grounds dry pond facility in Taber's northwest. At their June 8 meeting, town council voted 5-1 to accept an update regarding options for the old rodeo grounds dry pond rehabilitation as information. Coun. Joe Strojwas opposed the motion, while Coun. Laura Ross-Giroux was absent.
June 24: Another explosion of growth since 2011 in the Village of Barnwell has that municipality quickly closing the gap between village and town status. In municipal census figures recently collected by the village and presented to council on June 18, the Village of Barnwell's official population is now 960, up 148 residents from 2011. According to the municipality, the village's population was 812 in 2011 at the time of the last census. At the time, this represented an increase of more than 20 per cent from 2006, as the village's numbers had risen from a population of 618. "That's good," said Mayor Eric Jensen. "That's basically a 19 per cent increase again."
July 1: Over the phone and online frauds, including the phenomenon of call shadowing, can often be frustrating for local law enforcement, the Taber Municipal Police Commission has learned. At the commission's June 18 meeting during a review of the Taber Police Service's monthly report, discussion centered on the investigation and prevention of various frauds perpetrated by individuals either over the phone or electronically.
July 8: A proposed theatre and convention centre complex pitched to the Town of Taber will come with an almost $7 million price tag if town council chooses to endorse the project. At their June 22 meeting, town council voted unanimously to accept as information the Taber Performing Arts Centre phase 2 report, and requested the report be placed on the next regular meeting agenda for council to determine how best to proceed.
July 15: Town council has passed third reading of rezoning Bylaw 11-2015 which will allow for the construction of a composting and recycling facility on 80th Avenue. Passed at town council's June 22 meeting, Bylaw 11-2015 amends Land Use Bylaw 4-2006 to include Sec. 31, Direct Control 3 (DC-3) District. This zone will permit a composting site and recycling depot and will be regulated at the discretion of town council.
July 22: Barnwell is booming, and with that population boom, Barnwell council has voiced concerns over the capacity and upgrading its water treatment plant. According to Don McCrae, public foreman for the Village of Barnwell, the plant will run at a maximum output of 18 litres per second. "When it was built, that was fine. But the last couple of summers, and especially this summer, when it gets to 25 to 30 degrees (Celsius), it's not a huge concern, it's keeping up just fine. But if we ever had a fire, it would cause problems," said McCrae at Barnwell council's July 16 meeting.
August 5: Town of Taber council will be reviewing its controversial Community Standards Bylaw, which focused international attention on the community in early 2015. That was the word from Mayor Henk DeVlieger at town council's July 20 meeting, in which a series of letters from Grade 9 and 10 students at Lomond Community School were reviewed by council. The letters highlighted many of the issues, both positive and negative, surrounding the bylaw.
August 19: The provincial government is taking steps to ensure agriculture producers dealing with dry conditions have resources to feed and water livestock and assist with growing conditions. "I'm quite familiar with the adverse, dry drought conditions we are facing, and I know how difficult and stressful times like these can be on our closeknit agricultural community," said Oneil Carlier, Minister of Agriculture and Forestry, during a press conference.
August 26: Complaints requesting the removal of benches promoting Taber Pro-Life in the local cemetery have been dismissed by town council, following a 5-2 split vote. The benches in question have been in place for approximately eight years on concrete pads on the north side of the cemetery, and have the words "Taber Pro-Life" inscribed in large lettering on their edges, which can be easily observed by individuals visiting that area of the cemetery. Both have been the subject of at least two complaints from individuals visiting the cemetery, who objected to political messaging being located on town property.
September 2: Town council has opened the door for renovations to the Administration Building, but not all municipal representatives are on board with the project, which is expected to post a seven-figure price tag. At their Aug. 17 meeting, town council voted 5-2 to confirm that it wishes to proceed with a major renovation of the Town of Taber Administration Building if it receives a satisfactory renovation plan. Coun. Jack Brewin and Mayor Henk De Vlieger opposed the motion.
September 9: Plans for construction of a pedestrian sidewalk along 46th Avenue to the town's southeast retail development are still awaiting final approval, but direction has been given by town council to improve stormwater drainage in the area. During 2013 budget deliberations, council had requested a sidewalk for pedestrians be constructed in 46th Avenue, which was added to the 2014 asphalt and concrete replacement tender, but went uncompleted at that time due to objections surrounding the proposed orientation of the sidewalk in front of several local businesses.
September 16: An opportunity to obtain perspective in making an informed decision, Taberites and other area residents are invited to an all candidates election forum at the Heritage Inn on Oct. 7. The election forum is being organized by the Taber and District Chamber of Commerce and the Taber Sugar Town Sweet Talkers Toastmasters Club, as is expected to be at 7 p.m., although the time has yet to be officially determined.
September 30: For Jillian Demontigny, it was time that women's voices for reproductive rights were being heard. Demontigny is helping organize a pro-choice rally on Sunday which will coincide with Taber Pro-Life's Life Chain on the same day. "Women's rights are very important to me, particularly when it comes to health, access to health care, and mental health. Over the years, I have always had a strong sense of discomfort with the trailer ads that I drive by whenever I enter and leave our community," said Demontigny.
October 7: A 45-year-old man has been charged with three counts of attempted murder in relation to a stabbing assault on three family members at a home near Grassy Lake Sunday. Patrick McGann, of Taber, has also been charged with one count of possession of a weapon for a dangerous purpose. McGann remains in custody and will appeared for a bail hearing via CCTV in Taber provincial court yesterday.
October 21: Mirroring Alberta's provincial election, its federal counterpart showed the constituents loud and clear message for change on Monday night. Calling for a Liberal majority government almost as quickly as Alberta did for its NDP majority as initial polls closed, it looks like among voters, Justin Trudeau was indeed ready despite Conservative advertising to the contrary. Triumphing in the Bow River riding with a landslide win, Conservative candidate Martin Shields took 77.4 per cent of the vote in the newly-minted riding.
November 4: Despite public promises to the contrary, Taber town council has voted to deny a review of the town's controversial Community Standards Bylaw, which focused international attention on the community in early 2015. At their Oct. 26 meeting, council voted 4-3 to decline requesting a review of Community Standards Bylaw 4-2015. Coun.(s) Andrew Prokop, Laura Ross-Giroux and Mayor Henk DeVlieger voted in opposition to the motion. Coun.(s) Rick Popadynetz, Randy Sparks, Jack Brewin and Joe Strojwas voted in favour.
November 11: While the NDP may have gone over the top in terms of spending, Reeve Brian Brewin of the Municipal District of Taber is glad to see funding restored to a few programs. "I was really interested to see how the NDP was going to go. Being a new party and a new budget, it was anybody's bet I guess," said Brewin.
November 18: Due to concerns over the competitiveness of the municipality with regard to lot prices and the associated cost in neighbouring jurisdictions, town council has defeated a proposed increase to its current offsite levy rate. At their Nov. 9 meeting, town council voted 5-2 to defeat Offsite Levy Bylaw 17-2015 on second reading. Coun.(s) Rick Popadynetz and Laura Ross-Giroux were the only votes in favour of passing the bylaw.
November 25: It was a piece of mail one Taber resident would have preferred not to have received on Friday. A resident along 52nd Avenue got a Notice of Registration of Builder's Lien against the property to the tune of $170,000 from Dragster Directional Drilling with work or materials that were to be provided for Drew Communications Ltd., the company that is attached for utility installation to the $9.2 million dollar investment by Telus that was announced in March to roll out a fibre optic network.
December 2: Telus is reassuring its customers and potential customers that a dispute between a contractor and subcontractor helping with the install of a fibre optic network for the community will be resolved as quickly as possible, involving a subcontractor putting 82 Registration of Builder's Liens on various properties in which work was done.
December 9: Dozens upon dozens of heavy farm machinery made their way through the Taber area on Monday afternoon with plenty of angry farmers in tow voicing their displeasure as part of a province-wide rally against the controversial Bill 6 — Enhanced Protection for Farm and Ranch Workers Act. "As farmers and ranchers in southern Alberta, we want to be heard and we have felt we haven't been heard. The government has set up some meetings, but they are not serving the cause," said farmer Jim Bettcher, who was part of Monday's rally which featured farmers from Taber, Coaldale, Grassy Lake, Burdett, Bow Island and Skiff.
Dec. 23: Dollars earmarked for a downtown streetlight program have been removed from the 2016 budget by town council, but could be subject to a re-evaluation in the new year once further information is available. "We've got a 2016 project, the downtown streetlights, for $200,000," said Coun. Joe Strojwas, speaking prior to the vote at council's Dec. 7 special budget meeting. "We haven't made a commitment yet to Fortis, but that was the replacing of the streetlights downtown."