Williams easing way into new role as chamber president
Posted on December 16, 2015 by Taber Times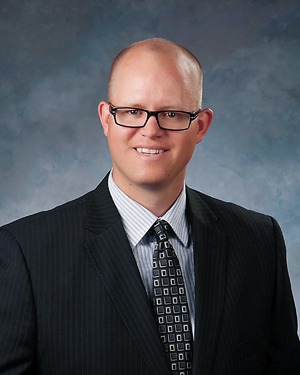 Times photo submitted
By Nikki Jamieson
Taber Times
njamieson@tabertimes.com
Matt Williams is officially the guy in charge of putting on Cornfest.
As the new Taber Chamber of Commerce president, Williams knows that the annual Cornfest celebration in Taber is one of the biggest responsibilities of the chamber.
"The chamber of commerce, we put on the Cornfest every year, so I want to continue to make sure that the big activities we put on throughout the year continue to do well and continue to get better each year."
Williams has been a board member of the chamber since 2010. He became vice-president in September of 2013, a position he was in for two years before becoming president in October.
"It's typically a two-year term as president, and what we try to do is generally have the vice-president have a two year term as well, working with the president. And then, when that term comes up, generally – since I've been involved on the board – is the vice-president then would typically become the president," said Williams. "Unless there is anyone else who wants to be the president, then we have a vote."
Williams was born and raised in Taber, but left to attend the University of Alberta. He graduated in December of 2007 with a Bachelor of Commerce, and moved back to Taber to work as a financial planner at Sun Life Financial in early spring 2008.
"One of the board members at the time, in 2010 a couple of years later, suggested that I come and be involved on the board, and I thought it would be a good idea to get to know more business owners and business-minded folks in town, and to give back to the community. So I got involved at that point, and here we are, five years later."
In addition to being a board member, Williams has also been on the finance committee, chair of the annual dinner committee and parade committee among others. He received his certification to become a Certified Financial Planner in August 2013, just a month before becoming vice-president.
Now as president, William's key jobs are to lead the meeting as chair, represent the chamber on all outside boards and committees as needed and run the chamber with the past president and new vice-president.
"I hope we can continue to be a strong voice for the business in town," said Williams. "I hope we continue to have a good working relationship with (Town of Taber and Municipal District of Taber councillors), as we try to represent business in town and help them to move forward and make Taber and district even more of a business friendly-type of a community."
He plans on continuing to advocate for business, and ensure that the big events – like Cornfest, Midnight Madness and the Awards Dinner – continue to be successful.
But Williams does acknowledge that with the state that the economy is in, he has a challenge ahead of him.
"I'm not sure how we're going to help (local businesses) through this tough economic time, but we definitely want to try advocate to make sure that any barriers that they might come across, that we can mitigate those as fast as possible, so they can move their businesses forward."